It lasted only one game thus far, but when the New Jersey Devils snapped their seven-game winless streak (0-6-1) with a 4-0 whitewashing of the Philadelphia Flyers last week they finally found the blueprint that this team needs to follow in order to succeed more than they fail – which they did the following night in a 4-1 loss at Pittsburgh. Against the Flyers they were hard to play against, they got under their opponent's skin by contesting every loose puck and protecting their teammates after every whistle – whether it was ridiculous or not.
#CaptionThis @AdamHenrique and Cory Schneider win celebration! 😈 pic.twitter.com/A3fF3RWgdu

— New Jersey Devils (@NJDevils) December 7, 2016
The Devils have a good roster of players – one that is perhaps slightly more talented than last year's roster, but realistically they don't have a roster that is top-10 in the NHL. More accurately, they should be between the 10th best and the 20th best teams. This season the Metropolitan Division is stacked and could once again be sending five teams to the playoffs, and it wouldn't be a surprise if the Devils are not in that top-five. They are in year two of a rebuild, whether they want to use that word to describe it or not. They would need a somewhat epic collapse by either the Flyers, Washington Capitals, New York Rangers, Pittsburgh Penguins or Columbus Blue Jackets.
That doesn't mean in any way that they can't be competitive, and a team that is a pain in the butt for other teams to play against. They need to get in the face of their opponents and utilize the speed of players like Taylor Hall and Miles Wood. They need to get a more physical game from their defensemen and third/fourth liners. That's why they called up Seth Helgeson from the American Hockey League to replace Kyle Quincey in the lineup on the blueline. Quincey, signed just days before the season started, has chipped in with nine points (2g-7a) in 32 games but too often he has been invisible physically – specifically around the crease – allowing opponents to do what they want when they want.
Feel the Vern! #PHIvsNJD pic.twitter.com/UXkkdg4Ks5

— New Jersey Devils (@NJDevils) December 23, 2016
Against the Flyers, the Devils stood up for one another for a full-60 minute game, took exception when one of their teammates was wronged or taken advantage of; every time. Like when Vernon Fiddler attacked Radko Gudas for taking a cheap shot at Hall after a whistle blew play dead near center ice.
Or when Helgeson fought Dale Weise moments after someone delivered a headshot to Sergey Kalinin. Or when Michael Cammalleri fought Nick Cousins at the end of the first period. "We need more of that in our lineup if we're going to be successful, we have lots of hockey ahead of us," said Fiddler.
Fight Night at the Rock
DING DING DING! #NJDevils #Flyers pic.twitter.com/ML3W6NHy9U

— Dan Rice (@DRdiabloTHW) December 23, 2016
"We need to bring more emotion and we've had a tough go (recently)," Fiddler told The Hockey Writers after the shutout of the Flyers. "You can talk all you want but until you bring it into all 60 minutes and show the emotion like we did tonight, we need that to get our spirits up because obviously when you're losing and things aren't going right, things seem to snowball. I thought it was a great effort and a lot of guys chipped in tonight and that's what we need every night."
That last part of Fiddler's statement is the key and something that coach John Hynes has preached and stressed to his team. New Jersey isn't a team that can win a lot of games if they don't have everyone (or mostly everyone) contributing on the ice. They aren't talented enough to have one or two players take over a game – they need to play with structure, and, as a team.
http://gty.im/612331712
"This might be our rallying moment. We have to be harder to play against," Fiddler declared. "Teams come into your building and you want them to remember playing in that building, I think we did a good job of that tonight (against the Flyers)."
"It's one game," Hynes cautioned after his team's first shutout of the season. "The way that we played tonight is more of what we want, and our task, our focus needs to be on us, and not the Flyers. This can't be a one-off. It's something that we want to be able to forge as our identity and if we do that, we'll have lots more success than we've had as of late."
Give Them Helgeson
"Tonight was a huge step for us, I think we played a full game tonight. Our compete was strong the whole game," said Wood. "We were kind of mad about our situation, we hadn't won in a while. We came out with a little fire today." One of the sparks of that fire was the insertion of Helgeson into the lineup for the first time this season. The 26-year-old has over 40 games of NHL experience and knows what his job is when he is in the Devils lineup – make life miserable for and physically punish his opponents with his 6'4" frame.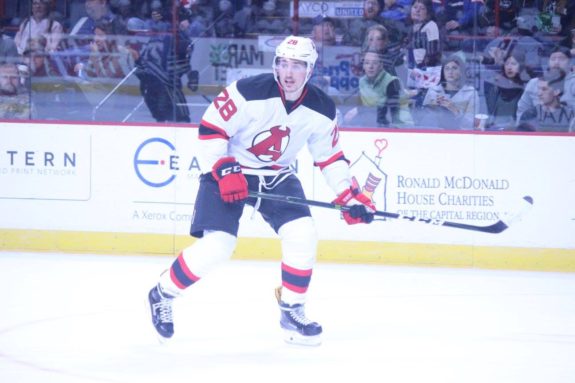 "You look at what Seth Helgeson brings and one of the things that we know about him – he brought his game tonight," coach Hynes said after the skid-snapping win. "He brings energy to your team, he's a passionate player who does lots of good things."
"The thing for us is – this was an example of what we can be. Our task now is, we have to become this. One game is not becoming this. This is an example of what we need to do to be a relevant, competitive, proud team. Our task is replicating this."
"Everyone was sticking up for each other as a team, it was a good team win – we played as a group and it showed tonight," said Helgeson who played in his first NHL game since March 31. "We played a pretty tough game tonight and it worked out for us."
New Jersey has placed F Jacob Josefson (concussion) on IR, retroactive to Dec. 17. The club has recalled D Seth Helgeson from Albany (AHL). pic.twitter.com/HaSs3Bcg9J

— New Jersey Devils (@NJDevils) December 22, 2016
"Throughout the entire game everyone was sticking up for each other, it wasn't just one guy it was the whole team. We stuck to our game plan which was: come out, play physical, just north-south hockey. After our pregame skate, we had a little talk; I think we were ready to move on from this and break the (losing) streak. I think I came in and did what was expected, kept it simple and played that defensive, physical role. Nothing crazy, pretty simple."
"I enjoy playing against Philly," Helgeson added with a sly grin. "I've played them a lot in the past, it's always an intense game. It's a rivalry game, it's always fun, and easy to get up for these games."
Dan Rice is in his 9th year of reporting for THW & has covered NJ Devils home games for 15+ years at various websites. He began his journey working for legendary broadcaster/writer Stan Fischler from 2002-04 & completed an internship at the ECHL; he also has been writing features for the NWHL (nwhl.zone) website since 2016.