In case you haven't heard, Scott Hartnell is making his return to Philadelphia on Friday night.
The former fan favorite hits the ice at Wells Fargo Center for the first time since being dealt to the Columbus Blue Jackets for R.J. Umberger. Lets take a look how the two have performed so far in this young season.
R.J. Umberger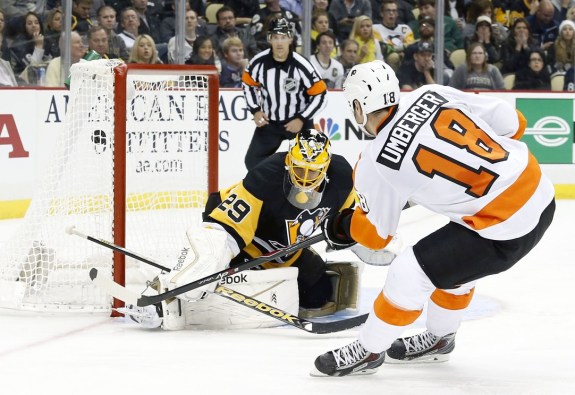 Umberger's second stint with the Flyers could best be described as tumultuous thus far, something the 32-year-old credits to putting too much pressure on himself.
A five-time 20-goal scorer, Umberger has potted one marker and dished out two assists in 14 games — which would constitute as one of the worst starts of his career. The forward recently told Frank Seravalli from the Daily News that carrying around the weight of an accomplished goal scorer whose game has slipped feels like "I've had a piano on my back." It's pretty evident watching him out on the ice.
There are long stretches in games where Umberger goes unnoticed. According to naturalstattrick.com, almost each Flyers forward possess the puck better without Umberger on the ice during 5-on-5 play. Most of this is troubling, especially considering some of the reasons why the Flyers dealt Hartnell — cap flexibility down the road, the hope that Umberger would regain his goal-scoring form and the belief that Hartnell was going to break down sooner rather than later. So far, this hasn't proven the case.
Scott Hartnell
Hartnell bled orange and black during his time in Philadelphia. It's always disappointing to see a fan favorite leave, but I understood the reasoning behind general manager Ron Hextall's decision to deal Hartnell.
If Hartnell wasn't playing on the top line, he was mostly useless up and down the lineup. He was such a defensive liability that even Sean Courturier couldn't help him. But it's possible that the fear of his body breaking down with years left on his contract was one the biggest reasons this trade came into fruition.
However, Hartnell has proven the doubters wrong early on this season. Playing on a Blue Jackets team ravaged by injuries, Hartnell is fourth on the squad in goals (5), second in assists (9) and third in points (14) — putting the 32-year-old winger at almost a point-per-game pace. Hartnell has seen time almost exclusively on the top line, playing mostly alongside Ryan Johansen. What's incredible though has been Hartnell's impact throughout the Blue Jackets' lineup.
The Blue Jackets have generated 61% of the overall shot attempts with Hartnell on the ice,  leading all Columbus skaters. If you look at the numbers, via naturalstattrick, you'll see that nearly every Blue Jackets forward's corsi numbers go down away from Hartnell. Hartnell is finding ways to contribute, and it's with whomever Todd Richards decides to play him with.
Fin
It's still too early to judge this trade. The season is young, and Umberger surely possesses the ability to bounce back from his early woes and turn in a fine season for the Flyers. The same could be said about Hartnell and his scorching-hot start, but in the short-term it looks like the Blue Jackets made out like bandits in this deal.