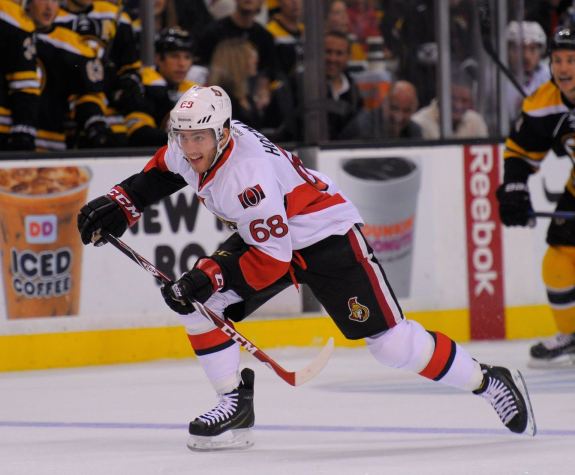 Mike Hoffman is showing that he can put the puck in the net at the NHL level.
He scored the opening goal and the game-winning goal in overtime to lead the Ottawa Senators to a 4-3 victory over the Edmonton Oilers on Thursday night.
When the season started for the Senators, spectators may have assumed that players such as Bobby Ryan, Kyle Turris, or Clarke MacArthur would be leading the team in goal scoring. However players who weren't regulars last year such as Mark Stone and Hoffman are slowly sneaking on to the Senators goal scoring radar.
After Hoffman's two goal performance last night, he is now tied with Clarke MacArthur for the team in goals with seven. Mark Stone sits behind them for third on the team with five goals.
Should we be surprised with Mike Hoffman's early season output?
Considering he wasn't a regular on the team last year, it may some as a surprise to some. He did play in 25 games for the Senators last season, registering only three goals and six points.
While he didn't leave a lasting impression on the Ottawa faithful, down on the farm it was a different story. Hoffman exploded last season while playing for Ottawa's AHL affiliate, the Binghamton Senators. It was a breakout season for Hoffman as he piled up 30 goals and 67 points over 51 games. After a performance like that, it wasn't a huge surprise that he made it into the NHL as a regular based on his goal scoring ability.
It wasn't a great start to the season for Hoffman, who went pointless in seven of his first eight games. While the Senators as a team weren't off to a bad start by any means, MacLean was still shaking up his lines to try to find some chemistry. He put Hoffman on a line next to Stone and Curtis Lazar, creating the the kid line. Hoffman is the oldest of the inexperienced trio at 24 years old.
After the three young forwards started playing together, Hoffman really began to contribute offensively. He has exploded for six goals in his last five games. While that pace obviously isn't sustainable, there is enough to suggest that Hoffman is here to stay as a regular contributor to the Senators offence.
The fact that he is showing an ability to put the puck in the net at this level is encouraging, but doing so with the limited opportunities given to him is impressive.
Hoffman is third in the NHL in Goals per 60 minutes, for players who have played in more than ten games this season. He is hanging with some pretty elite company on that list, which is a positive sign that he might be able to sustain a reasonable scoring pace.
He is not only lucky to be capitalizing on his opportunities so far during this campaign, but he is creating chances as well. He leads NHL players in even-strength shots per 60 minutes with 13.74, among players with at least 100 minutes of even strength ice time.
He is managing to create good chances and put the puck in the net even in limited opportunities. Hoffman is only averaging 12:47 for ice time per game this season, but still manages to be tied for the team lead in goals. The chart shows that he is the only player in the top five who has less than 17 minutes of ice time per game so far this season.
Unfortunately for Hoffman, he won't be able to keep up his gaudy 18.9 shooting percentage as the season continues. However his shot totals at even strength do suggest that this isn't just a hot streak, and that Hoffman can be a regular contributor to the Senators offence as the season progresses.
KPU Journalism Graduate. Trevor has been writing for The Hockey Writers since October 2014. He has contributed articles related to the Ottawa Senators, Vancouver Canucks, and other issues/stories regarding the game of hockey. Trevor currently lives in White Rock, B.C.