The Oilers were trailing the Ottawa Senators 3-0 last night but stormed back to force overtime. They lost the game on a shot Ben Scrivens should have had. The loss drops Edmonton to 6-9-2 on the season, keeping them entrenched at the bottom of the Western Conference. There really isn't a lot left to say about a team has been in re-build since 2007, who has not sniffed a playoff spot since 2006. No amount of obscure advanced stats can make fans feel better about the state of their team. They may end up being just good enough to miss out on Connor McDavid, thus rendering this another lost season. But that's nothing new. It's much of the same. What's the solution? Well that can range anywhere from firing the coach, firing the GM, getting a new goalie, trading away a young player for an established veteran, or changing the captain.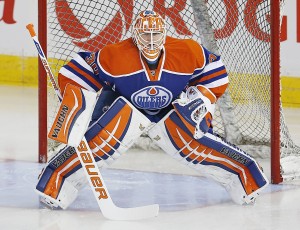 Granted, they are playing without Taylor Hall, but they weren't great even with him in the lineup. Since there aren't many positives to draw from, and since there isn't help on the horizon, the only thing we can do is try and pinpoint what exactly has gone wrong. In other words, whose fault is it?
The General Manager Built this Team
When trying to defend a head coach, you always look one step above him, which is the GM. It's not Dallas Eakins' fault that he has two backup goalies instead of a number one. It's not his fault the team has no depth at center and he has to play 19-year old Leon Draisaitl. Dallas Eakins didn't build this team. Whether or not he had a say on personal decisions, we don't know. But ultimately, he ices the players he is given.
And what about those players? We already know the Oilers don't have great goalies. They try, but they aren't going to succeed on a bad defensive team such as this. They could be decent backups in this league, they've already shown that. But for a team that is weak in nearly every other area, having two sub-par players, with no plan B, at such an important position, is a hard sell. As for the defence, well it's a decent group, there is some size, which is an improvement from last season. But they don't have a Drew Doughty, Duncan Keith, Zdeno Chara, Alex Pietrangelo, Shea Weber, or Ryan Suter back there. Justin Schultz is more in the P.K Subban, Erik Karlsson and Kris Letang camp, though not nearly as successful offensively as those guys.
The Oilers don't have that defenceman that strikes fear into the hearts of opponents. They don't have that one guy you don't want to be on the ice against. They don't have the guy who can kill you at both ends of the ice. Is that guy in their lineup now or in their system? Possibly, but not yet, and maybe not at all. Now obviously not every team has a stud, elite defenseman and yet can still be good. But usually they have a star goalie or major strengths elsewhere to make up for it
As for the center-ice position, well Ryan Nugent-Hopkins is really starting to step up his game. You like what you see from this kid. But right now, how do you feel about lining him up against Ryan Getzlaf, Jonathan Toews, Anze Kopitar, Sidney Crosby, Steven Stamkos or John Tavares? Granted he's still pretty young, and he's still developing, but the problem is that he's the best they've got. He is being forced to line up against the best in the world because the Oilers' depth at center is paper thin. The Nuge could end up being a stud. But right now, he's a man on an island, and it hardly seems fair.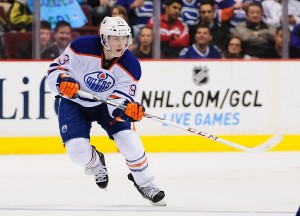 Could the Coach do More?
Dallas Eakins is a confident guy. He believes he can have success with this group. He believes they are better than their record suggests.
"I still feel we are a far better team. We've played far better than we did last year. We haven't got the result. And that's what has to happen. You have to have the result." [Edmonton Journal]
That was Dallas Eakins a couple of weeks ago. Is he right? Are they really that much better than last season? Because despite a few new faces, they still look a lot like the same team who has struggled in just about every facet of the game. Should we be preaching more patience? Should we be giving this group, which is overall still quite young, more room to make mistakes and grow? It's difficult as a fan to watch your team lose all the time. It's even harder to see baffling management decisions, and questionable coaching strategies. Eakins seems to have more patience with Ben Scrivens than he does with Viktor Fasth. He is playing Draisaitl much less than he was at the beginning of the season. Is that the best idea for his development? He probably shouldn't still be in the NHL anyway, but we don't know if Eakins had any say.
It's hard to play the blame game in a situation like this. We like to have something to point fingers at, because it helps us make sense of what we're seeing. "[Insert name] is the reason the Oilers are bad. Once we get rid of [him or they] things will start to turn around." But it isn't that simple. From top to bottom there have been mistakes. We still don't know how good these players actually can be. We may not know by the end of this season. All we do know, is that there is probably more losing in the future. The Oilers have nailed that in the consistency department.