It's no secret the Buffalo Sabres are tanking the 2014-15 season, with a view to hopefully put themselves into position to draft Connor McDavid. As such, it comes as little surprise to see them currently propping up the Eastern Conference, with the NHL's worst record.
However, what may shock some people is how bad the Sabres have been so far. At their current pace, they would set franchise records for fewest wins and points in a season – and that includes strike-shortened campaigns.
Hodgson Reflects Sabres Struggles This Season
As you'd expect, the Sabres current record is reflected in the individual performances of the players. Perhaps best representing this season's struggles is the play of Cody Hodgson.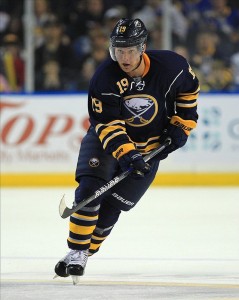 Even as the Sabres organisation braced themselves for a challenging 2014-15 campaign, various hockey experts still expected Hodgson to be one of the few shining lights. Unfortunately, this has turned out to be anything but true.
With two points and a plus/minus of -10 through 18 games, the Toronto-born native is on course for one of the worst seasons of his professional career. Hodgson's lowest return to date is the 2010-11 campaign with the Vancouver Canucks, when he registered just two points.
However, the 24-year old can be excused for that output. Not only was it his debut season in the NHL, but he also only featured in eight games.
Why is Hodgson Playing So Poorly?
The question is; why is Hodgson having such a poor season for the Sabres? Part of the problem lies with the talented winger's head coach, Ted Nolan.
This is in no way a criticism of Nolan, but how much does moving Hodgson back and forth between the wing and centre position actually help? What the Sabres head coach sees as an attempt to galvanise him, may actually be unsettling for the 2008 10th overall draft pick.
Like most people, athletes are creatures of habit. Rather than sparking a player, constantly moving someone around can potentially compromise any attempts to get some consistency from them.
What to Expect Moving Forward
Despite the concerns, it's not like Hodgson suddenly became a bad player overnight. This is still the same guy capable of scoring 40+ points per season, as evidenced by 78 points in 120 games during the last two campaigns:
The Sabres will obviously be hoping Hodgson returns to form sooner rather than later. They have a lot of money invested, after signing him to a six-year $25.5 million extension ahead of last season.
Personally, I believe the Sabres and their fans are just going to have to accept that Hodgson is likely to struggle for most of this season. No matter how skilled you are, hockey is a team game and you are only as strong as your weakest link.
'Armed' with a journalism degree, I have covered numerous NFL, MLB, NHL, MLS, CFL & NLL events for the BBC, TO Sports & Blue Toro, while being fortunate enough to interview various sporting personalities, including Rogers Goodell. Throughout it all, the one message I have for anyone in this industry is to never take it for granted.