The contract of New York Rangers' defenseman Marc Staal is set to expire at the end of this season. It has been reported that the 27-year-old is seeking a six-year deal worth approximately $36 million. If Staal were to be offered that deal, that would make him – at $6 million per year – the highest paid defenseman on the Ranger blue line.
New York has supposedly offered Staal a very similar contract to the one that Dan Girardi signed last season: $32.5 million over six years ($5.5 million per). Staal hasn't accepted the offer, and the two sides remain at an impasse.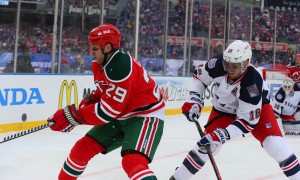 But is Marc Staal really worth that kind of money? Would it really be the right move on the part of the Rangers to shell out anywhere near $6 million annually over a six year span for a defenseman who hasn't played top-two defensive minutes in over three seasons, and now plays on the second defensive pair?
Staal An Elite Defenseman?
If Marc Staal were to sign a deal worth $6 million per year, that would put him with a higher annual cap hit than other defensemen such as Andrei Markov ($5.75 million), and Duncan Keith ($5.54 million). Each of these men have exceeded 40 points five different times in their careers, and Keith also has a Norris trophy on his resume.
Has Staal earned that type of money?
If Staal were to sign a deal worth $6 million annually, he would then be earning more money than guys like Jay Bouwmeester and Niklas Kronwall, both of whom have eclipsed the 30 point plateau five times in their careers. Kronwall even hit 51 points in '08-'09.
And let's not forget about those who, even if Staal were to meet the Rangers at the $5.5 million mark, would still be making less than Staal.
First, there's the captain of the Calgary Flames, Mark Giordano, who's current annual cap hit is $4.02 million. Not only is the 31-year-old solid defensively, but he has also eclipsed the 40-point marker twice in his career.
Calgary defenseman Mark Giordano riding 8-game point streak, with 5 goals and 13pts during that span. That's a red-hot Flame right there…

— Yahoo Sports NHL (@YahooSportsNHL) November 14, 2014
Giordano is off to a blistering place this season. If he were to continue on his current pace, he would finish the season in the vicinity of 90 points. It's hard to imagine that he'll keep that pace, but you get the idea. He's impacted games throughout his career, and been particularly effective this season.
And then, of course, there is Rangers' captain Ryan McDonagh. McDonagh, unlike Staal, does play top-two defensive minutes and faces the best the opposition has to offer on a night-in and night-out basis. Even if Staal were to settle a bit, and sign a deal similar to Dan Girardi's $5.5 million, his annual cap-hit would still be almost $1 million higher than that of McDonagh's.
I'm sorry, but that just doesn't add up.
Offensive Contributions: Not a Deal Breaker, But Pretty Close
Currently in the NHL, there is not one single defenseman out of 11, making $6 million or more, who has not hit 40 points in a season at least once in his career. In fact, most of them have done it multiple times with upwards of 50 or 60 points.
Marc Staal's career high in points total is 29, and that came four seasons ago. Since then, Staal has had concussion issues plus a career – and possibly life – altering eye injury. He has been slow, at times, in his own zone, struggling to efficiently move the puck up to the forwards, and is currently in the middle of the pack among Rangers defensemen when it comes to goals against per 60 minutes (2.51 per 60). Staal also doesn't contribute with any real consistency on offense, and has an average – at best – Corsi-percentage at even strength.
Still Perfectly Capable
Yes, Marc Staal is a fine stay-at-home defenseman who is still perfectly capable of playing in the NHL. But that's exactly the problem. For what he would provide, $6 million, or even $5.5 million, is an extremely steep price to pay.
Now, of course, there is more to a defenseman than his offensive contributions. It is still important to clog the lanes. It's still important to block shots.  And it's essential to be physical. These are facets that Staal, for the most part, does fairly well; he ranks second on the Rangers' blue line in hits, and third in blocked shots.
Staal also has a tendency to up his game during the post-season. In past seasons, he has been integral in shutting down offensive machines such as Alex Ovechkin and Sidney Crosby. Staal also holds a leadership role in the Ranger locker room as he is one of their four assistant captains.
However, in order to justify Staal making somewhere in the $6 million universe, he would need to do all of those things in addition to contributing offensively on a somewhat consistent basis.
Six Million Is A Lot of Money
It is true that the Rangers could give Staal a front loaded contract. This would give the Blueshirts options down the road if they were to reach a point where Staal would no longer be a necessary component to the Rangers' roster. However, this would still mean paying top-defenseman dollars to a second or third tier blue liner during the upcoming years of his tenure in New York.
Ultimately, what happens with Marc Staal will be the result of the negotiations between him, his agent, and the New York Rangers. If the Rangers do end up shelling out the dough, though, they could be setting themselves up for difficult financial years ahead.
I am not saying the Rangers shouldn't sign Staal. I'm just saying they should think long and hard about how much money a defenseman of his caliber, with a past like his, is worth in today's NHL.
Jake Gittler is now in his second season as a contributing member of The Hockey Writers. After spending the 2014-15 season working in Communications for Adirondack Flames of the AHL and covering the New York Rangers here for The Hockey Writers, Jake's coverage has been switched over to the Colorado Avalanche for the 2015-16 season. Jake can be reached via email at Jakegittler@gmail.com, or on Twitter @Jgittler_hockey.