One of the most difficult rules to abide to in the unwritten rulebook of fantasy hockey is being patient. Recognizing which players to show restraint with and hold, and who's merely on a hot streak and not worth your time, is extremely challenging. You want to wait for that player to break out, but it may never happen. Or if you aren't patient and drop a player with a pedigree for production, you may regret it when the statistics fall back into place.
This is even more difficult at the beginning of the season, as tons of players get off to unsustainable starts. Some, like St. Louis' Vladimir Tarasenko, can be considered legit when you factor in his pedigree, role with the Blues, and high shot rate. Others, like maybe Calgary's T.J. Brodie or Tampa's Tyler Johnson, are expected to slow down.
We're about 15 games in, and with some ample information and a bit of instinct, you can get an idea of who can be relatively useful going forward. Here are nine potentially available players that can give your team a boost this month and beyond.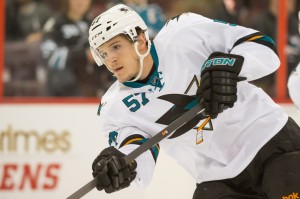 Though he's cooled off with a point in his past five games, Wingels is in a great spot to continue his strong start to the campaign. He's skating with Joe Thornton, reason enough to get fantasy GMs intrigued.
Even if his scoring dips, he's still a useful addition with his strong peripherals. He's tied for sixth in the league in SOG (62) – right up there with cold blooded shooters like Rick Nash, James Neal, and teammate Joe Pavelski. Oh, and he's third in the league in hits (68).
If the fourth-year breakout trend really is a thing, expect a big year from the feisty Sharks winger – maybe a line of 20-30-50 with 200+hits and SOG.
Columbus has been ravaged by injuries all season, with Boone Jenner as one of the recent returnees to the lineup. The second year player is a fan and coach favourite, and he's being rewarded with top-six ice time as a result. Injuries to guys like Brandon Dubinsky has opened the door, and Jenner is taking advantage.
He's only played in four games this season, but has four points (all assists) with two multi-point efforts. Skating with Scott Hartnell and Cam Atkinson puts him in a good position to produce. His upside is only so high, as his power play time is limited.
Like Wingels, his peripherals make him a unique asset, in that he doesn't have to be scoring to make an impact. He's been a human wrecking ball with 19 hits in four games and is shooting the puck at an ample rate.
He'll only manage around 40 points, but his 200+ hits, above average SOG, and dual-position eligibility makes him a worthy add.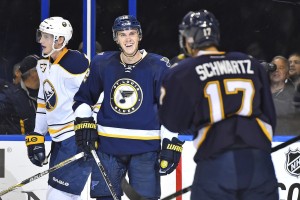 You know those psychology exams where they hold up an abstract picture and ask 'what's the first thing that comes to mind?' If you did that with a picture of Jori Lehtera, hockey fans would say 'Vladimir Tarasenko'.
There's no doubt Tarasenko's breakout year is helping Lehtera's production, but he's pulling his weight, too (seriously, watch some Blues games – he's not riding Tarasenko's coattails). Coming off a natural hat trick and another two-point game after, Lehtera is scoring just over a point-per-game pace (16 in 15) playing with the TarasenkShow and Jaden Schwartz.
The line has tremendous chemistry, and his linemates are legit NHL producers. Of course he won't be a PPG player, but grab Lehtera anyway, and be surprised at his point total at season's end.
The Blues love goalie platooning, and this year is no different with Brian Elliott and Jake Allen running the show. Both were seen as contenders to win the starter's job, and both have earned it so far this year. So, the platoon continues.
Allen has made his case thanks to a tremendous November, including back-to-back shutouts, pushing his season's numbers to a miniscule 1.67 GAA and an unfair .933 SV%. He's been impressive, and Hitch is riding the hot hand, with Allen starting again last night in Nashville (and winning).
Even if he splits 50/50 with Elliott, he's worth adding since the Blues are a powerhouse. He has the upside to steal the starter's role too, so it's a win-win having this guy on your team.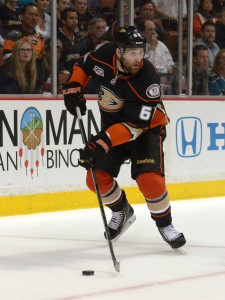 His numbers are weak right now – no goals, four points in nine games – but this is a guy I had to include based of potential and opportunity. There's no bigger one than riding shotgun to NHL stars Ryan Getzlaf and Corey Perry, and that's the position Maroon finds himself in. He even gets PP time, so this guy is a must add.
Besides the points he'll accumulate just being on the ice with the Dynamic Duo, he racks up the PIM (101 in 62 games last year) and hits (124), making him a quality power winger to add for nothing.
If you're really patient, grab him before someone else does, and stash him on your bench until he gets going. Remember, if Getz and Perry get a new third wheel, cut him.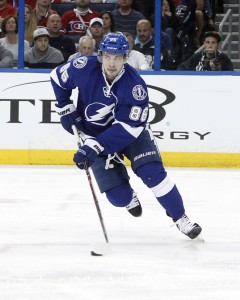 This is a guy I had in the 'not for real' category for a while, but I'm sold now – Kucherov is for real. I really wanted to see what line he settled on before placing value on him, and finding him with Tyler Johnson and Ondrej Palat works for me. The two co-Calder finalists work brilliantly together, and Kucherov fits with the exciting, up-tempo youngsters.
He won't maintain his current points pace (14 in 17 games), but a 50-point season is a reasonable expectation if he stays with Johnson and Palat. His LW/RW eligibility is quite nice, too.
After a strong end to last season and even better playoffs, Alec Martinez is picking up where he left off. Seen as the fourth best offensive option in L.A., behind Drew Doughty, Slava Voynov, and Jake Muzzin, Martinez is proving his worth.
With Voynov suspended indefinitely, coach Daryl Sutter has looked to Martinez for more offence, and he's posted a fair seven points in 15 games. There's potential for more however, as he's an extremely active shooter (40 SOG already).
Martinez is no more than a depth defenceman for your team, but a solid addition if you have the space. Expect 30-35 points at the most, with above average SOG and strong plus-minus, thanks to the Kings (or Jonathan Quick).
This is a guy to add as a future investment. He doesn't have IR status with Yahoo despite being out for six weeks, but if you have room on your bench, Raffl is worth a gamble.
Before being injured, he was firmly planted on Claude Giroux's left side, skating with two top-10 NHL scorers, the other being Jakub Voracek. They've tried Brayden Schenn and many others in the spot, but the Flyers seem to like Raffl there, who had stints with Giroux last year as well.
He was leading the Flyers in goals and had seven points in 10 games before he went down. If he can stick with two of the better playmakers in the league, Raffl becomes a must add, and a 25-goal threat.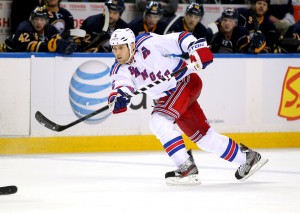 My list is all forwards, so I had to throw in the obligatory defenceman. And I know what you're thinking – Dan Girardi, the stay-at-home archetype, has no business in fantasy hockey where it's mostly about the offence.
Let's get this out of the way – Girardi's offence contributions will be non-existent. But check out Girardi's peripherals, and he becomes an enticing player to leagues that have a lot of categories. His block and hit rates are exceptional, and he shoots the puck at a fair rate. That's three categories he beefs up your team in, while not hurting you anywhere else (he's a plus player, for example).
Girardi isn't the flashiest pick in fantasy hockey, but he does work in the gritty categories. A lot of guys are either hit or block specialists, and Girardi is a nice combo for a guy owned in just 11% of Yahoo leagues.
Freelance sports writer. Ex-intern at The Hockey News and 680 News.