Fab Fourth
They didn't play a whole lot, Tyler Kennedy skated only 9:33 and Tye McGinn skated his second lowest total of the season at 7:20 but the Sharks fourth line Thursday, rounded out by Andrew Desjardins, put in a tremendous performance.
For the first time all season, the Sharks featured a fourth unit without Mike Brown, Adam Burish, or John Scott, three players more known for racking up penalty minutes than anything else. And surprise, surprise, it paid off. Kennedy ended up scoring what turned out to be the game winning goal (Tyler Kennedy, game winning goal, where have I heard that before?) in a 2-1 win over the Tampa Bay Lighnting on a pretty stretch pass from Brent Burns.
McGinn, Desjardins, and Kennedy would all finish plus-1 for the night with the latter pumping four shots on goal in his 9:33. The trio cycled down low in the offensive zone and were able string passes together on the breakout. Yet it is puzzling to note that while this trio played great in a win, their ice time was significantly lower than the previous night's fourth line featuring Scott and Burish. Despite being on the ice for two goals against and miserably failing to execute on a couple of offensive chances they did get, Burish and Scott each skated over 12 minutes in the 4-1 loss to the Florida Panthers on Tuesday.
Certainly that amount of ice time can be attributed to the lopsided score, but Scott playing 12 minutes and McGinn playing just seven minutes is a head scratching discrepancy to say the least. McGinn has 12 points in 46 career NHL games, Scott has 7 points in 242 career games. There is no reason to trust Scott defensively over McGinn either as Scott is a career minus-20, McGinn just a minus-2. The lack of ice time for McGinn and especially Kennedy who has played great since returning from injury (1g, 1a, plus-2, 13 SOG in five games) is a depressing sign that this line will get broken up quickly in favor of Scott, Burish and when healthy, Brown. With the way this fresh new unit played against the Lightning, one would have expected to see double digit ice time totals for all three players. They are all quality hockey players.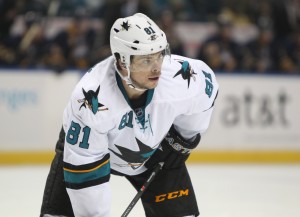 Even without penalty kill time, a McGinn, Desjardins, Kennedy line is a trio that can be consistently relied upon to play 10 plus minutes per night. Whereas it is no surprise why Scott and Brown normally play only around five or six minutes a night. With the young talent in today's NHL and the parity around the league, teams cannot afford to over tax top players and have a limited fourth line. Teams need fourth lines playing 9-12 minutes per night on a regular basis. Scott, Brown, Burish don't help in this regard. If the Sharks are wise, they will keep the same 12 forwards from Thursday's win in the lineup for the next few games barring any injuries.
Andrew has been credentialed to cover the Sharks since 2010 and the 49ers since 2012. He graduated with his BA in Broadcast Electronic Communication Arts in 2013 from San Francisco State University.