With all six NHL training camps in full swing, news is beginning to filter out more frequently and with greater significance.  Exhibition games are being played and players are working on getting in shape.  Most players are in the process of negotiating their 1964-65 contracts and so far there hasn't been any news of players holding out.
Leafs first to open camp
The Toronto Maple Leafs were the first team to open camp, about ten days before Montreal, who were last.  Punch Imlach, the irascible Leafs' General Manager, brought about 90 players to Peterborough, Ontario with hopes of finding the right combination to bring Toronto their fourth straight Stanley Cup.
As the Leaf camp opened, All eyes were on veteran goaltender Terry Sawchuk, who was drafted by Imlach when the goaltender was left unprotected by the Detroit Red Wings.  Sawchuk, legendary for his hate for practising, was extremely sharp in the early workouts and expressed his excitement at being able to share the goaltending load with Johnny Bower.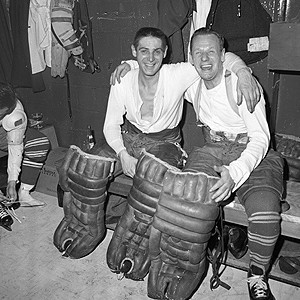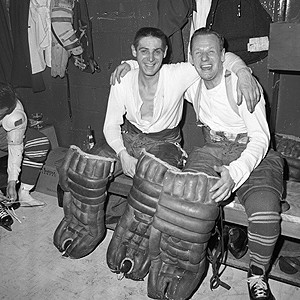 Another point of interest, at least for the Toronto beat writers, is the status of another draftee, Dickie Moore, who was selected from Montreal after a year in retirement due to knee problems.  As of this writing, Moore hasn't reported to camp yet, but the word around the league is that Imlach will find a way to entice the former  all-star left winger to suit up in the blue and white.
Early injuries to Maple Leafs included defenseman Kent Douglas, with a pulled muscle and Frank Mahovlich, who missed a game with what was described as an upset stomach.  In the game that Mahovlich sat out on September 15, the Leafs beat the Bruins 5-2 with at least seven players who can be expected to play somewhere in the Toronto minor league system this season.  Terry Clancy, son of King, earned an assist in that game and put on a generally energetic performance.
The Bruins' regular netminder, Ed Johnston, had a rough time of it against the Leafs that evening.  Johnston seemed predisposed to leaving the warmth and security of his goal crease and made several forays a good distance from the net, mostly to his great disadvantage. His wandering and questionable dexterity with the puck led directly to three goals against.  One rookie who looked pretty good for Boston was young Wayne Rivers, who netted one of the Boston scores.
Ninety show up for Habs
Montreal coach Hector (Toe) Blake was all smiles as over ninety skaters arrived in Montreal on September 15 to work out with the Canadiens.  Looking over his troops, Blake was quoted as saying "There's not a fat guy among them." The Habs are scheduled to play four intra-squad games and ten exhibitions in preparation for the upcoming regular schedule.  The Canadiens are the last team to begin workouts this fall.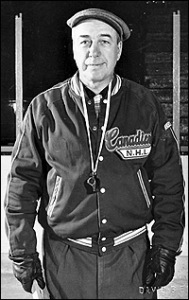 The Canadiens will have their entire team from last season returning for this campaign, with one notable exception.  Bernie (Boom Boom) Geoffrion has decided to retire and take on the coaching job with the Quebec Aces of the American Hockey League.  Bernie scored twenty-one goals last season and leaves rather large skates to fill.  Among those taking a run at replacing the Boomer includes young Yvan Cournoyer, who scored four goals in a five-game tryout late last season.  His competition will come from Claude Larose, Terry Gray, Leon Rochefort and Jim Roberts.  All of them bring varying degrees of serviceability but Cournoyer's explosive speed would seem to give him the inside track.
Rangers depending on new faces
The New York Rangers camp features an almost wholesale turnover from the group that showed up this time last September.  Forty-five players were invited to the Rangers workouts at Winnipeg, Manitoba.  Five of the newcomers were acquired late in February last season in the major trade that sent captain Andy Bathgate and forward Don McKenny to Toronto.  The five players now with the Rangers are Dick Duff, Bobby Nevin, Arnie Brown, Rod Seiling and Bill Collins.  All but Collins are expected to suit up with the Blueshirts this season.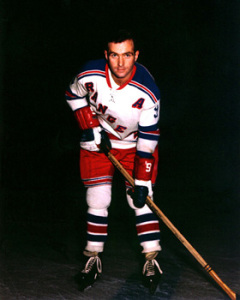 Seiling, the highly touted junior whom the Rangers insisted be included in the February trade despite Punch Imlach's best efforts to sell them on another chattel, was thought to be a difficult player to sign for New York.  The youngster dispelled those rumours as he and veteran goalie Jacques Plante inked their contracts before camp was even under way.
Plante, who had a less than stellar season in his first year in New York, is hoping for a big year this time around.  He has virtually no competition, and if he isn't able to cut it in a big way, Coach Red Sullivan may see his crimson locks turn grey by Christmas.
Weekend Games
The Red Wings and Leafs played twice this weekend.  Saturday night in Toronto, the teams skated to a 3-3 draw, thanks to great work by Detroit's rookie goaltender Roger Crozier.  Bobby Dillabough, Ron Murphy and Marcel Pronovost (with a huge assist from Leafs' Kent Douglas) scored for the Wings.  Andy Bathgate, George Armstrong and Jim Papping replied for Toronto.
Other games Saturday night saw Chicago blast Boston to tune of 7-0, while the Rangers were tied 5-5 by their American Hockey League farm team, the Clippers from Baltimore.
Chico Maki was the leader for the Hawks over the Bruins with three goals.  Three former Toronto Maple Leafs, Dick Duff, Bob Nevin and Rod Seiling, each had a goal in the Rangers' tie with Baltimore at Brandon, Manitoba.
Sunday evening, the Rangers gave the Clippers a rematch at Winnipeg.  This one went more the parent team's way as the New Yorkers skated off with a 5-3 win.  Nevin scored again for the Rangers, with others coming from  Vic Hadfield, Phil Goyette, Jean Ratelle and Harry Howell.
In an intra-squad game in Montreal Saturday night, the Habs did as much damage to their goaltenders as they did to the pucks.  Rookie goalies Ernie Wakely and Jean-Guy Morrissette, both destined to work on the farm this season, sustained cuts that required stitching.  Canadiens won't play an exhibition game for another week, and that one will be against the Cleveland Barons, their American League affiliate.  The Canadiens did send several players to the minors after their weekend workouts.  Pros Len Ronson went to Providence of the AHL, and Orval Tessier to Quebec.  Juniors Andre Lagueux and Doug Piper were assigned to the Regina Pats, Jacques Lemaire to the Junior Canadiens and Leo Thiffault to Peterborough.
Retired police detective, involved in hockey at all levels for over 50 years. Member of Society for International Hockey Research and presently a video analyst for the leader in advanced hockey analytics (we work exclusively for 2 NHL clubs, and provide advice on an ad hoc basis to many other clients). Currently the Assistant General Manager for the Pelham Pirates of the Greater Ontario Junior Hockey League. Previously owned the Faceoff computer hockey simulation and also provided all player ratings for the EA Sports series of NHL computer games from the late 90's into the mid 2000's.