Last week, our hockey hungry readers were treated to Part I: 2012-13 OHL Predictions featuring several powerhouse clubs playing in the Ontario Hockey League's Western Conference including the London Knights, the defending OHL Champions. With the NHL officially locked out, several of the OHL's biggest stars are all but guaranteed to begin the hockey season playing for their major junior clubs. In Part II: 2012-13 OHL Predictions, we take a closer look at the makeup of the Eastern Conference and forecast the potential success of each competing franchise.
OHL Eastern Conference
1st Barrie Colts
Despite several key players departing in Colin Behenna, Ivan Telegin and potentially Tanner Pearson, Dale Hawerchuk's Barrie Colts look to remain competitive with several key new additions, namely Detroit Red Wings' prospect Andreas Athanasiou (acquired via trade from London). Mark Scheifele (Winnipeg Jets), Anthony Camara (Boston Bruins), Ryan O'Connor and sophomore defensemen Aaron Ekblad (2014) and Alex Yuill will continue to be leaned on heavily for contributions. In a tough Eastern Conference, Barrie should remain near the top as they ice a deep and competitive lineup.
Top Scorers: Mark Scheifele, Tanner Pearson, Andreas Athanasiou
Rookies to Watch: Brendan Perlini, CJ Garcia, Samu Markkulu
2nd Belleville Bulls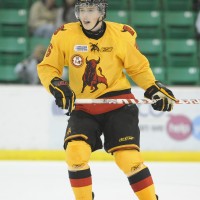 Pay close attention to Belleville this season as they are in a position to really prove they are among the best in the Eastern Conference. After being drafted 26th overall by the Vancouver Canucks, Brendan Gaunce will look to improve on his point-per-game pace from last season as Belleville's go-to star player. Danill Zharkov (Edmonton Oilers), Austen Brassard and newly acquired Sergey Kuptsov form a group capable of good complementary production. Rookies Niki Petti, Aaron Berisha and defenseman Michael De Sousa enter the league with high expectations and Coach George Burnett will certainly appreciate their skills. The Subban brothers, goaltender Malcolm (Boston Bruins) and defenseman Jordan (2013 draft eligible), are vital to the Belleville Bulls success as both serve as leaders at their respective positions.
Top Scorers: Brendan Gaunce, Danill Zharkov, Austen Brassard
Rookies to Watch: Aaron Berisha, Niki Petti, Michael De Sousa, Michael Cramarossa
3rd  Oshawa Generals
The Generals stand to receive a substantial addition to their lineup if the Toronto Maple Leafs feel that 2011 1st round selection, Tyler Biggs, will best be served by playing for Oshawa rather than making the jump to the Marlies of the AHL. Biggs, who played last season for the University of Miami-Ohio (NCAA), has left collegiate hockey in hopes of fast tracking his hockey career and the big burly winger with a soft touch has great potential in the OHL. Scott Laughton (Philadelphia Flyers), Boone Jenner (Columbus Blue Jackets) and Lucas Lessio (Phoenix Coyotes) form a powerful and intimidating offensive attack that should intimidate the opposition. With a new coach (D.J. Smith) and several key players departing in leading scorer Christian Thomas (New York Rangers) and Niklas Jensen (Vancouver Canucks), the Generals will need the cavalry to step up and that includes top rookie Michael Dal Colle, a player that owns tremendous skill that could compete for rookie of the year honours.
Top Scorers: Lucas Lessio, Scott Laughton, Boone Jenner, Tyler Biggs
Rookie to Watch: Michael Dal Colle, Matt Hore, Tyler Hore
4th  Brampton Battalion
The Battalion continue to be the underappreciated in the Eastern Conference but there is a lot to be excited about in Brampton, in spite of the fact that the team will inevitably be moved to a new city. Known for their stifling defensive approach to winning, Brampton has several incoming offensive talents to electrify the troops. Freshman forwards Mike Amadio, Blake Clarke and Matt Santos have the opportunity to provide immediate secondary scoring after the Battalion lost forwards Sam Carrick, Phillip Lane and Ian Watters. Up front, the troops will be led by Barclay Goodrow, Patrik Machac, and sophomore Brandon Robinson while on the blue line coach Stan Butler will call on Dylan Blujus (Tampa Bay Lightning) and Zach Bell to lead the charge. The Battalion have a good balance of youth and experience throughout the lineup and should remain very competitive in a tough Central division.
Top Scorers: Patrik Machac, Barclay Goodrow, Brandon Robinson
Rookies to Watch:  Mike Amadio, Blake Clarke, Matt Santos
6th  Ottawa 67's
The graduated Tyler Toffoli (Los Angeles Kings) will not be returning to Ottawa with his back-to-back 50-plus goal and 100-plus point seasons so the team is officially being passed to top draft prospect Sean Monahan. Unfortunately, Ottawa's loss of Toffoli is not the only key departure as Shane Prince (Ottawa Senators), John McFarland (Florida Panthers) and goaltender Petr Mrazek (Detroit Red Wings) take their games to the next level. Monahan will shoulder most of the offensive load but he should receive ample support from Steven Janes, Tyler Graovic, Ryan Van Stralen and rookies Richard Mráz (import), Andrew Abou-Assaly and Dante Salituro. The 67's went from being one of the oldest teams to a young team and will rely heavily on Salituro's sniping abilities and Abou-Assaly's slick creative offensive game as both develop into dangerous OHLers. On defense, Senators' prospect Cody Ceci will lead the offensive charge but should get some help from rookie Jonathan Duchesne who owns very good potential at both ends of the rink.
Top Scorers: Sean Monahan, Steven Janes, Tyler Graovic
Rookies to Watch: Dante Salituro, Andrew Abou-Assaly, Jonathan Duchesne
6th  Niagara Ice Dogs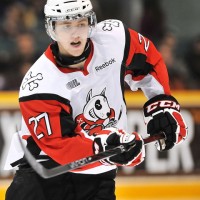 No other team receives a bigger advantage from the lockout than Niagara as Ryan Strome (New York Islanders) and Dougie Hamilton (Boston Bruins) will return to the Ice Dogs' organization despite being ready to start their professional careers. The team has lost some vital components from last season including Freddie Hamilton (San Jose Sharks), Andrew Agozzino, Alex Friesen (Vancouver Canucks), David Pecan (Chicago Blackhawks) and Tom Kuhnhackl (Pittsburgh Penguins). Dallas Stars prospect Brett Ritchie will suit up for his first full season in Niagara and the Ice Dogs need him to step up his offensive game.  Coming off a season where Dougie Hamilton earned CHL Defenseman of the Year honours, the Bruins' prospect defenseman has nothing left to prove at the junior level but until the NHL resolves its labor dispute, it looks as though he will start the year in Niagara.  Jesse Graham (New York Islanders) is a potential breakout candidate entering his third OHL campaign and his offensive game will be important if Hamilton leaves to begin his professional journey.  Look for Mitchell Theoret and rookies Brook Hiddink and Anthony DiFruscia to earn offensive minutes to help supplement the scoring lost from last season. Niagara's season-long success depends largely on the availability of Ryan Strome and Dougie Hamilton as the team could plummet in the standings if they are recalled by their NHL clubs midseason.
Top Scorers: Ryan Strome, Dougie Hamilton, Brett Ritchie
Rookies to Watch:  Brook Hiddink, Anthony DiFruscia, Aaron Haydon, Brent Moran
7th  Sudbury Wolves
Coming off a championship win at the World Junior cup earlier this preseason, the Sudbury Wolves will attempt to carry that positive momentum into a successful 2012-13 campaign. In a conference with no real standout teams, Sudbury is a team that could place anywhere from fourth to eighth in the standings. The competition will be fierce. The Wolves will be without OHL leading scorer Michael Sgarbossa (Colorado Avalanche), Andrey Kuchin's scoring prowess and also leading defensive scorer Josh McFadden. The Wolf pack will turn to Josh Leivo (Toronto Maple Leafs), Nathan Pancel, Michael Kantor, Matthew Campagna and 2013 draft eligible Nicholas Baptiste for offensive production. To help replace Sgarbossa's offensive numbers, Sudbury is hoping that Czech import Dominik Kahun has an immediate impact in a Wolves' jersey. On the backend, Justin Sefton (San Jose Sharks), Frankie Corrado (Vancouver Canucks), Charlie Dodero, and rookies Connor Cummins and Evan de Haan will attempt to keep the puck from penetrating goaltenders Joel Vienneau and John Chartrand.
Top Scorers: Josh Leivo, Nathan Pancel, Nicholas Baptiste
Rookies to Watch: Dominik Kahun, Connor Burgess, Dominik Kubalik, Connor Cummins, Evan de Haan
8th  Kingston Frontenacs
GM Doug Gilmour continues to make moves to rebuild a long-struggling franchise and under his wing the team has already seen improvements. Last season's trade to acquire 2011 4th overall pick Ryan Kujawinski from Sarnia for Ryan Spooner currently looks genius after the Northern boy posted point-per-game production upon arriving in Kingston. The Frontenacs will rely on their young talent to lead them to, hopefully, a playoff position as youngsters Ryan Kujawinski (2013 draft eligible), Billy Jenkins ('94), Mitchell Fitzmorris ('95), Warren Steele ('94, D), Sam Bennett ('96), Spencer Watson ('96), Roland McKeown ('96, D) and imports Henri Ikonen ('94) and Mikko Väinonen (Nashville Predators, D) all look to leave their mark on the OHL. Kingston will be sporting a new logo this season as well as plenty of fresh faces and their youthfulness could just push them into one of the final playoff positions in the Eastern Conference.
Top Scorers:  Ryan Kujawinski, Billy Jenkins, Darcy Greenaway
Rookies to Watch: Roland McKeown, Sam Bennett, Spencer Watson, Slater Doggett
9th  Peterborough Petes
Long gone are three of the Petes' top four scorers from last season as well as Matt Puempel who was dealt to Kitchener. Peterborough's biggest test for the upcoming season will be how well their sophomores step up to provide the offensive. Nick Ritchie was a standout rookie last season and is expected to ramp up his offensive production. Stephan Nosad was also very good and enters his NHL draft year with high expectations. Rookie Eric Cornell, drafted 3rd overall, has good projectable upside but his game may take some time to translate to OHL success. Alan Quine, Brett Findlay, Francis Menard and Zach Lorentz will adopt leadership roles up front while Slater Koekkoek (Tampa Bay Lightning), Peter Čerešňák (New York Rangers), and Clark Seymour (Pittsburgh Penguins) will help youngsters Trevor Murphy, Alex Robinson and Steve Varga familiarize them with the OHL.
Top Scorers: Alaine Quine, Nick Ritchie, Stephan Nosad
Rookies to Watch: Eric Cornell, Josh Maguire, Greg Betzoid
10th Mississauga Steelheads
Rebranded in the offseason with the Steelheads logo, it appears it could be another long year for Mississauga as they look to climb from the basement of the Eastern Conference. Led by Riley Brace, the Steelheads are hoping that forwards Kristoff Kontos and Scott Teskey elevate their game to another level to provide more offense.  The Steelheads strongest assets are on their blueline and in between the pipes. Stuart Percy (Toronto Maple Leafs), Trevor Carrick (Carolina Hurricanes) and Dylan DeMelo (San Jose Sharks) is a great trio of defensemen to play in-front of the goaltending duo of Spencer Martin (2013) and Tyson Teichmann. Rookie Russian import Sam Babintsev will be an interesting player to watch as he could be a difference maker in sparking the OHL's third lowest scoring team from last season.
Follow @RossyYoungblood for all your OHL and prospect needs.