Taking Lightning general manager Steve Yzerman at his word, there will already be a shiny new prospect in the fold when Tampa Bay is on the clock again with the nineteenth selection Friday night. Anything is possible when it comes to the draft, but it would make sense for the Lightning to use both first-round selections. The cupboards need to be kept stocked with quality young players for success in today's NHL.
Most prognosticators foresee the Lightning taking a defenseman with the tenth overall selection, and I am no different. Given the quality of defensemen available in the first-round, the Lightning could very well select a pair of blue-liners. Things are much more wide open with the nineteenth overall selection. Who might the Lightning be looking at?
1. Derrick Pouliot, D (Portland Winterhawks, WHL)
Pouliot is a touch unfortunate to be in a deep draft for defensemen. However, he is not one to overlook. At 6-foot and 181 pounds, Pouliot is a bit on the smaller size which can give him trouble against bigger forwards. Size may be the only thing keeping Pouliot from being a top-ten selection. He is an effortless skater with tremendous awareness in all situations. He is lauded for his poise with the puck and his passing skills are top notch for defensemen in this draft class. Pouliot is a more than capable quarterback for the power play as well, something the Lightning could very much use. His poise and passing from the point can sometimes hide a sneaky good shot. Pouliot is no stranger to expectations. He was the first overall selection in the 2009 WHL Bantam Draft. He also represented Canada in the 2010-11 World U-17 Championships and took home a Gold Medal in the 2011 Ivan Hlinka Tournament. Should Pouliot still be available at nineteen, it would be hard to imagine the Lightning passing on him.
2. Brendan Gaunce, C (Belleville, OHL)
While the Lightning have some exciting prospects playing on the wing, they are not terribly deep at the center position. Aside from not being a gifted skater, Brendan Gaunce would be exactly the type of player the Lightning are looking for. Gaunce is has a big 6-foot-2, 207 pound frame and can be a handful to play against when he is engaged physically. Gaunce is a fierce forechecker and has a good understanding of the game in all three zones. He will need to work on his skating, and his great work ethic should help him become a better skater. While considered to be a solid two-way player, Gaunce does possess solid offensive skills. He doesn't have a great shot, but he put himself in proper position for scoring chances. His awareness and hands also allow for pretty feeds with the biscuit. Gaunce may turn out to be an ideal fit in Tampa with a good combination of size, hockey sense and compete level.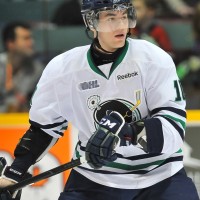 3. Tom Wilson, RW (Plymouth, OHL)
If you look only at box scores and statistics, there are certain players who will go unnoticed. Tom Wilson would be one such player. That said, Wilson is easily noticed when watching him play. Not many prospects can develop into true power-forwards, but Wilson plays that style of game. He uses every bit of his 6-foot-4, 194 pound body to inflict pain on the unfortunate soul he has in his cross-hairs. A reason not many prospects can develop into power-forward types is the inherent risk of injury. Wilson has been limited to 77 games over the past two season while suffering from a severed tendon in his wrist, a sprained MCL in his knee and a broken knuckle after a bout with Dalton Thrower at this year's Top Prospects Game. Despite the knee injury, Wilson has managed to improve his skating. He is not dynamic with the puck on his stick, but his hands are not bad. If he can find some touch around the net, where he often forces himself in the offensive end, Wilson could become a garbage goal menace. He does have untapped offensive upside, but his aggressive style of play may have him on Tampa's radar.
4. Tomas Hertl, C (HC Slavia Praha, Czech Extraliga)
The Lightning could be enticed by this talented Czech center. At 6-foot-2 and 200 pounds, Hertl has plenty of size and strength. Although awkward is a word often used to describe his skating, he does have good speed once he gets going and is tireless in his pursuit of the puck. When the puck is on his stick, scoring chances are often the result. He uses his big frame to protect the puck well, and his touch with the puck and vision are very good. He can be patient to create plays, but can also unleash a hard shot when given the opportunity. He is an ever dangerous player due to his aggressive style and keen hockey sense. If he can improve on his skating, he could very well develop into a top-six forward in the near future.
5. Sebastian Collberg, RW (Frlounda, Elitserien)
Don't let his small stature fool you, Collberg is no push over. Despite being just 5-foot-11 and 174 pounds, the young Swede is not afraid to get his nose dirty. In fact he often initiates contact and doesn't shy away from the dirty areas of the ice. While he does need to add strength, he is a very gifted skater and gets in on the forecheck quickly. He is a true competitor and often wins one-on-ones on the boards. When he has the puck he can make things happen with both his great wrist shot and deft passes. He has a very quick release on his shot and regularly catches goalies off guard. He has a very diverse game which allows him to play in a variety of roles. He can provide offense as a top-six forward and can be equally effective as an energy player. Collberg is also a reliable defensive player who routinely aids in diffusing scoring chances against.
As wide open as the nineteenth pick appears to be for the Lightning, hearing the name of a goaltender is not likely. Having Anders Lindback, Dustin Tokarski, Riku Helenius and Jaroslav Janus around lessens the need to select a goalie high in the draft. That isn't to say a goaltender will not be selected by Tampa Bay during the draft, it just isn't likely to happen Friday night. When all is said and done, expect the Lightning to be very happy with a pair of prospects they believe will help get them back to the top of the NHL standings.