The 2012 NHL Stanley Cup playoffs are finally upon us with action beginning this week. You know what that means: Time for the annual first round predictions to appear.
Without further adieu, you are presented with first round predictions made by yours truly.
Eastern Conference

(1) New York Rangers vs. (8) Ottawa Senators
Prediction: New York
Despite such a difference in success between the Rangers and Senators this season, this appears to be the series that is most likely to involve an upset. The Senators a very well-coached team and have a great leadership group. That's not to take anything away from the Rangers though, as they finished second in the entire league this season. Also, Henrik Lundqvist will be between the pipes and they are deep at every position.
(2) Boston Bruins vs. (7) Washington Capitals
Prediction: Boston
This series doesn't need much of an explanation and you might say the outcome is even easier to predict than that of the above-mentioned matchup. The Bruins, one of the stronger teams in the NHL this season, have a tremendously talented tandem in net and, like the Rangers, their depth at each position is outstanding. Washington has been very inconsistent this season and needs to find some good traction in order to take off early.
(3) Florida Panthers vs. (6) New Jersey Devils
Prediction: New Jersey
The rankings here are deceiving; New Jersey finished with eight more points in the regular season than Florida, who is in third only because they managed to win the Southeast Division. New Jersey owns a much more impressive goal differential and it has playoff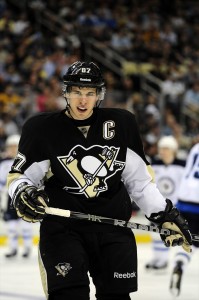 veterans Martin Brodeur and Johan Hedberg between the pipes. And don't forget about Zach Parise and Ilya Kovalchuk, who have the ability to break any game wide open.
(4) Pittsburgh Penguins vs. (5) Philadelphia Flyers
Prediction: Philadelphia
Perhaps the most anticipated series of the upcoming playoffs, Pittsburgh and Philadelphia is very likely to reach seven games. With these two teams being one-two in goals for per game, one would have to think that the key to winning this series will be to shut down the opposition's top scorers. As long as the duo of Ilya Bryzgalov and Sergei Bobrovsky can remain steady throughout, watch for the Flyers to take this potential blood bath.
Western Conference
(1) Vancouver Canucks vs. (8) Los Angeles Kings
Prediction: Vancouver
What has some people wondering if the Canucks will walk away with this series like many are predicting is the fact that Jonathan Quick can steal a game and Roberto Luongo can throw one. We must remember though, that the Canucks also have Cory Schneider on their side, while it seems as though the Kings can hardly manage to find the back of the net in every game they play. For this hockey writer, the soon-to-be winner of this series just seems too obvious.
(2) St. Louis Blues vs. (7) San Jose Sharks
Prediction: St. Louis
The Sharks' success─or lack there of─this season came as a surprise to many, yours truly included. The same can be said about the Blues' own success, which began immediately after Ken Hitchcock was placed behind the bench as head coach. Now the team is strong in net and can play solid defence. That should be enough to finish off the Sharks, although the Blues' limited scoring ability can be concerning.
(3) Phoenix Coyotes vs. (6) Chicago Blackhawks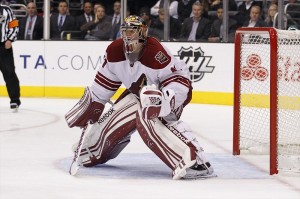 Prediction: Chicago
Similar to the New Jersey/Florida series, the rankings in this first round matchup are very deceiving; Chicago finished the season with four more points and three more victories than Phoenix. Things to keep in mind as this series approaches include the fact that the Coyotes probably wouldn't have been so clear of ninth without Mike Smith in net, the Blackhawks' offence and that many of the current Blackhawks players have been not only here in the past, but also in the Stanley Cup Finals.
(4) Nashville Predators vs. (5) Detroit Red Wings
Prediction: Detroit
These teams were outstandingly even in the regular season as both had 48 wins with only two overtime/shootout losses resulting in the difference in the standings. What this series will probably come down to is experience, which the Red Wings are loaded on. As well, if the Wings can take advantage of the games they play at home (where they went 31-7-3 this season) they will surely take down the Predators.
Twitter: @LukasHardonk | Email: lukas.hardonk@gmail.com | Lukas' archive
For every Leafs article on THW, follow @THW_MapleLeafs on Twitter.
Lukas, a student at the University of Ottawa, covers the Toronto Maple Leafs on a part-time basis for The Hockey Writers. Contact Lukas at lukas.hardonk@gmail.com or follow him on Twitter, @LukasHardonk.