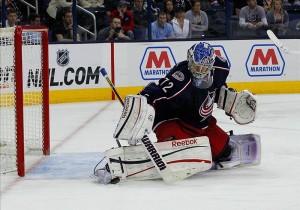 In 2013, the Columbus Blue Jackets were a sportswriter's gift. The hockey club provided no shortage of engaging storylines, giving both hardcore and casual sports fans some kind of drama or entertainment throughout the season. Perhaps most immediate was the aftermath of the Rick Nash trade, a 2012 event that was never fully explored until the end of the lockout. The saga of John Davidson's hiring (and associated change in general managers) has a chance to be known as a watershed moment in the history of the Jackets. But arguably the most compelling tale of the Columbus year was the emergence and dominance of Sergei Bobrovsky. It's hard to argue that there was a more valuable player to the Blue Jackets in 2013, and the netminder nearly brought the franchise to their second berth in the Stanley Cup Playoffs. So as we head toward the new season and the next page of Bobrovsky's career with the Jackets begins, it's worth taking another look at his accomplishments and what might come next for the Columbus goalie.
Bobrovsky's Vezina Revisited
Entering the 2013 season, many previews focused on the lack of scoring and uncertainty of goaltending in Columbus. Both were entirely valid concerns, and a slow start to the year for the team (including an early-season timeshare between Bobrovsky and Steve Mason) did little to assuage fears. Then, in a matter of a few games, the entire picture changed in net. Bobrovsky completely overtook Mason, having an unparalleled two-month stretch in March and April. Even beyond stealing (and cementing his place in) the Columbus starting job, Bobrovsky managed to drag his whole team out of the NHL basement and to the very edge of the playoffs (the club falling just one point short). His subsequent Vezina trophy was well-deserved. The crowning (or at least most eye-popping) moment of his season came in the final, must-win game against Nashville where a relentless volley of shots were all turned aside to preserve the score. The footage (seen below) can cause Pavlovian jaw-dropping among hockey fans.
Individual History and Historical Precedent
As a single season, the work of Sergei Bobrovsky was absolutely deserving of praise and awards. But how does the 2013 campaign appear in context to Bobrovsky's past and historical netminding? Let's start by taking a look at Bobrovsky's yearly and career save percentage results, both in even strength situations (EV) and overall (OV). We'll look at both his total shots against, and the actual percent saved. All data is taken from NHL.com
| | | | | |
| --- | --- | --- | --- | --- |
| | EVSA | EVSV% | OVSA | OVSV% |
| 10-11 | 1238 | 0.923 | 1527 | 0.915 |
| 11-12 | 607 | 0.916 | 769 | 0.899 |
| 12-13 | 930 | 0.941 | 1084 | 0.932 |
| Career | 2775 | 0.928 | 3380 | 0.917 |
This doesn't illuminate an immediate pressing concern for Bobrovsky's future, but does reveal the heights of Bobrovsky's 2013 campaign. A career .928 EVSV% is fairly impressive, and a .923 in his first year is no slouch of an effort, but the long-term implications are still not set in stone. As other authors including Gabe Desjardins have explored, with a relatively low number of even strength shots against, it's unclear what career save percentage we can expect from Bobrovsky. Yes, that .928 probably means the Columbus netminder is no less than league average, but multi-season elite status is less obvious. What if we expand this view to historical single-season performances? Since the NHL started recording save percentage, there have only been 15 times that netminders have recorded a season-long save percentage of .930 and greater (with 30 or more games played). Of those instances, three belong to the legendary Dominik Hasek, and two to Tim Thomas. Consider that again, only 12 men have recorded a .930 or better over 30+ games and only two of those have ever managed to repeat it. Past precedent is not on Bobrovsky's side to repeat his heroic run and .932 result. But should Columbus require their goalie to drag them into the playoffs?
Blue Jacket Fate in His (Glove) Hand?
It's difficult to place the destiny of an entire NHL team squarely on the shoulders of one player. Last year for Columbus, that mode took over as their goalie dominated opposing shooters and brought real stability to his club: the 2013 Sergei Bobrovsky was the glowing example of hard work and success. This year, it's unlikely that the Russian goalie will reach the same heights he saw on the road to the Vezina. But if the Blue Jackets have truly progressed as a franchise, his Bobrovsky's probably slip toward being "merely very good" (rather than otherworldly) should not define the season. Yes, Bobrovsky's performance bears close watching (he has to live up to a fairly hefty salary now), but if Columbus really hopes to make a splash in the Eastern Conference they'll need more than an above-average goalie. Bobrovsky may slip, but it's up to his team if the club falls down.