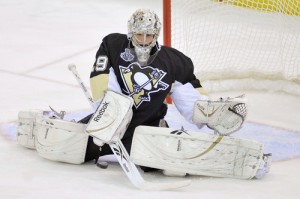 How's about a little stroll down memory lane to start us off?
In 2008, Pittsburgh Penguins' franchise goalie Marc-Andre Fleury suffered a high ankle sprain. The worst possible sprain for an athlete. It's nigh impossible to gauge a recovery time, and there are many other injuries, or infections, that can develop.
Ty Conklin was the Penguins' backup that season, and he played admirably in Fleury's stead. He played so well in relief, in fact, that he had fans and even some Pittsburgh sports media members calling for Conklin to be the full-time starter despite Fleury's impending return.
All "Flower" did after that was lead the Penguins through the playoffs to the tune of a 14-6 record (of the six losses, four of those came in the Stanley Cup Final against the powerful Detroit Red Wings), with a GAA (goals against average) under 2 (1.97) and .933 save percentage.
Yes, the Penguins lost in the Cup Final that season to Detroit. But it was not because of Fleury.
Fast forwards to the 2009 Stanley Cup Playoffs, albeit without the silly goalie controversy preceding it.
This playoff season was much different for Fleury and the Pens. Unlike in 2008 when they breezed through the first three rounds, the Philadelphia Flyers extended them to six games, followed up by the Washington Capitals first jumping out to a 2-0 series lead, only to succumb in seven games. The Carolina Hurricanes proved to be little match for Pittsburgh, on their way to a second-straight appearance in the Stanley Cup Final, only to be met there once again by the same Detroit Red Wings team from a season before.
We all know how this movie ends. Fleury gave up five goals in game five, and the Pens were shut out. Before game six, a raucous crowd at the old Civic/Mellon Arena/Igloo starts chanting Fleury's name prior to the drop of the puck, to show him support. What followed was, not only in game six but in game seven two nights later, was some of the best hockey net-minding that I have ever seen out of the Penguins' goalie with the babyface looks and massive expectations.
Pittsburgh won game six, and minus a Jonathan Ericsson one-timer with five minutes left in the third period, Fleury slammed the door on Detroit in game seven to propel the Penguins to win the Stanley Cup for the third time in franchise history.
What has followed (we'll throw out the 2011 Stanley Cup Playoffs, considering the Pens had neither Crosby nor Malkin due to injury) has been nothing short of disastrous.
The Abrupt Exits
In 2010, after disposing of Ottawa, yet again, in six games, the Penguins faced the hottest goalie in the league, Jaroslav Halak, of the Montreal Canadiens. After taking three of the first four games in the Eastern Conference Semifinals, Fleury and the Penguins lost three straight, and game seven was never even a contest.
Move on to 2012 against the Pens' arch-nemesis, the Flyers, and Fleury never screwed his head on straight. The Penguins held multiple 2-goal leads in each of the first two games at home, only to lose game one in OT, and game two resembled the shootout at the O.K. Corral. Game three was no better for the Penguins, and just to try and save face, they won games four and five, only to be embarrassed in game six in Philly.
The interesting argument among Penguins' fans lies in how the they've been eliminated from the playoffs in the past four seasons. The Flyers scored 30 goals in five games. THIRTY! It takes the Florida Panthers two months to score that much! But lets focus the "how" spotlight directly on MAF. In the past three post-seasons, he has literally imploded, which prompted Pens' general manager Ray Shero to search for a backup who could be a starter in case Fleury crapped the bed again. It's that he's giving up goals. It's HOW he is doing it. By knocking pucks into his own net with his backside. By being caught out of position for no apparent reason. By being a given a shot at redemption in the 2013 Stanley Cup Playoffs, when his team needed him most (game two, trailing 3-0) and within three minutes, blowing it.
Enter Tomas Vokoun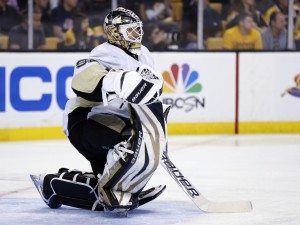 Shero's search led him to Tomas Vokoun. In the lockout-shortened season, Vokoun had some stellar stretches. At one point, during the month of March in which the Penguins went a perfect 15-0-0, Vokoun had a shutout stretch of well over two games.
He was brought in by Shero because, well, the Penguins' brass has lost trust in their franchise netminder. At least during the playoffs, anyway.
And as much as I hate to say it, for good reason.
We all remember how Fleury yet again imploded, seemingly for no reason, in game two of the Eastern Conference Quarterfinals against the New York Islanders. He was back to using his bum to help the opponent score goals, and giving up big leads.
So speaking of that trust issue, after game two against the Isles, you can add his teammates to that list as well.
Somehow Fleury managed to play his way to a 2-2 series deadlock against the Islanders, looking like he had never heard of ice hockey, let alone played it before. The final nail in his proverbial coffin was an effort in game four in which the Pens battled back to tie the game multiple times, then take a lead not once, but twice, which Fleury promptly squandered.
Vokoun got the nod in game five back in Pittsburgh and never looked back (except for a terrible showing by the Pens' defense in game two against Boston).
Back to the Future
What exactly does the future hold for the goalie who was thought at one point, in the not-so-distant past, to be one of the cornerstones of this current Penguins' team.
Clearly there is a lack of trust in Fleury's playoff abilities. The bright spot there is, he still has 7 1/2 months to figure out that problem. He's been a solid performer in the regular season the past few years. Now he just has to figure out to translate that success to the post-season.
My advice? Stop trying to win the game with every save. In other words, stop trying to do too much. Stop the puck. That's it. I'm not even referring to playing the puck (which he has by all accounts gotten better at over the years), just see the shot, see the puck, be in position and make a routine save. Then, prepare yourself for the next one. As once a goalie myself (on a traveling midget team with expectations and goals of winning championships to put it in perspective) , I can personally attest to how certain things can get into your head, making you second-guess yourself. It's gotten so bad for the Flower that over the summer, it's rumored that he sought (or was ordered by his superiors) a sports-psychologist. Only time will tell if he can regain the form from 2008 and 2009.
Worst Case Scenario
If he can't, Shero has made sure that he is stockpiling talented goalies with which to experiment. This past April, Quinnipiac goalie and Hobey Baker Award Finalist (top collegiate hockey player) Eric Hartzell was signed to a one-year entry level contract (which actually expired a the end of the 2013 shortened season), and was then re-signed in July to a two-year/two-way deal.
Add to that the second-round draft pick, acquired from San Jose for Tyler Kennedy at the 2013 NHL Entry Draft, that the Penguins used on Edmonton Oil Kings netminder Tristan Jarry. Jarry is young, and will most likely spend the next two seasons playing for his junior team, but the Pens like his up-side.
The bottom line here is that Fleury will be given every opportunity this season to either redeem himself, or play his way out of Pittsburgh. The regular season typically hasn't been the issue for Flower. But mark my words, he will be on a VERY short leash all season long.
Please follow me all season long on Twitter:
You can also email me at TDTorraoTHW@gmail.com with any comments or questions.

Pittsburgh, Pa. Class of 2000 graduate from Robert Morris University with a B.A. in Mass Communications. Full-time objective sports fan.