When Stan Bowman announced late last week that Jonathan Toews and Patrick Kane would be "In Chicago Forever" the entire Blackhawk nation exhaled a sigh of relief. Losing either cornerstone members of a dynasty in the making would be a huge blow to an organization that has fought long and hard to regain relevance in the NHL.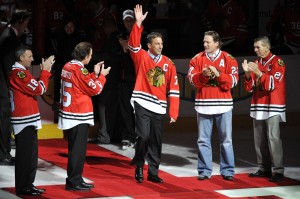 With all of the good will (and money) that has been thrown around on West Madison lately one struggles to remember when the "Blackhawk for Life" sentiment was not the prevailing thought among the Chicago front office brass. In fact, it was quite the opposite. Don't worry, this is not another worn out column about how the younger Wirtz is better than the older Wirtz. That, as we all know, is a topic that has seen enough ink in the last 5 years and to be quite honest there is no comparison. The job that Rocky Wirtz, John McDonough, and the Bowmans' have done to put together the NHL's best club is undeniable. No, this is a column about "what if".
Bowman's quote got me thinking what if the Hawks had always operated this way? What if Bowman's creative cap management and core retention was the blue print for all past Blackhawk front offices? What if every GM of the Hawks over the last 35 years decided to make their star players "A Blackhawk Forever?" and commit to a core group? What might have been is truly bittersweet to think about and the franchise might be celebrating much more than their 5th cup right now.
I decided to look at 4 starsthat should have been " Blackhawks Forever" and speculate on just what it would have meant to the franchise.
Hull of a Loss
It's easy to start with the most identifiable Hawk and wonder what might have been if he had stayed in the Indian Head sweater. This is a player without question that should have been but wasn't a "Blackhawk Forever". Bobby Hull was the original Chicago superstar and the face of the franchise. Hull pocketed 604 goals in his illustrious Blackhawk career and was just two years removed from leading the Hawks to the Stanley Cup final in 1970-71 when he was allowed to leave to the WHA.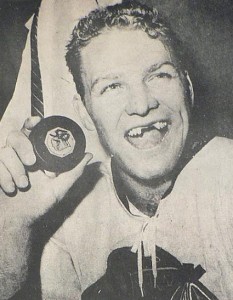 Hull produced over 300 goals in the next 7 WHA seasons while in Winnipeg. During that span the Blackhawks finished first in their division 5 times and returned to the finals the year after Hull jetted to Winnipeg but could never make it over the hump in the playoffs. With a strong cast of players that included Jim Pappin, Dennis Hull, Stan Mikita, and Tony Esposito how many Cups could the Hawks have secured had Hull stayed a Blackhawk for life? In my estimation they could have added one more Stanley Cup Banner to the rafters. The 1972-73 the Hawks advanced to the Finals without Hull and fell in six contests. Having Hull in the line-up becomes the difference maker and makes that series much more slanted in Chicago's direction. While the jury will be forever on that verdict it is safe to say that adding Hull to a maturing mix of young Blackhawk talent in the mid-seventies would undoubtedly have made the Hawks stronger and possibly a legitimate challenge to those great Montreal Canadien teams.
Alternative (Blackhawk) Nation
The nineties were a decade of alternative music and grunge clothing but it was also the decade in which Chicago dressed 3 of the best players in the game.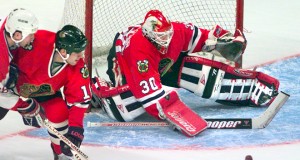 If only Bowman had come along to the Hawks two decades earlier he might be closer to his father in Stanley Cup rings.  The three faces of Blackhawk Hockey throughout the nineties were without a doubt Chris Chelios, Jeremy Roenick, and Ed Belfour. Chelios and Belfour are in the Hall of Fame and Roenick might well find his way there eventually. Unfortunately for Blackhawks fans these three spent far too short a time in Blackhawk sweaters. These 3 stars only got to play in each others company for parts of 6 seasons. But what if they had stayed together?
Roenick was the first to leave followed by Belfour and then eventually Chelios but what would it look like if the Blackhawks had committed to this core? Roenick was just entering his prime as a excellent power forward when the Hawks traded him before the 1996-97 campaign. He was a two time 50 goal scorer that brought flash and toughness every night. Would a Hawks team that featured this trio core along with Tony Amonte, Eric Daze, Denis Savard (reacquired), Eric Weinrich, Gary Suter, and Bob Probert not have been able to consistently compete for the Stanley Cup in the latter half of that decade? As it was, Belfour put together 3 of his best seasons to close the millenium (all in Dallas). In 2 of those 3 seasons his goals against average dipped below 2 and he won his only Stanley Cup while playing on a team in Dallas that lacked the firepower of the above mentioned players.
Had the Hawks kept this star trio together I can easily see them hoisting the Cup overDallas or New jersey. In fact, Roenick and Amonte versus Scott Stevens would have been a much more interesting final than what we ended up with. We will never what would have happened had the Blackhawks committed to this core and made the three of these stars Hawks for life or what other roster moves this would have created in a "Blackhawk Butterfly Effect"(Does a core like this tempt Brett Hull to sign in Chicago to play in his father's footsteps, does it stop Amonte from being traded?) but this team could have easily picked up two more Cups in that decade.
Hull, Chelios, Roenick, Belfour and what could have been.   4 Hall of Fame caliber players and possibly 3-4 more Stanley Cups had they stayed here long term?
Bittersweet Indeed.