It took far longer than anyone had hoped for but the Buffalo Sabres locked up restricted free agent center Cody Hodgson to a long-term deal this week.
Things were looking a little dicey for awhile, with no word coming from either side as to just where talks were at or what Hodgson was looking for. The 23-year-old center had his first "full" season with the Sabres last year – I say "full" because it was a 48 game, lockout-shortened season – and had a breakout performance with 15 goals and 34 points while spending most of his time on the team's top line with star winger Thomas Vanek.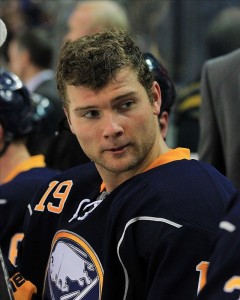 That effort, and the flashes he'd shown in his limited time in the NHL prior to that, got him a six-year, $25.5M deal ($4.25M cap hit) from the Sabres. The reaction, as is everything on the internet, was split down the middle.
On one side, there were those outraged by the signing. The typical response is about how he hasn't earned what he'll be paid and the Sabres were stupid for giving him the deal they gave. Not only that, but it turns into a rant about the general feeling that players are overpaid which is an entirely different debate for a different time.
The other side? Well that's the side I'm on. This was a good signing for the Sabres for a couple of reasons.
The Point of the Deal
First of all, the whole point of bigger contracts is that you're paying for future performance, not past achievements. While it's all well and good that Player X gets paid because he's been good the last few years, the team that is signing him needs him to be good for the life of the contract. That's the point of a deal like this: the Sabres aren't paying for the production they've already got, they're banking on Hodgson continuing to improve and making this deal a bargain. People need to understand that.
Not only that, but it's smarter business to get ahead of these younger players, lock them up to cap-smart deals and hope they work out. The Leafs used a bridge deal with Nazem Kadri, which is fine. They get him cheap for two years but if he continues to improve and produce, it's going to cost them in the near future.
The Comparables
Secondly, the Sabres are locking up what they believe to be a first-line scoring center. Do you know the last time the Sabres had one of those? Danny Briere is probably the most recent and it's even longer before that. Top line scoring centers don't just grow on trees and the Sabres believe they have one.
The sample size is relatively small but consider this: in his rookie season split between Vancouver and Buffalo, he scored 41 points 83 games (.49 points-per-game). Last year, he improved to 34 points in 48 games (.708 PPG). If he can even improve that PPG average to .75 over a full season, that's in the 60-65 point range.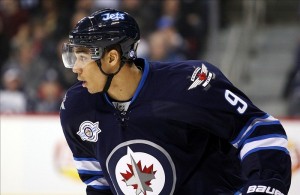 Let's look at guys with comparable cap hits: David Booth, James Van Riemsdyk, Patric Hornqvist, and Jakub Voracek all have the same annual cap hit on their deals. Only Voracek (46 points) outscored Hodgson last year and all of them are older.
Another interesting comparable? Evander Kane. The 22-year-old winger got a brand new deal after his 30-goal, 57-point effort in 2011/12 that pays him $5.25M per season in terms of cap hit. Hodgson outscored him last year, too, and is a million bucks cheaper.
If you're the Sabres, why wouldn't you commit some coin to a guy you think will be a high-end player?
The Vanek Effect
Thirdly, he could help keep Thomas Vanek in town. Vanek reportedly refused a contract extension in the off-season but likes the moves the team has made. With Hodgson around, Vanek has a burgeoning talent in the middle to feed him pucks, make plays, and make his life easier so that he doesn't have to break his back carrying this team again. If Hodgson has a big season this year and Vanek stays partially because of him, this deal becomes even more worth it. Keeping a star by proxy works for me.
Keeping Vanek shortens the transition and makes it far less painful. He's one of the most consistent scorers in the game and those guys don't just grow on trees. The team is always better off with Vanek on the roster because he can score like few others in the game. If Hodgson's growth and presence keeps him around, I'm all for it.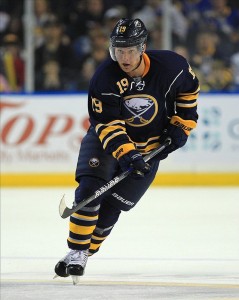 The Verdict
Overall, the Sabres should be happy with themselves. Hodgson outscored most of the comparables to his new cap hit and a few others making more than he is and he's still just 23-years-old and entering his third season. He's going to continue to grow, meshing with Vanek, and becoming a bigger part of the Sabres move towards the future.
You should have nothing to be upset about, Sabres fans. The team locked up a young stud for what will soon be a bargain. Be happy.