The Colorado Avalanche continued training camp today. Once again, the day began with Patrick Roy and other coaches running drills with a select amount of the players. Defensive positioning was, once again, the focus of practice had a lot to do with positioning both offensively and defensively.
Clear Focus
On the offensive side it is very clear that Patrick Roy wants the team to focus on getting the puck to the point and creating havoc in front of the net for deflection and rebound goals. Drills had the team passing from the corners to the point and making sure somebody is in front of the net the whole time. Roy is also working with players on making certain they are in the right position and are ready to knock home rebounds.
On the defensive side, Roy continued to make certain all people know their responsibilities in front of the net. Far too often, the past couple of seasons saw fundamental breakdowns in defensive zone coverage that ended in goals that never should have been allowed. Roy has a great team of coaches who are working hard to make certain that this is not going to happen again. These drills are really beginning to show where some of the weakest links are on this roster.
Watching Roy and his crew actually coaching and really working these players through drills made me wonder something about this roster. Was this team really as bad as they seemed a season ago? It is so obvious that there was such a huge coaching deficiency previously that it seems to confirm the feeling so many Avalanche fans had. That the guys really just didn't know what was expected out of them and their performance suffered as a result. Is it possible that, with a strong coach who clearly demonstrates and teaches them all the things he wants out of them, this team could show an astonishing improvement?
Players Who Stood Out Positively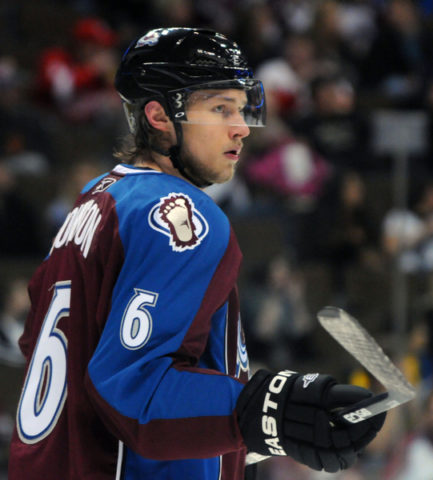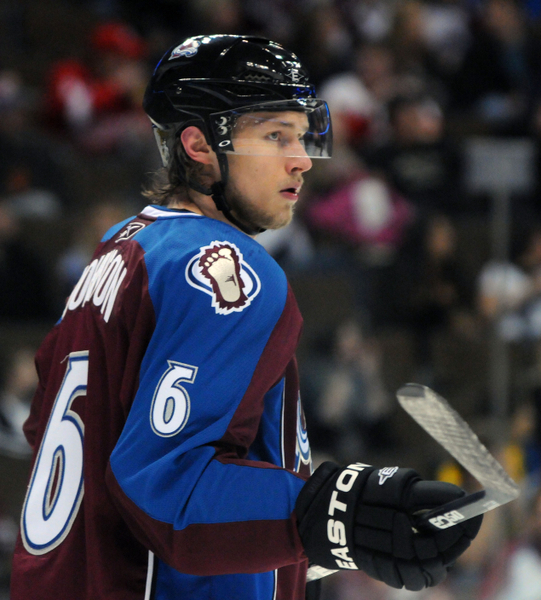 Ryan O'Reilly, Matt Duchene and P.A. Parenteau were all fantastic today. O'Reilly and Duchene are on the same line in training camp, but Parenteau is on a different roster. Nonetheless, these three were the best ones on the ice during scrimmages today. Matt Duchene and Ryan O'Reilly have amazing chemistry with each other and just manage to find one another every single time out there. P.A. just has a way of slowing everything down and then, suddenly, finding the person in the best position to score. These three are going to create absolute magic on the ice this season.
Colin Smith has a great "wow" factor. He plays the game with his head up at all times, which is important to an undersized player. He also has a lot of fight in him. Much like Garrett Meurs, he doesn't let the fact that he's smaller than most everybody on the ice stop him. He fights through checks, battles for the puck in dirty areas and knows how to take a hit. He has great instincts and really started to show some fantastic stick handling abilities not to mention great passing. You watch him play and you absolutely can't believe that he was a SEVENTH ROUND DRAFT PICK. Smith could turn into a star.
Chris Bigras continues to impress. Yesterday he spent most of his time showing his intelligence within the defensive zone. Today, Bigras showed his ability to jump up into the play and use his skating to turn something that seems really normal and banal into a potential scoring chance. Bigras had moments where he was leading an offensive rush aside Matt Duchene and others where he used his fantastic skating to split defenders and use his speed to create an offensive chance where there appeared to be nothing. Initially, I didn't expect Bigras to have much of a chance to make the roster, more because he's still a little physically small, but his play is so advanced that he might be able to slip into the roster.
Erik Johnson recovered nicely from a rough day yesterday and was fantastic today. Solid in his own zone, Johnson also finally started to show the offensive upside that we all know that he has. During scrimmages, Johnson scored two goals in two different ways. His first was a great feed from Ryan O'Reilly who caught Johnson cutting in from the point. He put a great shot goaltender Calvin Pickard. His second goal was something that was just totally missing last season. Matt Duchene fed a pass to the point and Johnson absolutely ripped home a one-timer from the point. It was nice to see Johnson recover after a bad day and have a dominant one.
Other players who stood out positively were: Paul Carey, Andre Benoit, Bryan Lerg and Steve Downie. Though Downie did leave the ice during scrimmages, Patrick Roy said he is fine and will be a full participant in practices tomorrow.
Players Who Struggled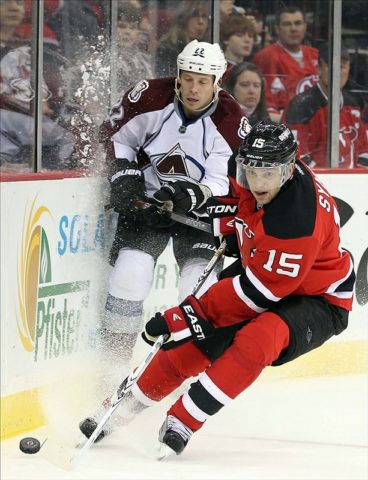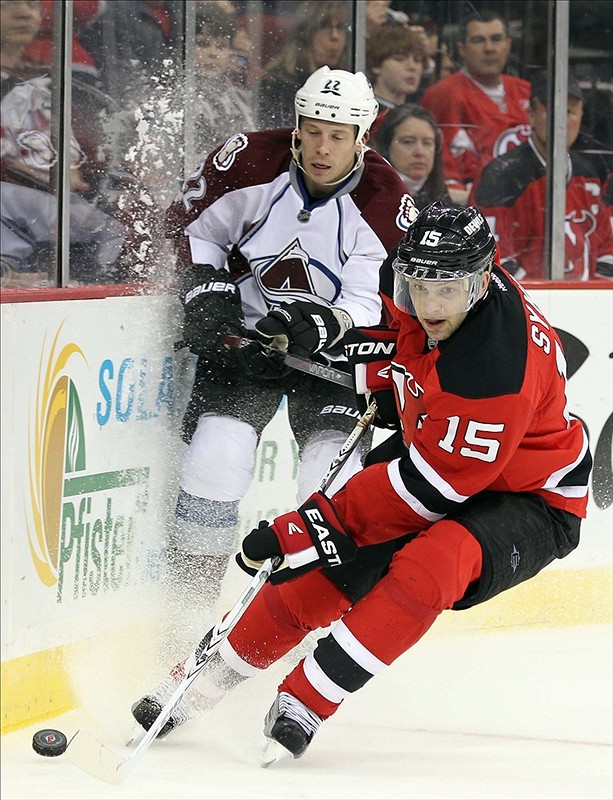 Matt Hunwick might not make this team. It seemed pretty obvious that Hunwick might be fighting an uphill battle after being placed on waivers earlier this summer, and he hasn't done anything to help his cause so far. Yesterday, Hunwick was stopped during defensive drills multiple times and looked like he didn't understand what his positioning responsibilities were at all. Today was more of the same. Not only were there still positional issues, which there have been ever since he arrived, he struggles with basic fundamentals and constantly turns the puck over. He was chasing people after turnovers multiple times today and you simply aren't going to be on the ice if you keep turning the puck over. If things ended today, I don't see Matt Hunwick making this team.
Mark Olver is a guy I want so desperately to pull for, but he seems to have become expendable. When Olver first broke into the league he was a the pesty player who could drive you crazy in one moment and then put the puck in the net the next. Now he does neither of those. I like Olver a lot, but I just have a harder and harder time seeing him making this team, especially with him not really doing anything to stand out. If I had to use one word to describe him so far, it would be "meh."
Other players who struggled a bit today were Gabriel Beaupre, Michael Clarke and Michael Schumacher.