The waiting is finally over.
On Friday, Alex Pietrangelo reached a contract extension with the St. Louis Blues, signing a seven-year, $45.5 million contract extension. Jeremy Rutherford of the St. Louis Post-Dispatch reports that the deal breaks down as follows:
Here's the breakdown of Pietrangelo's contract: $5 million, $5.5, $6.5, $7, $7, $7, $7.5 #stlblues

— Jeremy Rutherford (@jprutherford) September 13, 2013
The deal ends a saga that lasted through the offseason. After a quiet summer with the media, both sides faced the month of September with speculation and fan outrage that a deal had not been reached.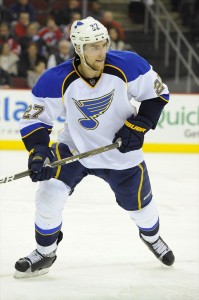 Now, Pietrangelo will join the Blues on Saturday afternoon after the team has already skated in two days of training camp. His 2012-13 season ended on an entry-level contract; he rejoins as the man who earns the highest contract that was agreed to by the Blues.
In fact, the young defenseman earns the highest-paid contract paid out by the club since before the 2004-05 lockout. The franchise has been unwilling to hand out long-term contracts in that time. Management has added veteran Paul Kariya and even locked up current captain David Backes to a long-term contract, but both deals were not in excess of five years.
Jay Bouwmeester is currently the team's highest paid player, after he signed a 5-year, $33.4 million contract with the Calgary Flames in 2009. The Blues acquired the veteran blueliner at the 2013 NHL trade deadline and he played a vital role on the top defensive pairing with Pietrangelo during the playoffs. Despite having one more year left on his contract, Bouwmeester signed a five-year extension with St Louis this summer, accepting an average $2.28 million pay cut from his previous contract.
Pietrangelo's contract, which includes a no-trade clause through the entirety of the deal, avoids the "bridge contract" that has become popular among players exiting entry-level agreements. Toronto's Nazem Kadri signed a deal that fits this description, inking a 2-year contract with his club that will lead him into arbitration rights when his contract expires. Montreal's P.K. Subban also comes to mind, agreeing to a two-year contract in the middle of the 2012-13 season to end a five-game holdout that lasted through the opening of the season.
[See related: Nazem Kadri Re-Signed, But What About Franson?]
The 23-year old defenseman has posted 29 goals, 92 assists and 121 points in 221 NHL games. He has also recorded a plus-25 career rating and has just 73 penalty minutes.
With Pietrangelo, the Blues are about $1.12 million under the cap. The deal solidifies a solid core of defensemen, which allowed the league's second-best amount of shots against per game in 2012-13 (24.2). The cornerstone of the franchise hopes to continue this trend through 2019-20.