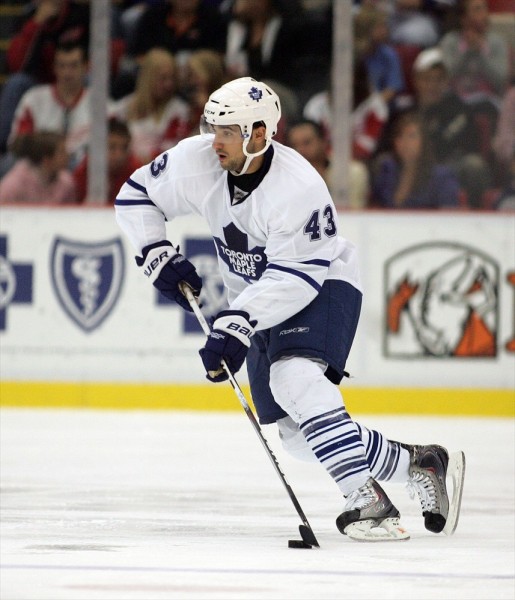 Late last night, Leafs fans from coast to coast breathed a sigh of relief as news got out that RFA center Nazem Kadri was brought back into the fold. Kadri's new deal is arguably GM Dave Nonis' best deal yet. After multiple reports that Kadri was looking for $5-6M per season at the maximum length, it became abundantly clear that he was not going to get even close to that due to cap concerns. It appeared that Kadri was ready to miss training camp and start a holdout process, much like RFAs Alex Pietrangelo and Derek Stepan. Luckily, this matter was resolved before it got to that point.
Kadri's deal is two years for $2.9M per, which is fantastic value for a second-line center. While most people will be focused on the low cap hit, the more important part of this deal could be that it is a two year deal instead of a one year. Had Kadri gotten a one year deal, he would have had to been resigned in the same off-season as captain Dion Phaneuf and leading scorer Phil Kessel.
By all means, this is a huge win for the Maple Leafs. Nonis took a large gamble when he decided to take the wait-and-see approach to Kadri's contract, and ended up getting a cap hit much lower than the original asking price. Nonis used similar tactics to lower the price of center Tyler Bozak, though it could be argued that Bozak is still overpaid for what he brings to the table.
Nazem Kadri had a breakout season last year, scoring 44 points in 48 games. After several years of being developed in the minors, Kadri is finally considered a lock to make the Maple Leafs roster out of training camp. However, there are many that believe Kadri's stats are overly inflated due to his team's high on-ice shooting percentage when he is on the ice.
"the Leafs have had a 15.3-per-cent shooting percentage whenever Kadri has played, nearly double the league average (7.91 per cent) and the highest of any forward to have played 30 games in the past six seasons."
However, that does not necessarily mean Kadri will regress significantly this upcoming season. The chance for a full injury-free season from top winger Joffrey Lupul could significantly help Kadri's play. Lupul missed significant time last year due to a broken arm from a Phaneuf slapshot. The Leafs also added another scoring top-6 threat with the free acquisition David Clarkson, who along with Lupul, is projected to start the season on Kadri's line. Other winger options in the top-6 include Phil Kessel and James van Riemsdyk, so Kadri will be with skilled forwards regardless of which line he lands on.
A more pressing question could be what Kadri's deal means to RFA defenceman Cody Franson. Franson was reportedly looking for a deal close to $4M a year, but with only a little less than $2M left in cap space, that will simply not be possible. Toronto could still explore trade options such as shipping out John-Michael Liles to whoever will take him (much like the Horcoff trade this summer). Nonis has stated his desire to keep Franson, but trading the blueliner remains an option as well. Tampa Bay was reportedly interested earlier this summer, and there are many other teams that would jump on board if Franson was put on the trading block.
Alex is a Lead Writer for the Toronto Maple Leafs. Since joining the Hockey Writers, he has also briefly covered the Carolina Hurricanes. He also currently works as an assistant for the Western Mustangs at the University of Western Ontario. Follow him on Twitter @alexmai11.