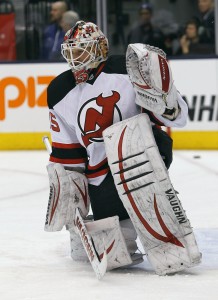 The upcoming 2013-14 Albany Devils season has the potential to be a turning point for their top goaltender, 24 year-old Keith Kinkaid. He will be entering his third professional season and once again will be called upon to lead the Devils quest for the postseason. However, this season the pressure and expectation are even greater for Kinkaid.
In two seasons with Union College, Kinkaid compiled a 37-18-6 and led them to their first NCAA Tournament appearance in 2010-11. Following his successful campaign, he signed with the New Jersey Devils and was assigned to the Albany Devils. Kinkaid made his debut in Albany on October 9th, 2011, and stopped 19 of 22 shots in a tough 4-2 loss (Bridgeport added an empty-net goal). Five days later, Kinkaid picked up his first professional victory in a 3-2 shootout win over the rival Connecticut Whale. Kinkaid grinded through a tough first season as a member of the Devils organization and earned 17 wins in 42 appearances.
He would improve in his sophomore season with the Devils as he would win 21 games in 45 appearances. His GAA dropped to 2.72 during the 2012-13 season from 2.94 the year prior despite his save percentage remaining around .905. For the part of the season in which the NHL locked out its players, Kinkaid registered a solid 11-7-3 record playing behind only one proven NHL defenseman in Adam Larsson.
Standing at 6-2 and weighing 190 pounds, Kinkaid has a similar build to Henrik Lundqvist of the New York Rangers. He has great size in net and a wide span as well. He also has quick lateral movement and is likely going to fill out a little more as his career continues. He is confident in the crease and is not afraid to challenge the opposition's forwards. He supplanted Jeff Frazee, his partner in Albany the last two seasons, as the top Devils goaltending prospect almost instantly. Frazee played for several years as a Lowell Devil since the 2008-09 season including the first season the Devils played in Albany in 2010-11 but Kinkaid took over the top spot the moment he signed his contract. He has rapidly become a prominent member of the Devils organization with the possibility for more.
In October 2011, New Jersey Devils goaltender Martin Brodeur suffered an injury in a home contest against the Los Angeles Kings and instead of recalling Frazee for the next few games, the Devils opted to recall Kinkaid to backup Johan Hedberg. Despite not playing a single second at the NHL level, Kinkaid enjoyed his time with New Jersey and took in the NHL atmosphere as the Devils traveled out west to battle the Kings in Los Angeles and then to Phoenix and Dallas. After backing up Hedberg for six games, he was sent back to Albany with added motivation.  He quickly registered his first professional shutout against the Norfolk Admirals by stopping all 34 shots he faced in his second game back in a tight 1-0 victory.
Kinkaid's first professional shutout came right after he had returned to Albany from an emergency recall by New Jersey:
Kinkaid was recalled to the NHL once again in March 2013 and experienced the highlight of his hockey career thus far. New Jersey was down 3-0 to the visiting Tampa Bay Lightning and coach Pete DeBoer replaced Hedberg with Kinkaid to open the 3rd period. Kinkaid barely had time to settle into the Prudential Center crease before he found himself on the other end of a Steven Stamkos breakaway. Facing one of the NHL's most lethal snipers, Kinkaid stayed with him the whole way and made a sprawling left pad save to deny Stamkos. A short while later, however, Nate Thompon scored and Kinkaid's fairytale NHL beginning began to end. It struck midnight the following morning and Kinkaid was sent back to Albany.
Here is Keith Kinkaid denying Steven Stamkos:
Entering this upcoming season, the future for Kinkaid becomes murky. He must perform at a higher level than he has the previous two seasons to remain in the hunt for a roster spot in the NHL. While he had been expected to be one of the front runners to replace Martin Brodeur as the starting net minder in New Jersey once Brodeur retired (or worse, left), the fortunes of the entire organization changed during the 2013 NHL Entry Draft. New Jersey traded their 9th overall pick in the first round to Vancouver for Cory Schneider, who in an instant became the most likely successor to Brodeur. However, Schneider only has two years left on his contract and cannot be officially extended until next season. In the unlikely event Schneider does not want to remain with New Jersey, the door to the crease for a full time spot would open up once again for Kinkaid. The expectation that Kinkaid will continue to develop remains but now the pressure to perform at a higher level is rapidly increasing.
He must remain focused while playing for the Albany Devils and not let the logjam in the crease in New Jersey affect his mindset. He must become more consistent between the pipes and prove that he belongs in the mix to one day be on the roster for New Jersey or even in the NHL. He has not disappointed as the starting goaltender for Albany the past two seasons but the Devils organization is clearly hesitant to insert a young goaltender into the crease at the Prudential Center. Despite Kinkaid and Frazee being on the roster for a good portion of the latter half of last season, DeBoer only used each goaltender for twenty minutes in games that were already all but lost. All along Kinkaid knew he would be challenging other goaltenders such as Frazee, Maxime Clermont, and Scott Wedgewood for a starting role in New Jersey. Now, he will be battling simply to make an NHL roster in the next year or two. Therefore, this upcoming season should feature even more improvement by Kinkaid. He was calm and collected in his twenty minutes on the ice for New Jersey and has proven to be a reliable goaltender for Albany. Having tasted life in the NHL and knowing he will be challenging a proven NHL goaltender in a year or two for the chance to play in New Jersey means Albany Devils fans will be treated to quite a spectacle by Kinkaid starting in just under a month.
Leo is in his second year with THW. He covers the 3-Time Stanley Cup Champion New Jersey Devils and the Albany Devils of the American Hockey League. You can follow Leo on Twitter, @LeoScaglioneJr.