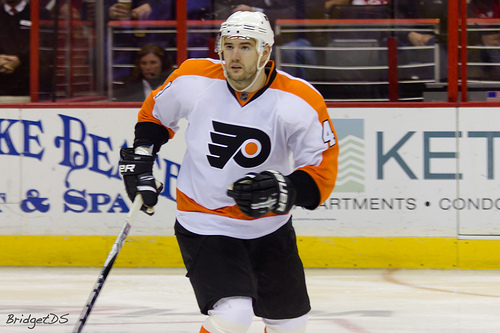 It's beneficial for a team to have a logjam at any one position.  This lends a helping hand in trade discussions for teams in desperate need of help.  For the Philadelphia Flyers, the logjam happens to be defense.  At present, the team has 10 defenseman signed to a contract – nine if you count Chris Pronger being LTIR'ed the second the season begins.
The Flyers currently sit behind the eight ball on the salary cap front.  They are a little over $2M dollars over the limit, and with the likely signing of Dan Cleary at the end of training camp, that number will sit at roughly $5M.  Even though it's a plus to have so many players at one position, unfortunately one of those players will have to be on his way out.  The gut feeling is Andrej Meszaros is that player.
Meszaros is coming off a flukey season riddled by injuries that never seemed to heal.  He's been an ironman the majority of his career, but the past two seasons he's been missed more games than he'd like to remember.  This season he is finally coming back (what is presumed) healthy.  He carries a $4M dollar price tag and is a UFA at the end of the season.  Meszaros is a great two-way defender and is a bruising force in his own end.  But with his contract and the current cap situation the Flyers are trying to finagle with, expect Paul Holmgren to be pushing hard to trade the defenseman at some point in the very near future.
Some possible suitors for Meszaros are as follows:
Carolina Hurricanes – With reports that Joni Pitkanen will now miss the entire regular season and the Canes with just shy of $5M in cap space ($9.5M when Pitkanen hits the LTIR), Darren Dreger reported last night that the Hurricanes may be looking at the UFA market or a trade to find a potential suitor on defense.  Calling Homer's telephone may not be a bad place to start.
New York Islanders – Now I know it's never a good idea to trade within the division, but defense has been a sore subject for the Islanders for quite some time.  They happen to have the most cap room to make a move and with the addition of Meszaros, he'd easily become the 3rd best defenseman on that team after Visnovsky and Hamonic.
Calgary Flames – Another team that's been looking to solidify the backend, Calgary could use a player like Meszaros to bolster their blueline.  They're also one of the few teams with salary cap wiggle room.  You have to think Brian Burke is making a few calls to help his team before the season starts.  Meszaros wouldn't be a "significant" upgrade on defense for the Flames, but an upgrade nonetheless.
Florida Panthers – After Campbell, Kulikov, Jovanovski, and Gudbranson, there isn't much more depth on the Panthers backend.  A team that struggled to keep the puck out of their own net last season and had the highest goals against average could greatly benefit by rounding out their defensive core – and they have the cap room to do it.
Follow Shawn Reznik on Twitter: @ShawnTHW
The NHL regular season schedule was released on Friday. Check out our partners at TiqIQ for the best deals on Philadelphia Flyers tickets for all 2013-14 games.