Habs fans rejoice as the organization announced yesterday evening they had re-signed restricted free agent (RFA) P.K. Subban to a two-year deal worth $2 million in year 1 (prorated) and $3.75 million in year 2 for an average annual value (AAV) of $2.875 million. The flashy defenseman finally caved in and accepted a short-term deal after asking for a multi-year contract since he became a RFA last July. Marc Bergevin's first real test as the team's new general manager prove that he is ready to rise to the challenge and face the music in a demanding Montreal market.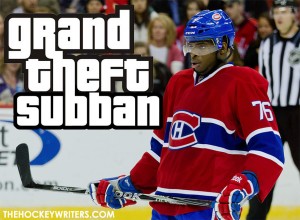 Subban, who was looking for a contract similar to the five-year contract worth $26.25 million signed by RFA Jamie Benn with the Dallas Stars, settled for a shorter term in order to play this season. To alleviate Subban's "pain", Bergevin gave him a nice salary increase in the second year of this bridge contract. This agreement is pretty similar to the two-year pact that Michael Del Zotto signed with the New York Rangers two weeks ago for which MDZ will earn $2.2 million in year 1 and $2.9 million in year 2 for an AAV of $2.55 million compared to Subban's AAV of $2.875 million.
The Canadiens have a reputation to sign they star players to transition contracts before signing them long term contrary to other teams such as the Flyers and the Oilers who are adept at throwing a pile of money at their star players to retain their services for ages. Max Pacioretty and Carey Price signed two-year deals before hitting the jackpot, both agreeing to six-year pacts worth $27 million and $39 million, respectively.
"I'm happy to be at this point and I'm looking forward to reintegrating with the team and helping them win," Subban said on a conference call. "It was about getting a deal done that was fair to both sides."
Now that Subban is under contract at a very affordable price, he needs to regain his teammates' respect and trust after missing training camp and the first few games of the season. The 23 year-old rearguard is slated to rejoin the Canadiens on Wednesday and is expected to make his season debut when Montreal hosts the Buffalo Sabres at Bell Centre.
After Subban's signing and Scott Gomez's buy-out, the Canadiens now have $3,314,041 under the salary cap to make a transaction before the trade deadline should Bergevin believes the team needs help in anticipation of the playoffs.
"I really didn't want to become a distraction and I think that's why this is the right thing," Subban added. "The longer this went on, the bigger a distraction it became."
With Subban under contract, the team now has eight defensemen on a one-way deal, which likely means one of them is on his way out, the most likely candidates being Tomas Kaberle and Yannick Weber, who both have been healthy scratch so far this season. Look for the "Subbanator" to draw into the line-up as soon as he has practised with the team and slide alongside last year's defensive partner Josh Gorges on the Habs' first defensive pairing.
Defensive pairings with Subban in the line-up:
#26 Josh Gorges – #76 P.K. Subban
#79 Andrei Markov – #74 Alexei Emelin
#55 Francis Bouillon – #61 Raphael Diaz
Extras: #22 Tomas Kaberle and #68 Yannick Weber
Subban at the ripe age of 10.
It is now time for PK to perform on the ice and to silence his critics off the ice, and it will be in his best interest to do exactly that in order to land the lucrative contract he is expecting to get from the Habs after the 2013-14 season. Subban will still be two years away from unrestricted free agency after the completion of this two-year contract, so the Canadiens must give him a qualifying offer of $3.75 million to keep his rights in 2014 when he will be 25 years old.
With the Canadiens off to a good 3-1 start this season and following the announcement that both rookies, Alex Galchenyuk and Brendan Gallagher, will remain in Montreal this season, there is optimism in the air among Habs fans regarding the NHL shortened season and most of them fairly believe that their favorite team can improve and blossom under the tutelage of new head coach Michael Therrien. Some even believe the team will make it to the spring dance and have an interesting playoff run.