On the surface they couldn't appear more different.  One is a flashy newcomer who is a high flyer and can put the puck in the net.  The other a quiet, unassuming veteran who is as steady as it gets.
The Schultz and Schultz pair on the Edmonton Oilers blue line, that would be Justin and Nick, bring their opposite styles into the season in what could be a perfect complement to each other.
The Oilers coaching staff certainly think so as they've have been paired the two together to start the season and are hoping it is a partnership that pays dividends throughout the year.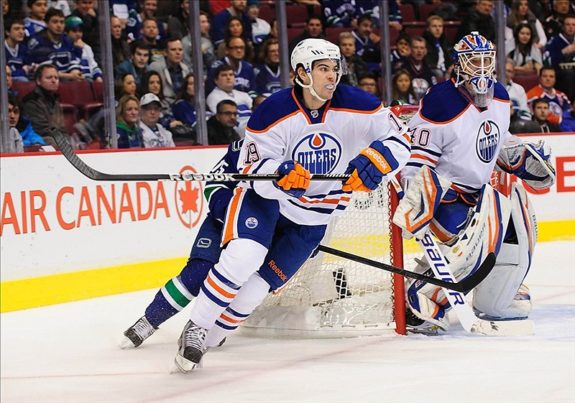 When the Oilers signed Justin Schultz from the University of Wisconsin, amongst much fanfare and media attention, they knew they were getting a young defenceman with tremendous offensive upside and somewhat of a defensive work in progress.
He has come as advertised, and then some.
With the lockout in effect, he started his pro career in the AHL with the Oklahoma City Barons and tore it up for the first three months.  He amassed 48 points in 34 games, second only to teammate Jordan Eberle in league scoring at the time the lockout ended.
He has been similarly impressive in his very short NHL career.  He currently has 5 points in the Oilers first 4 games and is leading the team in ice time so far with over 24 minutes per night.
He is running the first unit power play and has been on the ice in many key situations already.
That's not to say he still doesn't have his defensive shortcomings.  While that aspect of his game is improving, he still needs some help in his own end.
That's where Nick Schultz comes in.
A veteran of over 700 NHL games, his game is almost the polar opposite of the other Schultz.
Nick plays a stay at home defensive style of game and is responsible in all three zones.  He is rock solid in his own end and rarely caught out of position.
He won't light the lamp often, his highest point total in 11 NHL seasons is 20, but you can bet he'll save his share of goals at the other end.
He also brings a lot of leadership to the table.  He's a quiet, stabilizing presence on a young, exuberant Oilers team, probably a reason he was made an alternate captain this year.  He has struggled a little to start the season with a few uncharacteristic mistakes, but as one of the most consistent players in the league, no one is worried about where his game will end up.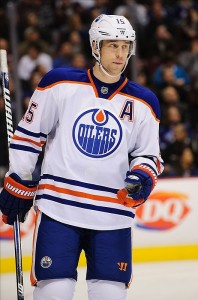 It's a role not new to Nick Schultz as he was in a similar situation when he was in Minnesota with a young defence patner.  There he was paired with a young Brent Burns.  A player, who similar to Justin, came in with elite offensive tools.
The union between Schultz and Schultz is one that has the potential to be an excellent balance, if not a colour commentator's nightmare.
While they are by no means a comparable, with all of the natural connections being made from the Oilers young star forwards to the Oilers greats of the 1980's, there is also one to be made on defence.
Everyone remembers Paul Coffey on the Oilers blue line, one of the best offensive D-men of his era, and of all time for that matter.
The man people don't recall as quickly is his partner, Charlie Huddy.  Huddy was the steady influence beside Coffey, the guy who covered for him and allowed him to roam free up the ice.
The Schultz's will not be in their category any time soon, but the thought process behind it is the same.  Nick Schultz should allow Justin to have a little more freedom and jump into the rush a little more, and still provide some defensive coverage.
That's not to say that Justin may not give Nick a few more minuses on the stat sheet, but Justin should be able to add a few extra pluses to that side of the ledger for Nick.
Yin and Yang.
It's all about balance and chemistry and something most coaches struggle with to find all season long.  Whether it's finding the ideal combinations up front or the perfect pairing on the backend, coaches are always looking for the best fit.
It looks as though Nick and Justin Schultz are an ideal balance for each other, now time will tell if they develop a similar chemistry.
It is still very early in the season, but with Justin Schultz exceeding expectations, at least so far, and you know exactly what you're getting with Nick Schultz, it gives the Oilers much more depth and options on the blue line.
Last season, with injuries as well as poor play, Edmonton struggled to have a viable group of top four defencemen.  The pairing of Ladislav Smid and Jeff Petry emerged, but with injuries to Ryan Whitney, and Nick Schultz getting acclimated coming over part way through the year, the Oilers were very thin most nights.
This season however, barring injury, could be a different story.  There is still the Smid–Petry combination who will continue to play against the opposition's top line and kill penalties.  There is now Justin Schultz, who has been the ice time leader and top defenceman on some nights already, paired with Nick Schultz who is now comfortable in Edmonton.  Throw in Ryan Whitney who, if healthy, can be very effective and all of a sudden the group is considerably deeper.
They still may not be in the league's upper echelon, but they are much improved and far from a liability.
Everyone knows the Oilers can score with anyone, the question marks coming in were on the defensive side of the puck.  If the defence can stay relatively healthy and the Schultz and Schultz pairing can be a bona fide top two pairing, some of those questions will have been answered and the Oilers will have dramatically improved their chances of competing for a playoff spot.
Either way, they're going to be fun to watch.