The Calgary Flames entered the 2013 NHL Draft knowing full well its importance to the franchise's health. Following a marathon Sunday at Prudential Center in Newark, the club has eight new players and a good deal of optimism heading into the summer months.
Here's a brief look at how the 2013 Draft shook down for the Calgary Flames.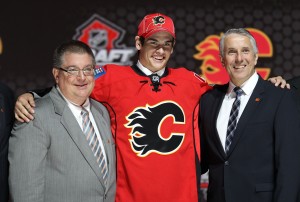 6th overall: Calgary selects C Sean Monahan of the Ottawa 67s (OHL)
Calgary's been searching high and low for a big, reliable centerman for years. Let's face it, basically since Joe Nieuwendyk left town. Monahan is the latest candidate for the job, and may be the best one yet. He's 6'2″ and a shade under 190 pounds, but his best asset has been his ability to provide leadership, grit and scoring for a struggling Ottawa club this season. He's a high-end two-way player and he'll challenge for a job in Calgary at training camp.
22nd overall: Calgary selects LW Emile Poirier of the Gatineau Olympiques (QMJHL)
Located across the river from Monahan's Ottawa 67s in Gatineau, Emile Poirier is a player that drives the net hard and uses his 6'1″, 185 pound frame to create offense. He was over a point-per-game player for the Olympiques and got better as the season went along, particularly in the playoffs. He also had some grit to his game, with 101 penalty minutes over the year. He's got wheels, size and a touch around the net. He may not make the Flames right away, but he adds another higher-end offensive talent to the organization's coffers.
28th overall: Calgary selects LW Morgan Klimchuk of the Regina Pats (WHL)
A Calgary product, Klimchuk is a player that the Flames have seen quite a bit of due to his proximity in the WHL. Klimchuk may slightly lack the high-end offensive upside that Monahan and Poirier may have, but he is pretty good at just about everything. He's just not quite excellent at anything. He's strong in both ends of the ice, is a good shot and sets up plays pretty well. He'll likely go back for at least another year of junior, but Klimchuk will most likely become a good (if not very good) pro in a few seasons.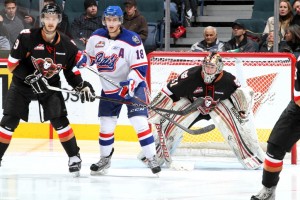 67th overall: Calgary selects D Keegan Kanzig of the Victoria Royals (WHL)
A defender for the Victoria Royals, Kanzig is big and mean. He stands 6'7″ and 240 pounds. If he can work on his skating and mobility, you can imagine the Flames have visions of a poor man's Zdeno Chara in Kanzig. The Flames have another defender in the system, the similarly-sized Chris Breen, who's had his skating improve considerably over the past few years. If Kanzig can progress a bit like Breen, this could be a great pick-up. However, critics of this pick point out that it's likely that he may have been available later in the draft. For now, he's a project.
135th overall: Calgary selects D Eric Roy of the Brandon Wheat Kings (WHL)
A former teammate of Flames prospect Michael Ferland, Eric Roy was a bit in the shadow of fellow Wheat King draft prospect Ryan Pulock this past season. Roy isn't quite as strong a defender as Pulock, but he's pretty strong. His strengths lie on the offensive end of the ice, as he can get caught up-ice and occasionally blows coverage. However, he's got good instincts and generally reads plays well. His offensive instincts, particularly his value on the power-play, are arguably his biggest strengths. He'll need to learn to adjust to the increased speed of the skaters when he turns pro, though. For now, he's a depth option.
157th overall: Calgary selects RW Tim Harrison of Dexter Prep (USHS)
A bit of an obscure pick – he doesn't have an Elite Prospects bio and his HockeyDB bio has no details in it – Harrison is a big winger (6'3″, just under 200 pounds) who's headed for Colgate University. He's considered likely to be a depth guy for Colgate next year, but he's shown offensive upside in prep school and could surprise people. That said, he went undrafted in last year's draft and so his ceiling may be a tad lower than most of this year's draft class.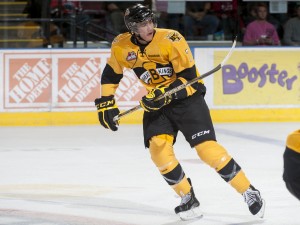 187th overall: Calgary selects D Rushan Rafikov of Loko Yaroslavl (MHL)
The first Russian drafted by the Calgary Flames since 2002, Rafikov is a stay-at-home defender without a heck of a lot of offensive upside, but he's also a guy that seems to know his limits and plays within them. He's Russian, so there's a question regarding his status long-term, but at this point he doesn't have a KHL deal in place. His ceiling might not be sky-high, but he's gained international experience at the U-17 and U-18 tournaments and didn't get lit up, so perhaps he'll continue to progress and grow his game quietly. We'll see what happens if or when he comes to North America.
198th overall: Calgary selects D John Gilmour of the Providence College Friars (NCAA)
A teammate of Flames prospects Mark Jankowski and Jon Gillies with the Friars, Gilmour was passed over once in the NHL Draft but must've made an impression on Calgary's scouts. He's got three years left in college and is a long-term project, but he's fairly low-risk and could develop into a decent stay-at-home blueliner. If he doesn't turn out, it wouldn't be the end of the world, as he's a seventh rounder in a year where Calgary has a lot of picks.