He wasn't supposed to be available.
He was supposed to be the first overall pick.
Yet, the Nashville Predators were able to draft defenseman Seth Jones with the fourth overall selection in the 2013 NHL Draft Sunday.
I wrote an article giving the reasons as to why Aleksander Barkov would make a great fit for Nashville, and everything in that article was true.  The Predators could use a center, especially one with the size and skill that Barkov brings to the rink.
But the Florida Panthers took the Finnish youngster with the second overall pick after the Colorado Avalanche took Nathan MacKinnon.  That set up the series of events that went on to take place—Tampa Bay selecting Jonathan Drouin and delivering Seth Jones on a silver platter to David Poile.
One of the biggest reasons I thought the Predators could have used Barkov was because of their inability to score.  According to NHL.com, the Predators finished dead last in goals scored in the lockout-shortened 2013 season, only netting 111 goals in 48 games (2.31 goals per game) and their leading scorer—Shea Weber…the defenseman…who finished with 9 goals and 19 assists for 28 points.
David Legwand led the forwards in goals (12) and points (25) according to the Predators official site, and only three players eclipsed the 10 goal mark (Legwand, Mike Fisher, Gabriel Bourque).
With that said, selecting Seth Jones was the right move.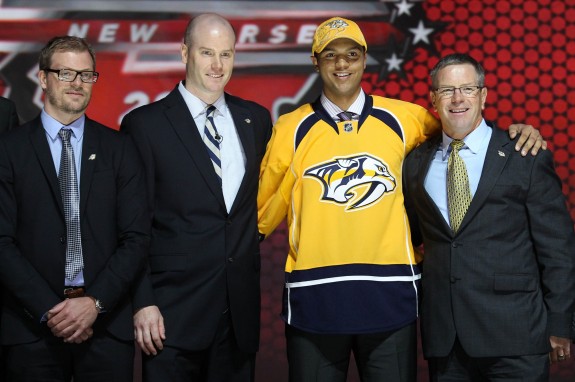 Aside from the fact that Barkov was unavailable, Jones is a great fit in Nashville.  Losing Ryan Suter to free agency left a small hole on the Nashville blue line that needed to be filled.  Jones should fit right into the Predator defensive corps and become the replacement that the team needed.
Mynhldraft.com lists Jones at 6'4'' and 205 pounds, a good size for a defenseman, though adding some weight would not hurt his game.  And though he does have size, he is frequently described as a very good skater and scouts have a hard time deciding on any weaknesses in his play.
ISS Top 30
#2 Seth Jones @seth_jones04
Smooth adjust to WHL. Tremendous poise w/puck. Extremely high hockey IQ. Efficient effortless skater.

— ISS Hockey (@ISShockey) December 13, 2012
While a defenseman, Jones has plenty of offensive capabilities and scored 56 points in 61 games with the Winterhawks last season.  He tallied another 15 in 21 postseason games as well.  Defensively, Bleacher Report reports that he could be better positionally, a common fault in young defenseman, yet, he has a strong hockey IQ and is not afraid to get involved in physical play.
The two comparisons I've seen to current NHL players are to Pittsburgh's Kris Letang and St. Louis' Alex Pietrangelo, both extremely talented players with great play-making ability.  While the Predators need to add more punch up front, Jones is a phenomenal talent that needed to be picked when he fell to the Predators.
Jones' size, talent and hockey knowledge make this a great pick.  Add onto it that he'll learn from one of the best defenseman in the game in Shea Weber and this pick is a match made in hockey heaven.
Extremely happy to be apart of the @PredsNHL organization!

— Seth Jones (@seth_jones3) June 30, 2013
.