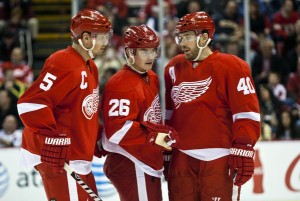 There was a bittersweet atmosphere at the Scotiabank Saddledome on Tuesday morning for the third full day of 2013 Calgary Flames training camp.
The day began with some bad news, as rumours circulated throughout the morning that Jiri Hudler's father had passed away due to illness back in the Czech Republic. Unfortunately, the Flames confirmed that was indeed the case later in the day. There was no word available from the Flames regarding how long Hudler will be back in his homeland helping out his family and it's been understandably left open-ended. The club noted that senior Hudler's funeral will be held on Friday in the Czech Republic, so presumably the Flames will be without his services for the first few games.
In a statement, Flames general manager Jay Feaster sent his best wishes to the Hudler family:
"Our thoughts and prayers are with Jiri and his family, and as he grieves his loss our Flames family will be here to support him."
On the ice, the Flames were without captain Jarome Iginla, defenseman Anton Babchuk and forward Roman Cervenka, all due to various ailments and injuries. Following the practice, Flames coach Bob Hartley noted that Iginla was feeling better and was being evaluated Wednesday morning, indicating that a possibility exists that the Flames all-time leading scorer could suit up for Wednesday's practice and scrimmage.
The high-tempo practices continued on Tuesday, with the Flames spending the better part of two hours on the ice. The first half of the practice was devoted primarily to break-out plays and odd-man rushes, fitting in well with Hartley's stated goal of making the Flames a more aggressive, puck-pursuit team.
The second half focused on special teams and shootouts. The team was split into two groups, with one focusing on the power-play and the other on the penalty-kill. Following that, the club practiced shootouts until the end of the session. While many of the players seemed to lose steam near the end of the session – a possibly by-product of several hours of high-tempo practices over three days – forwards Lee Stempniak and Mikael Backlund were notable for their energy and shooting, and goaltender Leland Irving was notable for appearing to fight the puck and struggling late in the practice.
—
QUICK QUOTE
"So far they've been a lot more up-tempo. A lot more skating. We'd already played 30-something games in Abbotsford, so we were kind of at the point where we were going 30 or 40 minutes, so to go 80 or two hours is a bit of a stretch right now for us. We're definitely feeling it. We're icing our legs down after just like everybody else is. There's no getting used to that."
-Ben Street, Abbotsford Heat forward and Calgary Flames prospect, on how Bob Hartley's practices compare to Abbotsford coach Troy G. Ward's