Wow, time flies. There are less than eight games left for most teams to finish up the shortened 2013 NHL season. But don't let the 48-game season fool you. For most fans, this season felt really long.
It didn't help that both sides did nothing to prevent the owner-Gary-imposed lockout from happening on September 15. It took so much trial, and too much error, to try to get both sides to resolve the labour dispute which finally ended on January 6, almost four months later. It also didn't help that most of Canada went through (and some parts still are going through) a bitterly cold winter. This was clearly Mother Nature's revenge for the wonderful warm winter of 2011 that we had enjoyed. Bitter fans were only left with watching minor leagues or other sports through no fault of their own while shoveling their sidewalks, over and over again.
We as fans can sure talk the big talk. Though most of us swore that we would never support the NHL, we flocked to the rinks right when the news broke about an agreement. So much for "boycotting" the game. Many disenchanted fans returned to the NHL with open arms (and wallets.)
Canadian Teams Trying Get to The Big Dance
If you are a Northern patriotic fan of the Game, then it was good to see the Montreal Canadiens become the first Canadian team to earn a berth in this year's postseason. A year ago, they weren't even in the playoff picture and with the team floundering, 2012-13 was supposed to be a "rebuilding" season. Enter new GM Marc Bergevin, returning Habs coach Michel Therien, and significant signings such as Brandon Prust and Colby Armstrong, strong rookie development through Brendan Gallagher & Alex Galchenyuk, and making notable trades such as bringing back Michael Ryder back from Dallas have changed the Habs' fortunes. For their reward, they've taken top spot in the Northeast Division, in all likelihood finishing 2nd in the Eastern Conference Behind the Pittsburgh Penguins. By following Therien's work ethic of team-first, the Canadiens could seriously contend for their 25th Stanley Cup.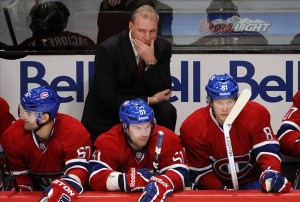 How do you feel about the Ottawa Senators? If your answer was numb or "I really don't know", you aren't the only one. One week, the team is flying high despite the significant injury woes (loss of Jason Spezza, Milan Michalak & Erik Karlsson), and in another week they're mired in a bad slump. Led by the ageless wonder Daniel Alfredsson, the Sens have found a way to win some close games, even a few that they clearly shouldn't have won. The trade between Ben Bishop and Cory Conacher may have benefited Ottawa's scoring needs than hurt their goaltending status, thanks to Craig Anderson's return to the roster – just in time for Ottawa's final push to make the playoffs & beyond.
Video Welcoming Back the Senators
The Toronto Maple Leafs have been a fascinating story to say the least. A tumultuous start that began with the firing of Brian Burke, followed by typical poor & inconsistent play, and then led to some gritty victories thanks to contributions from Joffrey Lupul, Phil Kessel & Nazem Kadri, and the goaltending tandem of James Reimer & Ben Scrivens. Oddly enough, the best Leaf games were played against their bitter rivals in Montreal. If they ever met in the first round or later on, that series would be a serious barn-burner.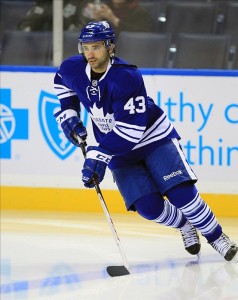 The Winnipeg Jets are teetering on the brink of making the postseason for only the second time in the entire Thrashers/Reincarnated Jets franchise. But to make it, they have to really work hard & push themselves as their games remaining are fewer than Washington and other clubs trying to climb into the top eight in the Eastern Conference.
Inspirational Jets Pre-Game Video:
For the Calgary Flames and the Edmonton Oilers, the shortened NHL season has been really long enough. Calgary which is mired in mediocre play had no option but to trade away their heart & soul Jarome Iginla or risk losing him for nothing at unrestricted free agency. And Edmonton? They've promised an improved performance from the get-go, with all the stacked talent up front from Jordan Eberle, Taylor Hall, Ryan Nugent-Hopkins and Nail Yakupov. So what's changed since 2008? Not much, except that the Oilers have lost some key games and are sitting well below the final playoff spot held by the Detroit Red Wings.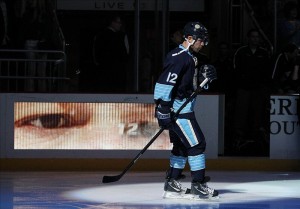 And as for the Vancouver Canucks, they could be Canada's best chance to win the Cup despite all that has happened (injuries & Cory Schneider Vezina-worthy) and not happened (Luongo still kicking around) throughout their interesting up-and-down season. Their challenge? Beating Chicago, Detroit, Los Angeles, Anaheim, San Jose, Minnesota, and St. Louis – teams that have handily beating & embarrassing the Canucks this "long" season. Like winning streaks, confidence can be extended for long periods of time, until it gets taken away thanks to lopsided blowouts. One streak that the Canucks hope to retain should be a winning one going into the playoffs.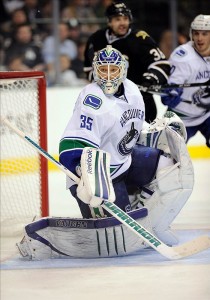 Who from Canada will come out on top?
Unless your name isn't Sidney Crosby or Jarome Iginla, no one knows how far the Canadian teams could go. At the moment, Montreal or Vancouver could stretch it far. If Winnipeg could find a miracle to take first in the Southeast Division from the Capitals, they could surprise. Likewise, the Maple Leafs or Sens with who they got left could be in a position to upset some good teams in the east.
For Canadians, the bitterly cold winter of 2012-13 has been literally bittersweet. When news broke about the end of the lockout, the nation felt the thaw of warmer things to come. That will depend on how the Canadian clubs will do when the playoffs begin in a few weeks' time.
Break out your six-packs and lock yourselves in the home theatre basement – it's going to be a long postseason.
Video of the Ultimate Man Cave
.