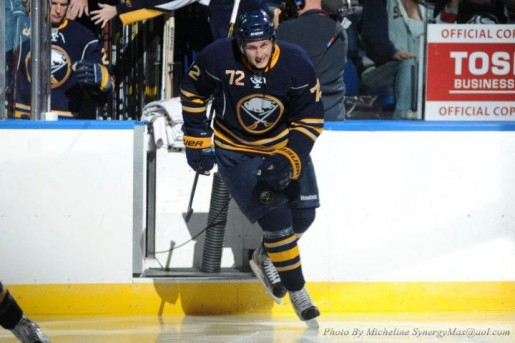 After their demoralizing loss on home ice on April 11 at the hands of the division-leading Montreal Canadiens, it appears to be safe to say that the 2013 season for the Buffalo Sabres is over. With that the organization will now be looking forward to next year, not to mention an offseason that is sure to be filled with numerous changes. Yet the team still must truck through the rest of this season and with seven games remaining, it is no doubt a chance for some players to make a case to be on the team next year and beyond.
Leaving alone top players who have fell short of meeting expectations, here are four players who are looking to standout during the final couple weeks.
Luke Adam
It may have come as a surprise to some when Luke Adam didn't begin the season with the Sabres. The 22-year-old played in 52 games with the club in 2011-12, registering 10 goals and 10 assists. He also played in 19 games in 2010-11 with four points.
At 6'2, 206 pounds, Adam is a great physical presence. The centreman is a solid power forward, but also possesses the ability to play the wing. Adam has shown to be capable to put up the points, including 62 in 57 games with the AHL's Portland Pirates in 2010-11. During that season he was also awarded the AHL's Rookie of the Year award.
While he may not turn into a dominant point producer in the NHL, Adam has proven to be a versatile player that could be used in numerous situations. He has shown tremendous improvement since coming out of junior, especially with his skating, after being picked in the second round of the 2008 entry draft.
Hockey's Future noted that coming out of junior it was thought he had a limited game because of his skating. However, they did note that Adam knew how to use his size and play in front of the net. They now see Adam elevating from a role player to a possible second liner.
In four games in 2013 with the Sabres, Adam has one goal. If he continues to improve his skating and be aggressive with his size he will turn out to be a very valuable player for the Sabres because of just how versatile he is.
Adam is a restricted free agent at the end of the season as his entry-level contract of $875,000/per season expires.
Brian Flynn
Brian Flynn is another interesting young player that the Sabres currently have. Much like Adam, he possesses good size down the middle. However he has been inconsistent taking draws. Some games his faceoff percentage is quite high, but others can be well below 50 per cent. What adds to his value is the fact that he can be a solid winger.
Flynn was signed as a college free agent in 2012 out of the University of Maine. So far this season, the 24-year-old has five goals and four assists in 19 games with the Sabres.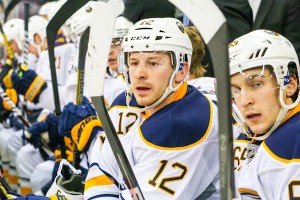 Flynn has been touted for a strong work ethic, his size (6'1, 180 pounds) and has proven to be a scorer at the NCAA level (69 goals and 87 assists in 152 games at the University of Maine).
If Flynn can manage to become more physical and use his size to his advantage, just six hits in his 19 games in 2013, he too has the versatility to become a strong player in the Sabres organization. He is also a restricted free agent at the end of the season and is currently making $1.02-million on the last year of his entry-level deal.
Kevin Porter
Kevin Porter is a bit of a different story. He is not as young as the first two forwards on this list. At 27-years-old, Porter is running out of time to define himself and to convince the organization that he is an everyday NHL player: Porter is already on his third organization, Phoenix and Colorado being the other two. He is a streaky scorer that will go through stretches of a few points in consecutive games and then cool off. Also, his numbers as a centreman are below 50 percent.
Yet Porter has shown in the past that he can be a very good two-way forward. He captured the 2007-08 Hobey Baker Memorial Award as the top NCAA hockey player.
Coming out of college, Hockey's Future thought that Porter may be able to transition from a top-six in college to a similar role in the NHL based on his hands, vision, confidence, decision making and flow of his game. However, the transition has not been that smooth and he has been up and down between the NHL and AHL.
Much like the other two players listed above, Porter is versatile and can play both centre and wing, which adds to his value. If he can find consistency down the stretch that he can carry forward, Porter might find a spot in the organization for years to come.
Porter has three goals and four assists in 24 games this season with the Sabres. He still has one more year on his current deal that sees him earn $537,000.
Mark Pysyk
Shifting to the blue line, one player to watch is 21-year-old Mark Pysyk. Pysyk was a first-round selection of the Sabres in 2010. With the most recent season-ending injury to Tyler Myers and the two veterans, Robyn Regehr and Jordan Leopold, being shipped out of town just before the trade deadline, Pysyk will get even more opportunities to show the organization that he deserves a top-six spot next season.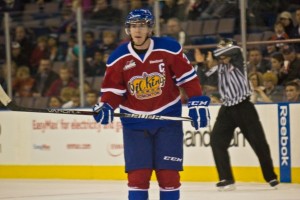 Pysyk has shown that he can be a point-producer from the back end and moves the puck well. During his junior career with the WHL's Edmonton Oil Kings, Pysyk topped the 20-point mark four times and had 40 and 38 points in his final two years. Through 57 games this season with the Rochester Americans, he had 18 points, four goals and 14 assists.
According to Hockey's Future, Pysyk's greatest strength is his ability to skate with the puck and make plays. He makes good first passes and has a high hockey IQ. He needs to work on his shot in order to be a power play quarterback.
Pysyk is only on the first year of his three-year, entry-level contact at $870,000 per season.
If Pysyk can develop a strong shot from the point and continue to add on muscle so that he can play an aggressive game, he too will be an asset for the Sabres.
An avid sports enthusiast, Darren presently is the Communications and Marketing Coordinator at the Golf Association of Ontario. He has served as a Sports Editor with Etcetera Publications and colour commentator on TV Cogeco's junior hockey coverage. He has covered a wide range of junior and professional sports including: hockey, golf, baseball and football to name a few.