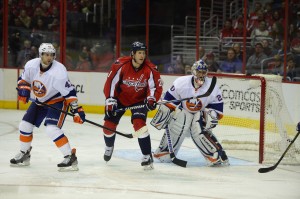 Laich Effect 
For some time now, National Hockey League teams have categorized mild to severe injuries as upper and lower body. Sometimes, the full extent of a players' injury, may never be known.
In the case of Brooks Laich, he suffered a lower body injury on April 4th and according to Head Coach Adam Oates, the "mysterious" injury is having an effect on the veteran forwards groin.
Laich, 29,  sustained a previous groin injury back in November while playing in Switzerland during the NHL lockout, keeping him out of action in DC for the first 28 games into the shortened 2013 schedule.
How the initial injury is connected with the latter, is unknown and has become quite the concern in the Nation's Capital.
"He's seen a lot of people and we're just trying to figure out any way we can get him on the ice before we go to other steps," Head Coach Adam Oates said. He's got a groin problem. They still are having a tough time identifying exactly what it is."
Laich has missed the last four games for the Red Shirts, with no return currently in sight.
"Brooks is dying. He wants to be a part of this. And we need him," Coach Oates said. "So obviously we want to make it as short as possible. It goes to show you how difficult the trauma is because it's been all year they've been trying to figure it out."
 Welcome Back Joel
Forward Joel Ward took to the ice on Friday for the first time since suffering what appeared to be a knee injury against the Tampa Bay Lighting back on April 7th.
According to Katie Carrera of the Washington Post, Ward skated a few laps and took some shots on goaltender Braden Holtby.
No word yet, on a possible return date for the 32 year old forward.
Let's try this again
Martin Erat will return to the Capitals lineup tonight against the Southeast Division rival, Tampa Bay Lightning, after missing action since April 5th.
The talented acquisition was hammered into the boards by Florida Panthers defenseman Erik Gudbranson.
Skating in just two contests since the trade deadline deal late afternoon on April 3rd, Erat will put the Capitals sweater on tonight, and is once again a welcomed addition to the lineup.
"When he's 100 percent, he's a top-six forward in this league and I expect him to fit right into the lineup," Caps Head Coach Adam Oates said. "He played a solid first game. You could see the skill level and the IQ in him and why he plays in all situation."
Follow me on Twitter @DarrenCoslov