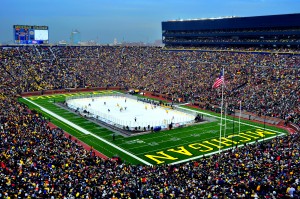 Now that the NHL's annual worst kept secret has been officially announced, the masses of previously unaware (somehow) hockey fans have been alerted, and everyone has the same thing on their mind; Tickets. Much to the dismay of you and I, those tickets may not be easy (or cheap) to get your hands on.
At first glance you'll notice that Michigan Stadium bolsters the largest seating capacity of any Winter Classic venue to this juncture, and that may lead you to believe that tickets will be rather simple to acquire at a reasonable price. Think again.
In December of 2010 nearly 114,000 people packed into the Big House (4,000 more than the official seating capacity) for a game between the University of Michigan and Michigan State University. If that was the draw for a college game, you can expect the NHL version to be doubly in demand.
Michigan clearly contains a lot of hockey fans. So many that they can more than fill a football stadium to watch a college hockey game outdoors, and you can bet that every person in attendance for that game will want to go to this one too. It's a once in a lifetime opportunity to see 2 of the NHL's most storied franchises play outdoors, who would want to miss that? Not you. Not I. Not any self respecting hockey fan with the ability to attend.
Now add in your Wing Nuts to the list of people itching to watch live. Boy are there a lot of them. The Red Wings celebrated 50 consecutive home crowd sell outs at Joe Louis Arena on January 21st, and as far as I'm aware, that streak is still going strong (as is their home win streak of 18 games).
Let's also not forget that Toronto is just a stones throw over the border from Detroit. The Leafs have perhaps the most loyal and comitted fan base of any major sports franchise. You think they're going to pass up a chance at attending this event? Rumors have already begun to circulate that Ann Arbor hotels are sold out on New Year's Eve.
That's a lot of people. A lot of people that will want to attend. A lot of people you'll have to beat out in buying your ticket, if you even get the chance.
Every year following the inaugural Classic event in Buffalo, the majority of tickets have been sold through a lottery system. You put your name into the drawing, and if you're lucky enough to be selected, you get a chance to buy tickets before anyone else. It remains to be seen if the NHL will take this route again, but I'm unsure of any reason not to.
Of course even in that scenario, there aren't 114,000 spots available. Season ticket holders for both teams will be accommodated first, and then sponsor's executives and their families. Last year we found out that those groups of people alone can fill a baseball stadium. As a result, those ticket prices skyrocketed.
You can expect prices to behave similarly here. Let's pretend there are 115,000 seats available to the 2013 game. Then subtract 40,000 as an approximate number for the previously mentioned season ticket holders and executives. You're left with 75,000 tickets for the general public to fight over. A number that could sell out in minutes.
According to an SB Nation article, "The NHL has set up a pre-sale website following Thursday's announcement. It crashed almost immediately due to a heavy traffic load."
If I've dismayed and depressed you with this rotten news, fret not, you may not be out of options.
This Winter Classic is set to be different than any other, with several events taking place in Detroit at Comerica Park. That fact may improve your chances of seeing an outdoor game if you're willing to settle for lower than an NHL skill level.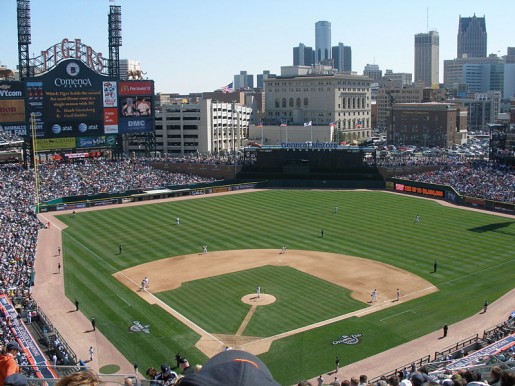 The Great Lakes Invitational, an annual tournament of 4 college teams, is set to feature Michigan, Michigan State, Western Michigan, and Michigan Tech battling it out in the open air of Comerica Park. This is in addition to the NHL alumni game, which will see many of the greats from each franchise's past lace up the skates for a friendly game. 2 OHL games featuring the London Knights, Plymouth Whalers, Saginaw Spirit, and Windsor Spitfires will also take place, as well as an AHL match up of the Grand Rapids Griffins and Toronto Marlies.
That gives you at least 7 games of high quality hockey to attend at Comerica Park, more than enough of an opportunity to see some sort of outdoor game live if you're not lucky enough to attend the main event on New Years Day. Which, let's face it, you probably wont be.
UPDATE: Rumors that began circulating on June 8, 2012 suggest that there will be no public sale of tickets.
UPDATE: Official ticket pricing for current season ticket holders has been released on the Detroit Red Wings website.
UPDATE: The following email was sent to those registered at DetroitRedWings.com/2013winterclassic on July 25th:
"Due to an adjustment in ticket availability, an opportunity to purchase 2012 SiriusXM Bridgestone NHL Winter Classic Ticket Pacakges is coming soon. Alimited number of ticket packages have been released and will be available over the next few weeks to those who have registered on DetroitRedWings.com/2013winterclassic

EACH PACKAGE INCLUDES:

-One (1) ticket to the 2013 Bridgeston NHL Winter Classic

Toronto Maple Leafs vs. Detroit Red Wings

January 1, 2013

-One (1) ticket to the first day of the Great Lakes Invitational at Comerica Park

Michigan State vs. Western Michigan

Michigan vs. Michigan Tech – December 27, 2012

As long as tickets are still available, fans, in the order that they have registered, will receive an email with purchase instructions.

There is a two ticket package limit."