With a dramatic close of the curtain, the 2013 World Junior Hockey Championships from Ufa, Russia, are at an end. The terrific brand of hockey that these ten nations displayed couldn't have been a more welcomed sight to hungry hockey fans. While NHL arenas are still solemn and darkened, the AHL still very much a regional entity and the various European leagues being difficult to relate to or adjust to for some – time difference notwithstanding – the World Juniors has provided an all-expense-paid vacation for the hockey mind.
The review of teams and games are abound; the teams that get the best ratio of raves to rants are distinguished by a ribboned necklace too heavy to wear regularly. Lost in the flag waving and head hanging of team recognition is the tournament all-star team and directorate awards that suggest who the most impactful players were throughout.
This year, the media-voted all-star team looked like this:
Goalie: John Gibson (USA)*
Defenseman: Jacob Trouba (USA)*
Defenseman: Jake McCabe (USA)
Forward: Ryan Nugent-Hopkins (CAN)*
Forward: John Gaudreau (USA)
Forward: Filip Forsberg (SWE)
MVP: John Gibson, G (USA)
Asterisked names represent the best at their position as voted by the directorate.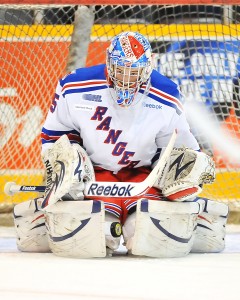 It's never an easy task to process an entire tournament's worth of information and translate all that has passed before your eyes to paper so succinctly, but against my better judgment, here I go…
Michael's Tournament All-Star Teams:
MVP: John Gibson, G (USA)
First Team:
G: John Gibson (USA)
D: Jacob Trouba (USA)
D: Albert Yarullin (RUS)
F: Ryan Nugent-Hopkins (CAN)
F: John Gaudreau (USA)
F: Viktor Arvidsson (SWE)
I was pretty well satisfied with the media's all-star team, which is a mildly rare occurrence for me. Gibson was absolutely spectacular throughout in both wins and losses. He was something of a question mark for me coming into the tournament despite the season that he was having in the OHL. Last year, in place of Jack Campbell, he sloppily lost to the Finns 4-1 and I was hoping that it wouldn't be a sign of things to come in 2013. That loss to Finland feels like five years ago after the show he put on for the Americans. He was confident and in charge of his crease at all times. He challenged well, his pushes and movement were spot on. When he got into scramble mode, he was still poised and tracked the puck sensationally. He was the best player in this tournament and I'm not convinced anyone else was all that close.
On the back line, Jacob Trouba was phenomenal on both sides of the puck. He has a howitzer from the point; he was physical and sound defensively. The stage was not too big for him and he kept his emotions in check despite being a fierce competitor. He was an anchor for the Americans throughout. Albert Yarullin might be a questionable pick to some, but he was huge part of the Russian contingent. He filled passing and shooting lanes with aplomb and he could stand up to the heat of the North American teams' respective forechecks. He nearly blew a hole in the net with his power play one timers and he was just fine in the Russians up-tempo transition game. It felt like Yarullin was out there for more than half the game sometimes and he didn't find himself in too many pickles despite the decidedly different attack strategies from his opponents.
At forward, Ryan Nugent-Hopkins showed that he was a pro playing in a junior tournament. His pace and elite level vision were evident throughout. John Gaudreau really stepped up his game when the chips were down and he was an integral part of a gold medal performance for the United States. What he lacks in size, he makes up for in determination and skill. My last forward spot goes to Viktor Arvidsson, an undrafted Swedish winger. Arvidsson caught my eye in a big way despite his small stature. He really turned on the jets in this tournament and it allowed him to put his fantastic mitts and creativity on display. He has a good shot that he likes to use, but somewhat surprisingly, he was a competent backchecker that even saw some time on the penalty kill. He's a player that was missed by NHL scouts in 2012 and his performance assured us that they won't make the same mistake twice. He could stand to distribute the disc a little better, but other than that, he was outstanding for the Tre Kronor.
Second Team:
G: Andrei Vasilevski (RUS)
D: Jake McCabe (USA)
D: Scott Harrington (CAN)
F: William Karlsson (SWE)
F: Mikhail Grigorenko (RUS)
F: Marko Dano (SVK)
Though Team Russia split their goaltending between two of the best goaltenders in the tournament, I saw enough from the impressive Vasilevski. His athleticism, reflexes and size make him look just plain impenetrable sometimes and that was largely the case at the 2013 WJCs. Jake McCabe and Scott Harrington were both just terrific defensively throughout. Harrington was effective in the transition game also and really took charge of a pairing that contained the much-ballyhooed Dougie Hamilton. Harrington was step-for-step with on-rushing forwards time and time again and his positional defense was sterling. He even took the body a bit, utilizing his hip to close off the gutter. McCabe was another anchor for the Americans and his efforts, along with Trouba's, were certainly gold medal worthy. His two-goal outburst against Canada in the semi-finals is a game that he won't soon forget.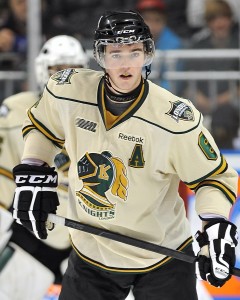 William Karlsson of Sweden may not have the requisite stat line for inclusion here, but in short tournaments, I try to avoid using small sample stats that can be heavily influenced by varying competition. Karlsson was a noticeable positive on every shift from my perspective and his defensive play was magnificent. He took and won many important draws, won board battles and created room for himself and his teammates with his skill and passing. Mikhail Grigorenko was neck and neck with Nikita Kucherov in terms of impactful forwards for the Russians. Grigorenko is a cool customer that oozes offensive acumen. He's tough to contain once he gets rolling in the offensive zone. The Slovakian sparkplug Marko Dano registers as the only relegation pool player on the list. He plays the game as if his pants are on fire. Dano, already a pro at the KHL level, just leaps headlong into every shift with no recourse. He's a smooth passer that displays a great offensive zone compass. He forechecks hard and effectively and plays a passionate game that sometimes sees him cross the line. Though the Slovaks were not in medal contention, it was through no fault of Dano's.
Obviously those teams contained a lot more players who found themselves in meaningful games when the calendar changed, with that mind, a couple of themed teams have been devised for your perusal.
Under the Radar Team:
G: Patrik Bartosak (CZE)
D: Rasmus Ristolainen (FIN)
D: Christian Marti (SUI)
F: Yaroslav Kosov (RUS)
F: Sven Andrighetto (SUI)
F: Dmitrij Jaskin (CZE)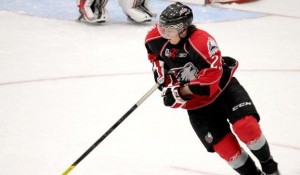 Bartosak, a butterfly goalie from the WHL, played admirably in the Czech Republic's eventual demise. The Czechs (and the Slovaks, for that matter) just can't seem to produce the talent that they used to and the sluggish Czechs were unable to hold their head above water in the tournament. Rasmus Ristolainen (with honorable mention to Ville Pokka) tried his best to jump start the Finnish offense but it didn't come alive until it was too late. They had a plus-19 goal differential in the relegation round after going even in round robin play. Christian Marti, patient and intelligent, helped the Swiss keep it very interesting throughout. A stout defensive team, the Swiss read like an elementary school love note: all heart with some X's and O's. They don't quite yet have the talent necessary to swing with the big trees but they play a discipline game that leaves many opposing fans long on consternation and short on fingernails.
Marti led the way from the back end while Sven Andrighetto certainly raised some eyebrows with his audacious offensive forays that left him as one of the tournament's highest scorers. The compact QMJHLer may have put his name out there as an overage draft selection after his performance, though his past performances for Switzerland didn't seem to yield much press unfortunately. Another Quebec Leaguer in the tournament is Dmitrij Jaskin, a hulking winger from Moncton. Jaskin is hard to knock off the puck and his long reach along with his exquisite puck protecting abilities make him a formidable opponent for any age group. It was so tough to get the Blues prospect to surrender the biscuit that he was a plus-3 on a team that was a minus-4 for the event. Yaroslav Kosov appeared to be one of the fastest players in the tournament and combined with his energy level, he was in your face with ample time to get into several more faces before his shift was over. A forechecker and penalty killer, Kosov wasn't counted on for offense that much but was still effective all over the ice. He's a modernized version of Konstantin Koltsov perhaps, except this version has passable hands.
Honorable mention to an almost cult-like favorite in Germany's Leon Draisaitl, a double under-ager who showed tremendous vision and puck poise throughout. He became such a story that he was no longer under the radar in my eyes, but he does deserve some recognition on a below the line German team. Stick taps to Christoph Bertschy (F – SUI) and Joonas Korpisalo (G – FIN) as well.
Team Underwhelming:
G: Malcolm Subban (CAN)
D: Dougie Hamilton (CAN)
D: Ryan Murphy (CAN)
F: Radek Faksa (CZE)
F: Nail Yakupov (RUS)
F: Ryan Strome (CAN)
A team can't be underwhelming unless it has expectations. Canada had the highest expectations and fairly or unfairly, their players dominate the list. Malcolm Subban started out poorly and the smoother Jordan Binnington appeared to be the answer in net but Coach Steve Spott went with the Bruins first rounder. With Subban, you saw the raw potential he possesses and what an incredible athlete he is but a refined goaltender he is not. He still has some awkwardness to his game, his glove motion is still wonky and when challenged by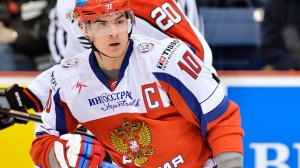 the best of his peers he was bested. When Binnington was abruptly thrown into the bronze medal game against the most technically skilled team in the event, he was perforated quickly which didn't help anyone either. Subban came in to mop up and played admirably, but the damage could not be undone.
Dougie Hamilton was primarily used with Scott Harrington in a shutdown role but Hamilton – purportedly NHL ready – wasn't nearly as assertive or confident as many of us expected him to be. He allowed a no-frills, defensive defenseman take charge of the pairing and just faded into the backdrop. Hamilton could have probably asserted himself in a productive manner, but he seemed to be going through the motions all too often throughout the tournament. On the other side of the coin, offensive defenseman Ryan Murphy didn't record a point until the shoot'em up bronze medal affair and his defensive competence was put on trial. The verdict: guilty of incompetence. More of an east-west player than north-south, Murphy likes to survey and matriculate up the ice and no one allowed him to have his way. The last memory from the tournament for Canada is when Gord Miller (superb TSN play-by-play man) said that Canada's consecutive medal streak ended at 14 and truer words have never been spoken as the camera showed a dejected Ryan Murphy (#14), head in gloves, seconds after Valeri Nichushkin bull-rushed right by him for the overtime winner.
Staying with Canada, Ryan Strome, the silky smooth dispenser from Niagara (OHL) just couldn't quite get into a rhythm it seemed. His partner in crime, Brett Ritchie, was seldom used and Strome struggled to make the best of his ice time with different linemates. His dramatic offensive flair was scarcely in view. Radek Faksa, a reliable two-way performer in the OHL, left many wanting more. He's not a dynamic offensive performer in his natural element, but he's normally an effective player in any situation and it seemed like he was just a step behind for much of the experience. Lastly, Nail Yakupov was full of flash and dash, vim and vigor, [urine] and vinegar, but little substance. His solo rushes grew old quickly and while I admire his courage and his determination to put the team on his back and will them to victory, he ended up making himself ineffective on the whole. And it's not for lack of effort, he was out on some penalty kills and was blocking shots face first, but when the puck was on his stick it just never found its way to a teammate. When he starts to rev it up, visions of a young Alexander Ovechkin percolate but when the failed rush is over you wonder what Maxim Afinogenov is up to right now.
Like any list (or four), it's a veritable magnet for criticism and critique, but this was my view of things from about 5000 miles out.