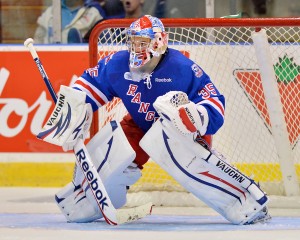 John Gibson and his mesmerizing play carried Team USA to a 3-1 gold medal victory over Team Sweden in the 2013 World Junior Championship Saturday morning. Team USA won their second IIHF U-20 World Junior Championship in the last four years. No one was more responsible for Team USA's gold medal celebration than Gibson.
Gibson was better than good cementing the best save percentage ever for a Team USA goaltender in the WJC. The Pittsburgh native, without a doubt, was the best player in the tournament. Gibson was named tournament M.V.P., Best Goaltender and selected to the tournament All-Star team. His performance between the pipes will go down as the best ever for an American goaltender.
Gibson's stats were remarkable considering the number of professional players participating in this year's WJC. Gibson played in more games (7) than any other goalie in the tournament. He faced the second highest shot total (202) for any goaltender in the tournament behind German netminder, Marvin Cupper (212). Gibson finished the tournament with a 1.36 goals against average (GAA) which was the best among tournament goaltenders. With a save percentage of 0.955, Gibson surrendered nine goals in seven games.
While Gibson led Team USA to their gold medal victory over Sweden, the U.S. squad received contributions from everyone throughout the tournament. Jacob Trouba was Team USA's best defenseman and assisted on the game-winning goal in the gold medal game. John Gaudreau "Johnny Hockey" led the tournament in goal scoring. Gaudreau had seven goals in three consecutive "must-win" games for Team USA.
As Trouba, Gaudreau and a cast of American players shined throughout the tournament, there was one player who really struggled, Rocco Grimaldi. Many people had high expectations for Grimaldi leading up to the WJC. Grimaldi, who plays his college hockey at the University of North Dakota, was benched by head coach Phil Housley midway through the tournament for not producing.
Grimaldi figured out how to contribute in a huge way during Team USA's 3-1 victory over Sweden. After taking a shot which happened to deflect off both posts in the first period, Grimaldi got Team USA on the board in the second period. He squeezed a puck in short-side on a wrap-around attempt to beat Sweden goaltender Nicklas Lundstrom to tie the game 1-1. A few minutes later, Grimaldi got his 5'5" frame in front of a Trouba slap shot and deflected the puck past Lundstrom giving USA a 2-1 lead.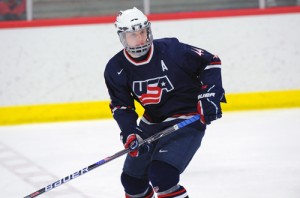 Team USA would not relinquish the lead. Vinny Trocheck added an empty net goal to seal the deal for the U.S. squad and capture the gold medal.
USA Hockey may never have the most talent on paper, but that is why the game of hockey is so special. A united hockey team that plays together always reigns supreme against a team of talented individuals that is unable to find chemistry. That is what Team USA and captain, Jake McCabe, truly bought into during the 2013 WJC.
"Seth Jones stated it earlier that we had the best team here. We backed him up on that all along, we had all the elements and we proved that. It feels just awesome," said McCabe.
Team USA continued to improve game by game. They showed that any team can win a gold medal if they believe in one another.
"You know carrying on the tradition of USA Hockey, that's how we played and we really showed it out there. We improved all tournament. Boy, we deserved it I think. Can't say enough about our goaltending and everyone involved. It took everyone and we all played our roles and did what we had to do and we came out on top. It feels great," said McCabe.