Major junior and college regular seasons are over and playoffs are just kicking off. Now sounds like a good time to re-visit my NHL Draft rankings. Please enjoy this second installment of the 2014 Alternate Rankings. Designed as a complement to THW's The Next One Rankings, compiled with care and attention by our head draft analyst and editor Chris Ralph, the Alternate Rankings are my look at the 2014 Draft class.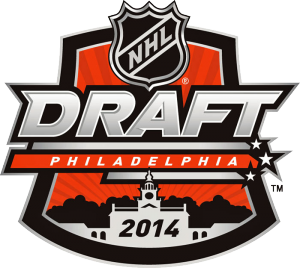 My method is rather simple – if I were drafting, who would I want to pick if I were building a team from scratch? Being based in western Canada, I may have a slight bias towards players from the region. I also found last year that, compared to other rankings, I tend to rank defensemen lower than most. As such, your mileage may vary.
Feel free to share your thoughts in the comments or on Twitter @RyanNPike.
—
#1: D Aaron Ekblad – Barrie Colts (OHL)
Physically mature, big-bodied blueliner. Good in all ends of the rink. Won't be a scoring machine, but he eats up minutes and soaks up opponent scoring chances like a defensive sponge.
#2: F Sam Reinhart – Kootenay Ice (WHL)
Reinhart's slightly ahead of fellow WHLer Draisaitl for a couple reasons, one being that Reinhart arguably has less help in Kootenay than Draisaitl has in Prince Albert, and because he's been operating with less for a bit longer than Draisaitl.
#3: F Leon Draisaitl – Prince Albert Raiders (WHL)
Draisaitl's a bit bigger than Reinhart (by about 20 pounds) and has only played on the smaller North American ice for a couple of years. He's very smart and creative, and is using how to use his size well.
#4: F Samuel Bennett – Kingston Frontenacs (OHL)
The only major Canadian junior contender who didn't appear at the Top Prospects Game, Bennett has exploded as an offensive leader for Kingston. Unlike some other clubs with multiple high-scoring prospects, Bennett's numbers (and general play, based on scouting reports) indicate that he's driving the bus and his linemates are along for the ride. He plays with an edge, though penalties and discipline may be a minor concern.
#5: F Michael Dal Colle – Oshawa Generals (OHL)
Potentially this year's Sean Monahan, Dal Colle is a fairly big-bodied, mature player leading an OHL team offensively. Unlike Monahan's Ottawa 67s last year, Dal Colle's Oshawa club is actually pretty good and he's (along with Scott Laughton) the straw that stirs the drink.
#6: F William Nylander – Rogle (HockeyAllsvenskan)
Arguably the best of the European teenagers, Nylander is the son of former NHL Michael, and is already playing in a high-end professional league and contributing to his team's success. Comparing him to the high-end Canadian juniors is tricky, but he's definitely hockey-smart enough to adjust to playing with men very quickly.
#7: F Nikolay Goldobin – Sarnia Sting (OHL)
Arguably the biggest surprise at the Top Prospects Game, Goldobin has put up tremendous offensive numbers on a pretty thin Sarnia club. Even in a game full of high-end talents, Goldobin seemed to attract the puck to him and find something clever to do with it to create chances for himself or his teammates.
#8: F Joshua Ho-Sang – Windsor Spitfires (OHL)
Ho-Sang was quite good at the Top Prospects Game, but seemed to benefit from others getting him the puck rather than creating chances himself. Like Goldobin, he's a strong player on an offensively-starved team, which does give some hope for what he may be able to accomplish in the future with a more versatile group.
#9: F Robert Fabbri – Guelph Storm (OHL)
Guelph has a lot of big guns, which drags Fabbri down the rankings a tad. He's also not tremendously big. But he's got a great work ethic and gets in position to benefit from the chances his teammates (and he himself) create.
#10: F Nikolaj Ehlers – Halifax Mooseheads (QMJHL)
The good: Ehlers is lightning fast, has great hands and has incredible numbers. Oh, and he's Christopher Ralph's big dark horse pick in the draft. The bad: he's not huge and he plays with Jonathan Drouin, so there's no telling how much his scoring totals are because of his linemate.
#11: F Brendan Perlini – Niagara IceDogs (OHL)
The IceDogs are a middling team, but Perlini has emerged as one of their best players. After just 12 points last year, he "got it" this year and has 70. His combo of size and skill will tantalize a few teams.
#12: F Ivan Barbashev – Moncton Wildcats (QMJHL)
Another strong player on a thin team, Barbashev managed to just miss leading his team in scoring despite having not a lot of scoring depth AND in just his second year in North America. He has similar numbers as last year, but in far fewer games.
#13: D Anthony DeAngelo – Sarnia Sting (OHL)
He's not big, but DeAngelo is an offensive machine for Sarnia. He was just under a point-per-game last season and well over a point-per-game this one. As a defenseman. On Sarnia, which isn't exactly stacked with offensive-minded players. He's good, but the challenge will be to round out his game.
#14: F Nick Ritchie – Peterborough Petes (OHL)
Great size, pretty good skater, and his brother's already drafted, so he knows what to expect. Fairly similar player in a few ways to Virtanen, but he's got better numbers and arguably fewer question-marks.
#15: F Jake Virtanen – Calgary Hitmen (WHL)
Consistency is the question for Calgary's talented teen. He's got size, strength, speed and grit. His issues are between the ears: game-to-game (and in-game) consistency, and avoiding taking penalties at the wrong times.
#16: D Julius Honka – Swift Current Broncos (WHL)
#17: D Haydn Fleury – Red Deer Rebels (WHL)
#18: D Roland McKeown – Kingston Frontenacs (OHL)
#19: F Nikita Scherbak – Saskatoon Blades (WHL)
Arguably the best player at the Top Prospects Game.
#20: F Chase de Leo – Portland Winterhawks (WHL)
#21: F Conner Bleackley – Red Deer Rebels (WHL)
#22: F Daniel Audette – Sherbrooke Phoenix (QMJHL)
Donald Audette's son.
#23: F David Pastrnak – Sodertalje (HockeyAllsvenskan)
#24: F Spencer Watson – Kingston Frontenacs (OHL)
#25: F Jayce Hawryluk – Brandon Wheat Kings (WHL)
#26: F Jared McCann – Sault Ste. Marie Greyhounds (OHL)
#27: F Kasperi Kapanen – KalPa (SM-Liiga)
Sami Kapanen's son.

#28: F Anton Karlsson – Frolunda (Sweden Jr.)
Erik Karlsson's brother – (as noted by @darknngel on Twitter, the Carolina Erik Karlsson, not Ottawa's)

#29: F Nick Schmaltz – Green Bay Gamblers (USHL)
Jordan Schmaltz's brother.
#30: F Dylan Larkin (US National Development Team)

Honourable Mentions:
G Thatcher Demko – Boston College (NCAA); college freshman was best goaltender in Hockey East this season.
F Adrian Kempe – MODO (Sweden); insanely young (turns 18 on September 13, right before the cut-off), already playing pro in SHL.
D Yannick Rathgeb – Plymouth Whalers (OHL); Swiss defender put up strong offensive numbers for Whalers in first year playing in North America.
F Jakub Vrana – Linkopings (SHL); point-per-game player in juniors, but not producing a ton in pro transition.
F Brendan Lemieux – Barrie Colts (OHL); Ekblad's teammate is a steady producer, but like his father Claude, is also a handy intangibles player.