The struggle to play a complete sixty minutes of hockey has haunted the Hershey Bears for the majority of the 2013-14 season and will be their pitfall if they miss out on the Calder Cup playoffs. Time is running out for the Chocolate and White, who have just 14 games left on their schedule in Mike Haviland's first year as the Bears head coach.
Just four games of their remaining 14 come at Giant Center, where they've enjoyed substantial results after a slow start in their home rink prior to the New Year. Hershey missed out on an enormous opportunity last weekend to earn five out of a possible six points, but dropped Sunday night's contest to Norfolk due to their inability to show up in the first period. Their power play missed out monumentally in the first period, going 0-4 in the opening frame.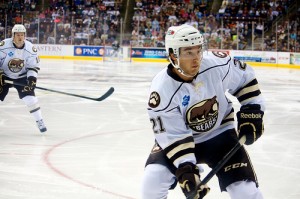 The Bears roster continues to remain influx, with the Washington Capitals assigning forward Casey Wellman to Hershey and promoting recently acquainted Bears forward back to the NHL. Haviland will also have a third goalie to potentially play in net down the stretch as well. The Capitals announced Wednesday night that the club signed college goaltender Pheonix Copley out of Michigan Tech to a two-year, entry-level deal that begins in the 2014-15 season. Copley will join Hershey on an amateur tryout for the remainder of the season. Below is a statement from the Capitals press release on the team's most recent signing.
The #Capitals have signed 22-year-old free-agent G Phoenix Copley to a 2-year, entry-level contract. #CapitalsTalk

— Chuck Gormley (@CharlesAGormley) March 19, 2014
"Copley, 22, spent the last two seasons at Michigan Tech of the Western Collegiate Hockey Association (WCHA). Copley appeared in 30 games for the Huskies this season, posting a 10-13-6 record with one shutout, a .911 save percentage and a 2.51 goals-against average. The North Pole, Alaska, native ranked sixth in the WCHA in goals-against average and seventh in the league in save percentage. Copley earned WCHA Defensive Player of the Week honors twice during 2013-14 season."
Below is a preview of Hershey's games this week and related content about the Bears.
March 21st at Providence
Record: 33-22-2-7, 75 points, 5th in Eastern Conference
Power Play: 21.9% (2nd)
Penalty Kill: 80.3% (23rd)
Goals per Game: 3.20 (5th)
Goals Against per Game: 2.91 (17th)
Goalies: Niklas Svedberg (21-14-3, 2.79 GAA, .907 SV %) and Malcolm Subban (12-8-4, 2.39 GAA, .916 SV %)
Offensive Leaders: Alexander Khokhlachev (50 points), Seth Griffith (43), Craig Cunningham (40) and Nick Johnson (38)
March 22nd at Worcester
Record: 30-27-3-1, 64 points, 10th in Eastern Conference
Power Play: 16.9% (16th)
Penalty Kill: 83.3% (12th)
Goals per Game: 2.56 (24th)
Goals Against per Game: 2.98 (20th)
Goalies: Harri Sateri (16-20-1, 2.94 GAA, .891 SV %) and Troy Grosenick (14-10-0, 2.67 GAA, .903 SV  %)
Offensive Leaders: Freddie Hamilton (35), Daniil Tarasov (30), Dan DaSilva (29) and Travis Oleksuk (27)
March 23rd at Manchester
Record: 40-17-2-6, 88 points, 1st in Eastern Conference
Power Play: 14.4% (26th)
Penalty Kill: 81% (19th)
Goals per Game: 3.15 (7th)
Goals Against per Game: 2.55 (6th)
Goalies: Jean-Francois Berube (23-15-2, 2.44 GAA, .913 SV %) and Mathias Niederberger (1-1-1, 2.92 GAA, .887 SV %)
Offensive Leaders: Jordan Weal (56), Linden Vey (39), Nick Shore (35) and Brian O'Neill (34)
Bears Links
You can follow Matthew on twitter @m_speck and email him at mspeck21@yahoo.com with any questions or comments.
Matthew Speck covers the Washington Capitals organization for The Hockey Writers. He provides coverage of both Washington at the NHL level and prospect related content. Matthew also covers local sports for the Lebanon Daily News in Central Pennsylvania. You can email him at mspeck21@yahoo.com with any questions or comments.