It's impossible to draw conclusions about winners and losers of the 2014 Draft already. It's only been a year, and guys that may look like busts will end up stars, and some that look like sure fire things won't pan out. However, a number of players have clearly increased their stock in just one year since being selected.
This is not meant to be a comprehensive list, but a list of guys whose stock have improved the most relative to where it was a year ago.
Gustav Forsling (Drafted: 5th round, 126th overall by Vancouver Canucks)
This season, Forsling finished the regular season with three goals and three assists in the SHL, which may not seem like a gaudy point total. However, it was the most among drafted defensemen in the league under the age of 19. The fact that Forsling received consistent minutes in one of the best leagues in the world was a good sign alone.
But it was the 2015 World Juniors that would serve as Forsling's coming out party. Playing the QB role on Sweden's power play, Forsling put up eight points in seven games to lead the tournament's defensemen in scoring. He demonstrated his offensive awareness, skating ability, and poise with the puck throughout.
Redux Draft Position: Mid 2nd
Brandon Hickey (Drafted: 3rd round, 64th overall by Calgary Flames)
Coming out of the AJHL in his draft year, the skinny on Hickey was that he had all the tools needed but needed to put them all together. As a BU student that got to see him play live 25 times this season, I can say without a doubt he's putting it together.
Hickey is an effortless skater that makes an impact at both sides of the ice. He possesses a booming shot, shows a willingness to play physically, and remains calm under pressure. Given the choice between Hickey or his BU teammate John MacLeod who has taken seven spots earlier, I would take Hickey.
His 17 points are only scratching the surface of what Hickey's future could be. At no point during the season did he look like a freshman out on the ice.
Redux Draft Position: Early 2nd
David Pastrnak (Drafted: 1st round, 25th overall by Boston Bruins)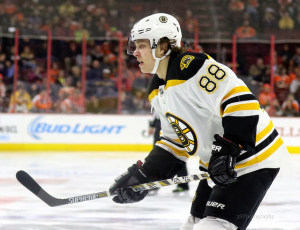 Quickly: Who led the Boston Bruins in ESP/60 this season? Patrice Bergeron? David Krejci? Brad Marchand? Nope, David Pastrnak. And it wasn't particularly close, with Pastrnak coming in at 2.43 and Patrice Bergeron in 2nd at 2.11.
Pastrnak started the year in the AHL, where he put up 28 points in 25 games. Scoring over a point-per-game in the AHL as an 18 year old is essentially unheard of, but Pastrnak did it. He also impressed at the World Juniors, where he put up seven points in five games.
After showing he had nothing left to prove at the lower levels, Pastrnak moved to the NHL for good where he put up 27 points in 46 games. His shifty moves, speed, shot, and overall offensive package should be the jolt the Bruins' offense has lacked since Tyler Seguin's departure.
Redux Draft Position: 7th Overall
Rourke Chartier (Drafted: 5th round, 149th overall by San Jose Sharks)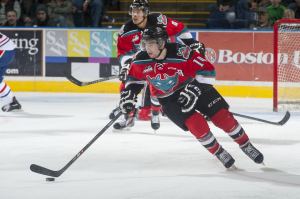 In Chartier's draft year, he put up a respectable 58 points in 72 games. The knock on him was his size. He stands at 5'11", 190 lbs, which is far from minuscule, but not ideal. However, Chartier has used his size (or lack thereof) to his advantage by being a very evasive and shifty playmaker.
A hard worker that's equally adept at scoring and passing, Chartier took his game to the next level in 2015 by scoring 82 points in 58 games. He led the WHL in points for a period in the beginning of the season, and finished 14th in the league in points. Had he played the same number of games as most of the players in the top ten (~65), he likely would have finished in the top five.
He earned an invitation to the Canadian WJC camp, but was cut in the final round of selections. He should have a good chance at nabbing a spot next year.
Redux Draft Position: Early 2nd
Travis Sanheim (Drafted: 1st round, 17th overall by Philadelphia Flyers)
You'd be hard pressed to find a bigger riser from the beginning of 2013-14 to now. At the start of his draft year, Sanheim struggled to earn regular minutes with the Calgary Hitmen. But by the end of the season, he was playing in all situations and ended the season by leading the U18 WJC in points by a defenseman.
Sanheim continued his rise in 2014-15 where he exploded for 65 points 67 games in the regular season, and another 18 points in 17 playoff games. His 83 combined points led all WHL defensemen in points this season.
Sanheim is an extremely strong skater that has a projectable frame at 6'3″, but needs to add weight. He is extremely calm with the puck on both ends of the ice, and uses his high hockey IQ and positioning to defend effectively in his own end.
Redux Draft Position: 11th Overall
Axel Holmstrom (Drafted: 7th round, 196th overall by Detroit Red Wings)
Yes, another late round European gem discovered by the Red Wings and ace scout Hakan Andersson. Holmstrom had a strong season in 2013-14 where he put up 38 points in 33 games at the U20 level, and finishing 2nd in points at the U18 WJC with 11 in 7 games.
Holmstrom has strong playmaking skills, and shows a willingness to battle in front of the net and along the boards. The knock on him is his skating, but his hands are undeniable. He finished with 20 points in the SHL this season, the second most among U19 players behind only Jakub Vrana, who was selected 13th overall in the 2014 Draft.
Holmstrom continued his strong play at the U20 WJC where his seven points were good for 12th best in the tournament. He capped off his remarkable season with an unreal playoff run that included 18 points in 15 games to lead the playoffs for Skelleftea.
Redux Draft Position: Early 2nd
Dylan Larkin (Drafted: 1st round, 15th overall by Detroit Red Wings)
Seemingly wherever Dylan Larkin went this season, he immediately asserted himself as one of the best players on the team. He turned in a tremendous freshman campaign at the University of Michigan where he put up 47 points in 35 games, second among all freshmen behind a fellow by the name of Jack Eichel.
Playing for the US at the WJC, Larkin outperformed Eichel in both the eye test and on the scoresheet as he led Team USA with seven points in five games. He was all over the ice, seemingly creating a chance on every shift with his speed and determination.
He capped off his season by joining the Grand Rapids Griffins in the AHL playoffs, where he stepped in to score five points in six games. Larkin is a responsible two-way player capable of playing in all scenarios and on both special teams units.
Redux Draft Position: 9th overall