The annual Rookie Tournament, held this year in London, Ontario, provides prospects the opportunity to showcase their talents for team management in the hopes of securing a job in either the AHL or NHL in the immediate or near future. Such was the case in this year's tournament, in which the Ottawa Senators battled the Chicago Blackhawks, Toronto Maple Leafs and Pittsburgh Penguins' top prospects.
For the Ottawa Senators, this years tournament was largely a success, posting two wins; against the Toronto Maple Leafs and Chicago Blackhawks with scores of 6-2 and 5-4 in a shootout, and one loss which came against the Pittsburgh Penguins rookie squad at a score of 4-3.
As is always the case when it comes to the Rookie Tournament, there are high expectations placed on the players involved. These expectations come from the players themselves, the fans, and most importantly, Ottawa Senators management. As a result, some players tend to excel in these stressful, high intensity situations, while others may falter, indicating that they may not be as strong players as was once thought.
Yet it is important to put this tournament into perspective. It is a 3-game tournament with players playing their first hockey after the off-season against the greatest competition relative to their age and skills. Therefore, an immense amount of worth should not be put into the results garnered from this tournament, however, the results and actions of players involved must ultimately be seen as indicators of the potential these young men possess, and the great players they may become in the near future.
This being said, let's grade the forwards, defense and goaltending from this years Ottawa Senators rookie squad to see where the Senators future strengths lie, and where improvement is still necessary.
Forwards:
A-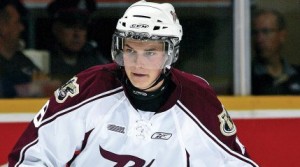 The forwards on this Ottawa Senators rookie squad was the greatest strength of the team. Highlighted by potential NHL stars in Curtis Lazar and Matt Puempel, offense was no problem for the Senators, who scored 13 goals over the teams 3 game and notched a shootout win.
Top Guns:
Curtis Lazar: 
B +
Lazar was impressive in the action he saw, scoring the opening goal of the tournament while playing the strong two-way game he has become known for. Strong defensively as well as dangerous offensively, Lazar showed why he will be a future NHL star for the Senators.
Matt Puempel:
A
One of the best senators forwards in the tournament. Puempel dazzled with his speed and strong puck presence, scoring two goals in the first two games while showing strong chemistry with Curtis Lazar. Not only did Matt illustrate his goal scoring abilities, he amazed with his ability to move the puck, making great pass after great pass to set up teammates in high quality scoring situations.
Take a look at Puempel's speed and ability to move the puck which result in a Curtis Lazar goal:
http://www.youtube.com/watch?v=E0S2Rqxxx1g
The Surprises:
There were certainly a few forwards who came into this tournament that were not well-known. However a select few forwards changed that, having great tournaments which resulted in great recognition and praise for their future with the Senators.
Darren Kramer:
A
Kramer had a fantastic tournament, playing a strong all-around game. He played a physical game, with a spirited fight in the opener against the Penguins and big hits throughout the tournament. Further, he showed an offensive upside, scoring two-goals in the tournament while looking dangerous on many occasions. He also played a strong defensive game, often stealing the puck from opposing players which led to scoring chances, such as his goal against the Blackhawks. All in all, Kramer may have been the Senators best player in the tournament.
Max McCormick:
B+
McCormick was also a pleasant surprise for the Senators. He played a very attractive style of hockey, very similar to Kramer. Max posted two goals in the Senators' 6-2 win over the leafs, while also playing a physical role; laying big hits and standing up for his teammates through fights.
There were plenty of other forwards who impressed in this tournament, such as Alex Guptill, Francis Perron and Ryan Dzingel, as all of which were impressive both offensively and defensively and made significant contributions in helping the Senators to a winning record in this year's rookie tournament. Keep an eye out for the forwards I have listed, as they will likely be significant players in either the AHL or NHL in the immediate future.
Defense:
B
The defenders for the Senators really were nothing to write home about. No player emerged as a star,  with all playing a relatively average game.
Matt Murphy:
B
Murphy probably played the strongest game of all the defenseman, if any. He was strong on the puck in his own end and was consistent in making a hard, accurate first pass out of his own end. Matt also was willing to pinch on occasion to hold the puck in the offensive zone, using strong decision making skills in order to not be beat and allow for odd man rushes to ensue.
Troy Rutkowski:
B-
Rutkowski played an average game, which on most occasions was better than most of the other defenders on his team. Although he had no noteworthy offensive flashes, he played a strong stay at home game, playing high against opposing fore-checks in order to force opponents to dump the puck in rather than generate opportunities off of the rush.
Goaltending:
C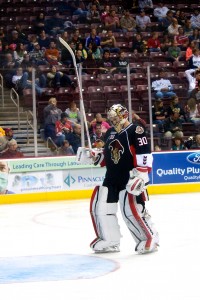 The Senators goaltending situation was very inconsistent, not in terms of quality of play, but more in terms of who was playing.
Andrew Hammond:
A-
Hammond was the good of the Ottawa Senators goaltending. Although he only played one of the two games, Hammond was impressive in leading his team to a win in the rookie version of the battle of Ontario, a 6-2 outcome. Hammond was very quiet in the net (a good thing), staying square to shooters and not over-reacting to scoring opportunities which would have put him out of position.
Instead, Andrew controlled his rebounds and made the majority of chances he faced look easy. He provided a stability in the net which all teams desire, highlighted by his amazing cross-crease save against Connor Brown of the Leafs.
Chris Dreidger:
D+
Driedger did not have a great rookie tournament, to say the least. Although he did manage to win one of his two games played, he allowed four goals in both games, looking vulnerable in the net. His game was simply not sound, he let out large rebounds on several occasions, with a few of which ending up in his own net.
The majority of the goals he allowed were ones which he simply should have had, in most cases he was poorly positioned and let low quality scoring chances beat him, such as scrum plays or on pucks close to the net on bad angles. Driedger did not help himself with his performances in this tournament, as he displayed an inferior quality of goaltending which was likely highly un-impressive to the Senators front office.
All in all, the 2014 Rookie Tournament was a success for the Ottawa Senators. Some players excelled, while others regressed, all of which is part of the process of development for a hopeful NHL prospect.
Did a different player stand out to you? Disagree with these ratings?
Comment Below!