Here We Go Again
While most fans of the Ottawa Senators enter the 2014-15 campaign with the uncertainty of re-signing winger Bobby Ryan clouding their optimism, their focus and frets, could start shifting to the defensive end of the ice. Erik Karlsson's most common partner over the last two years, Marc Methot also remains without a contract beyond the upcoming season. The hometown boy who was acquired in the summer of 2007 from the Columbus Blue Jackets in exchange for forward Nick Foligno, is in the final year of a 4-year/$12 million contract signed with Columbus in 2011. A recent interview between TSN's Bob McKenzie and Sens General Manager Bryan Murray only seemed to heighten the fears of the fan base and can be seen here. THW's Callum Fraser recapped the entire interview here as did THW's Brett Slawson here.
The often un-noted defensive prowess of Marc Methot and his looming free agency may remind Sens fans of an all too familiar and ugly nightmare…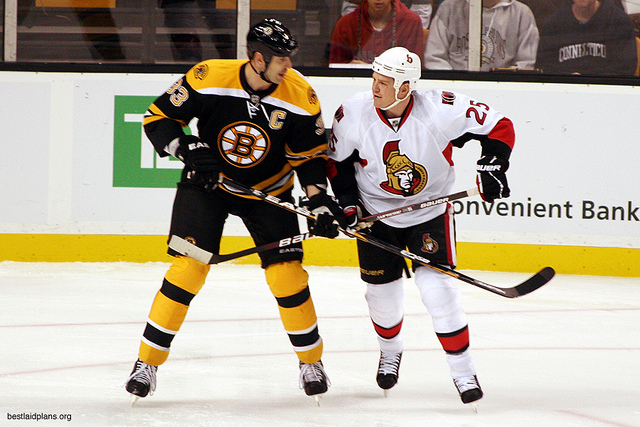 The Decision
Coming off of one of the many disappointing early playoff exits in franchise history in the summer of 2006, the Ottawa Senators found themselves with a dilemma that will forever haunt fans and then General Manager John Muckler. They had to choose between 'face of the franchise' defenseman Wade Redden and the league's tallest player Zdeno Chara, who were both free agents to be and both the same age. Looking back at it, it's one of the worst talent vs talent decisions in NHL history. Chara jumped ship to join former Senators Assistant GM Peter Chiarelli in Boston, while the Sens re-signed Redden to a 2-year, $13 million dollar contract. Since, Chara became and remains one of the most feared and awed defenders in the league, having won a Norris Trophy, Stanley Cup and appearing in many All-Star Games. While Redden rapidly deteriorated during his contract in Ottawa, and after signing a 6-year deal with the Rangers in 2008, was bought out in 2013, and finished the 2012-13 regular season with the St. Louis Blues before re-uniting with Chara and the Boston Bruins for their 2012-13 playoff run (Redden played just six games).
At the time however, it was a much closer decision than most remember. Chara, while coming off of a season where he was named to the NHL's Second All-Star Team, was still considered too big at 6'9 and many questioned his mobility and durability. Redden, meanwhile, was coming off his fourth career 40+ point campaign, highest point total of his career (50), and led the league in plus/minus in 2005-06 with a +35 rating; he was also considered one of the league's best skating defensemen. He was renowned for his charity work in Ottawa, and was considered one of the most approachable players by the fans and media. It truly was a coin flip for Muckler, and in the end he went with the 10-year vet of the team's backend, and a physical build much more proven to hold up for longer. However, as though he had pulled straws against an older brother to see who had to take out the garbage, Muckler and the Sens, lost.
The Rise
Yet, it didn't appear so at first…
The Sens made it all the way to the Stanley Cup Final the next season with a defensive group that included Redden, youngsters Andrej Meszaros and Christoph Schubert, experienced vets Joe Corvo and Tom Preissing and the elite shut down pairing of Chris Phillips and Anton Volchenkov. After cruising through the East, Ottawa was bested in five games by the superior Anaheim Ducks of the Western Conference. Yet, it looked like a team that had grown a harsh reputation as playoff chokers had finally cleared the last hurdle, and were well on their way to hoisting the sport's greatest prize sooner rather than later.
The Fall
It was the 2007-08 season when choosing Redden over Chara became such a glaring mistake. Redden didn't look anything like the player he had once been, the up-and-coming Meszaros and Schubert fell off in their development and didn't last much longer in Ottawa. Preissing signed as a free agent that summer, while Corvo waited until halfway through the following season to demand a trade. All that were left were the flash-less but reliable pair of Phillips and Volchenkov. Often over-looked, they were playing at their best when you couldn't notice them.
While Phillips remains a core piece of the current roster's defensive unit, 'Big Rig' is becoming painfully slow, and his decision making doesn't appear to be what it once was. Volchenkov on the other hand, left Ottawa in the summer of 2010 in favor of a 6-year/$25.5 million contract with the New Jersey Devils. Ottawa instead brought in puck-moving veteran Sergei Gonchar on a similar 3-year/$16.5 million contract. A gamble that once again, seemed to be the right call at the time, but in hindsight, never paid off. Volchenkov was bought out this offseason, but quickly signed a 1-year/$1 million contract with the Nashville Predators in hopes of extending and revitalizing his NHL career. Like Chara, the Anton Volchenkov departure appears far too similar to the current Marc Methot situation for Sens fans. The difference this around however, Senators management doesn't need to make a choice based on salary cap constraints. With $69 million in projected cap space for the 2015-16 season, they can easily fit in both Methot and Bobby Ryan, luxuries the team didn't have when choosing Redden over Chara, or Gonchar over Volchenkov.
Should He Stay, Or Should He Go
As bad as the Senators were last season, Marc Methot was a steady presence on the backend. Methot played over 61% of his ice-time with Erik Karlsson yet again, and ranked 8th on the team in Corsi On, and 6th in Corsi Rel QoC (amongst Sens defensemen he ranks 3rd and 2nd respectively) while allowing Karlsson to play the way he wants and focus on offense. In terms of PDO, Methot actually ranked ahead of Karlsson, behind only Jared Cowen (for some inexplicable reason) amongst D-men. He is the most reliable rear-guard on the roster.
Although the 2014-15 version of the Ottawa Senators is full of holes, and needs plenty of work to the offensive and defensive end, re-signing Bobby Ryan needs to remain a top priority. Bryan Murray didn't trade a first-round pick, a roster player and a top prospect for only two years of Ryan. As history shows however, the Sens have overlooked the importance of a key defensive specialist too many times. It's time to change the course and image of the team, and keep Marc Methot at home.
Marc Methot said today he still hopes to get a deal done, despite the recent and public frustrations from both parties #Sens

— Kyle Bukauskas (@SNkylebukauskas) September 18, 2014