We're nearly at the quarter mark of the 2015-16 NHL season and already there's been 489 different players who've lit the lamp at least once. Some are just another tick in the goal column of veterans, but for some of the younger players it's the first time in their NHL careers they've been able to raise their arms in celebration of their own goal.
With that said, there are 44 players who've netted their first career goals in 2015-16. While some may be in their second or third seasons, others are just starting out. Regardless, one thing is for sure, they've all finally scored a goal at the NHL level.
All the goals had fans on their feet. Some were more impressive than others, but each and every one of them counts towards the beginning of an NHL career. With that in mind, here's part one of a THW series looking at how these career firsts rank amongst each other.
44. Joonas Donskoi (Oct. 7 at Los Angeles)
The best part about the score sheet is that it doesn't have replays. Unfortunately for young Joonas Donskoi, the internet is filled with videos including that of his first career NHL goal – mistakenly awarded by the play-by-play announcer to Sharks' captain Joe Pavelski.
The goal – that put the Sharks up 5-1 on the Kings – ricocheted off Donskoi in front of Jonathan Quick and left the Sharks forward with the first goal of his young NHL career.
[VIDEO: Donskoi nets first NHL goal to extend lead]
43. Viktor Arvidsson (Oct. 8 vs. Carolina)
Imagine a Shea Weber shot coming right at you? Yikes. Luckily for Viktor Arvidsson, it was just a Seth Jones wrister that he had to duck out of the way of. On top of that, the puck deflected off of Arvidsson as he was taking cover and into the net.
Sure, it's not the way you want to notch your first NHL goal, but it's a goal nonetheless. Arvidsson played just four games for the Preds this season recording that lone goal on six shots. Oh, and it was a game winner.
[VIDEO: Arvidsson redirects first NHL goal by Ward]
42. Andreas Martinsen (Nov. 21 at Washington)
Well it wasn't the prettiest deflection and it certainly doesn't help that his team was down 6-2 against the Washington Capitals, but a first is a first and to Andreas Martinsen it doesn't matter how he scored his first NHL goal.
To score on one of the better goalies in the NHL right now – Braden Holtby – has to help the cause for Martinsen. In seven games with the Avalanche this season Martinsen has that lone goal and an assist to go along with it. While his first wasn't the most visually appealing, there will be more and they'll surely impress.
[VIDEO: Martinsen deflects home his first NHL goal]
41. Brendan Gaunce (Oct. 30 at Arizona)
Let's call it a Holmstrom-type goal. Vancouver's Brendan Gaunce took to the body in front of the Arizona net and collected his first career NHL goal. Sure it went of his skate, but it gave the Canucks a 3-0 lead against the Coyotes.
Gaunce only played two games for the Canucks late in October where he tallied just the single goal on two shots. At only 21, he has a lot more time ahead of him and will surely look to score more highlight reel goals as he continues in the NHL.
[VIDEO: Gaunce tallies first NHL goal]
40. Nic Petan (Oct. 8 at Boston)
He was a major factor for Canada's World Junior team when he played for them and now, at the age of 20, Nic Petan is looking to make the jump to the NHL. Yes, goals are goals and it's always exciting when you score the first of your young NHL career.
For Petan, it came on a skate deflection past Rask to give his Winnipeg Jets a 5-2 lead over the Bruins. As the play-by-play announcer described it – it wasn't pretty – but it's a goal nonetheless. And there's no doubt that Petan will be an impact at the NHL level in the near future.
[VIDEO: Petan redirects puck past Rask for first NHL]
39. Jordan Martinook (Oct. 10 vs. Pittsburgh)
For now, let's call him the garbageman. While most know him as Jordan Martinook, the Coyotes forward notched his first career goal by cleaning up a rebound given up by Marc-Andre Fleury. Finding the loose puck under the Penguins netminder, he was able to pick it up and steer it into the open cage.
The goal gave the Coyotes a 2-1 lead and Martinook's first NHL tally stuck as the game winner. While it's not an accidental deflection like others preceding him on this list, a clean-up goal like Martinook's unfortunately doesn't rank higher on the top first goals of the 2015-16 season.
[VIDEO: Martinook scores his first career NHL goal]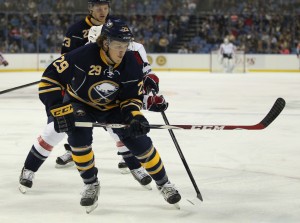 38. Jake McCabe (Oct. 15 at Florida)
For one Buffalo Sabres defenceman, it took just 11 games spanning over three different seasons to score his first NHL goal. Jake McCabe played seven games in 2013-14, two in 2014-15 and one game in 2015-16 before he finally scored for the first time in a Sabres uniform.
Now it wasn't your typical slapper from the point on this occasion. Instead, McCabe jumped into the rush and deflected a cross ice pass into the back of the cage behind Panthers' goalie Roberto Luongo.
While it wasn't a accidental deflection or a simple rebound, it wasn't a highlight reel tally. But it did get the Sabres on the board (down 2-1 following the goal) and it was still an important goal for the young defender. He's since added another to his resume with two goals in 19 games for Buffalo this season.
[VIDEO: McCabe records first career NHL goal]
37. Radek Faksa (Nov. 6 at Carolina)
There's been more than enough to cheer about in Big D as the Benn-Seguin duo continue to impress this year. But that shouldn't take away from the early excitement in the career of Radek Faksa. The 21-year-old scored his first career NHL goal against Carolina and their goalie, Eddie Lack.
Sometimes all it takes is going hard to the net and that's all it took as Faksa received a pass from the side of the net and put his first career goal into the Hurricane net. The goal put the Stars up 3-1 and added to the storylines in Dallas this season.
Faksa has since recorded an assist to go along with his goal in his 14 games this season with Dallas and will look to continue this as his young season moves forward.
[VIDEO: Faksa buries rebound for first NHL goal]
36. Brock McGinn (Oct. 16 at Detroit)
In his first NHL game, his first NHL shift, Brock McGinn scored his first NHL goal off his own rebound in arguably one of the more historical buildings in the league – Joe Louis Arena. McGinn's individual effort put his club up 1-0 against the storied Red Wings.
While McGinn hasn't seen the ice since November 10, he did record three points (2g-1a) in his first 12 NHL games with the Canes.
35. Chris Wideman (Nov. 7 at Carolina)
Now, with three goals over 10 games with the Senators, Chris Wideman has quietly impressed so far. However, it's his first goal that he scored on Cam Ward that has him ranked 34th on this short list of first-time scorers.
Now, while it was a good honest goal, Wideman's one-time shot that came off a cross ice pass just squeaked through Ward. Still an important goal, the Ottawa forward ranks just inside the top 35 because the goal wasn't quite deemed highlight reel by the qualifications of some of the others on this list. But it did give the Sens a 2-1 lead over the Canes.
[VIDEO: Wideman tallies first NHL goal]
34. Andrew Copp (Oct. 31 at Columbus)
Maybe this one should be ranked higher (I'll leave that up to the readers). Andrew Copp's ability to read the puck as it bounced off the boards was somewhat impressive. His ability to finish on his first NHL goal was even more impressive.
Copp – wearing Evander Kane's old number nine in Winnipeg – notched his first to put the Jets up 2-0 against the Blue Jackets in helping an under performing Columbus lineup. While he did record one assist in one game in 2014-15, he's added a goal and two assists in 18 games this season. It's not bad for a former fourth round pick.
[VIDEO: Copp tallies first NHL goal]
33. Andreas Athanasiou (Nov. 10 vs. Washington)
Known throughout his junior career for his bursts of speed, Andreas Athanasiou notched a single goal in his first six games with the Detroit Red Wings. While it was only one goal, it was his first career tally in the NHL and it was one where he was able to display that afore mentioned speed.
While it was certainly a shot that Braden Holtby would stop on a regular basis, the speed shown by Athanasiou could be the reason why he was able to surprise the Capitals netminder from such a bad angle.
That being said, the goal proved to be the game-winner and Athanasiou demonstrated to Detroit brass just what he has in his bag of skills.
32. Tyler Randell (Oct. 14 at Colorado)
Twelve games. In those 12 games, Boston's Tyler Randell has scored three goals. His first was a game-winner as he tipped in a shot that made it 3-0 for his Bruins over the Avalanche back in mid-October.
Since then, he's added two more goals with very little ice time to show for it. While the tip was certainly not accidental, it's still a goal that couldn't creep it's way into the top 30 when it comes to first career NHL goals in 2015-16. With that being said, the Bruins will rely heavily on their young guys going forward as they are in the midst of a rebuild – or reload of sorts.
[VIDEO: Randell deflects first NHL goal past Varlamov]
31. Shane Prince (Nov. 25 at Colorado)
Like Randell, Ottawa's Shane Prince scored his first career goal against Semyon Varlamov and the Colorado Avalanche. In fact, Prince had a huge night with two goals and an assist in his 13th game of the 2015-16 season.
Prince has shown some upside in his young career with the Senators having scored seven points (2g-5a) in 15 games over the past two seasons. On his first goal however, Prince took the body hard to the net and was able to shovel the pass by Varlamov – giving Ottawa a 2-0 lead at the time.
[VIDEO: Shane Prince Goal on Semyon Varlamov]
There's a look at the bottom 14 when it comes to the NHL's first career goal club of 2015-16. For the top 30, stay tuned to The Hockey Writers.
NHL Firsts: 31 to 44
NHL Firsts: 21 to 30
NHL Firsts: 11 to 20
NHL Firsts: 1 to 10
For more, follow Andrew on Twitter at @AndrewGForbes.