The 2015 NHL Winter Classic yesterday was one of those things that should have been on everyone's resolution list as something that absolutely could not be missed. Both bundled up fans sitting in the stands and the fans at home in their sweatpants got to see their favorite teams fight it out on the ice to see who would win the New Year's Day victory but unfortunately, only one team came out on top. The Washington Capitals are keeping their Winter Classic winning tradition going after defeating the Chicago Blackhawks 3-2 in just seconds before the big game was over. Of course both teams tried their best to win but the game wouldn't have amounted to anything without their goaltenders. Washington's Braden Holtby went up against Chicago's Corey Crawford and even though both are great at what they do, was there one who had a better chance to win over the other or was it about even?
Crawford made the cut
A lot of pressure was put on the Chicago goaltender, especially since the Blackhawks were hoping for their first Winter Classic win. Crawford actually did really good considering how their first game in 2009 turned out. Back in their first one, Cristobal Huet was replaced in the net by Nikolai Khabibulin but they still lost 6-4.
Crawford held his own in the net the entire time, even with high stakes and an early shot immediately after the game actually started. He was not going to let history repeat itself, at least not that drastically. Dangerous scorer Alex Ovechkin was shooting pucks one right after the other and got one in at 11:58 of the first period but he and the rest of the Capitals definitely did not get six shots past Crawford this year.
After this loss, Crawford is currently at 14-7-2, 2.13 goals-against average and a .921 save percentage which is great. During the game, he saved 32 out of the 35 shots which left him at a slightly lower save percentage than Holtby at .914 but all stats aside, he really did come through for his team. Despite a last minute goal at 12.9 seconds left in the game, the whole team should be thankful that Crawford contributed that much to the battle.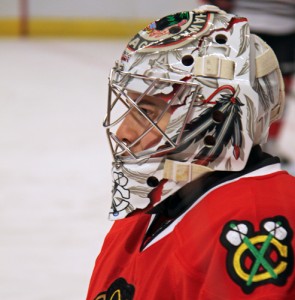 Holtby was on fire
There was no doubt that the same pressure for Crawford was also there for Holtby. The Capitals had a lot to prove to not only all of their loyal fans that showed up and the ones who were watching from home, but to everyone else in the hockey world. They wanted to keep their record going but they also wanted to show that they can be top contenders in any game against any team and that's where Holtby's part came in.
If Holtby could help his team win the game and look good, then he'd look like a hero also and that's exactly what happened. He kept Chicago away from the net until late in the first period when Patrick Sharp scored a power-play goal. After only one goal being scored for the second period and a tied game, he held through until the end and the rest of his team put in extra hard work to get that last goal.
After this win, Holtby is currently at 17-8-6, 2.27 goals-against average and a .920 save percentage which is also really good but about equal to Crawford's stats. During the game, he saved 33 out of 35 shots which left him a tiny bit better off with a .943 save percentage and that little bit reflects through their win he earned.
Truce between the two
Both goaltenders were just plain great during the huge game but if it wasn't for that last minute goal, things could have turned out completely different. Crawford and Holtby are about even on the stats side of things but of course by not looking at little mistakes, points and changes from both teams during the game, a winner between these two can't be figured out on paper. They worked hard and exceeded expectations for their teams and while the Capitals did amazing and got the "W," the Blackhawks did just as well this time around even if the outcome wasn't what they were expecting.