The Detroit Red Wings picked up a key win to end 2014, but 2015 does not start off easy. The Red Wings will play 17 of their next 23 games outside the confines of Joe Louis Arena, as they hit their western Canada road trip as well as their West Coast road trip.
When the Red Wings were in the Western Conference, they would have to make these two trips two times each per season. Now that they are in the Eastern Conference, they only have to make these trips once. Not only does it help from a traveling standpoint, but the Red Wings probably want to limit the amount of times they face teams like Anaheim, Los Angeles and Vancouver.
Although, the skill level between the two conferences appears to be more even this year than in years past. Regardless, playing on the road — especially three games in five nights like the Red Wings will do starting on Saturday — is never easy no matter who the teams are.
Miller vs. Miller in Vancouver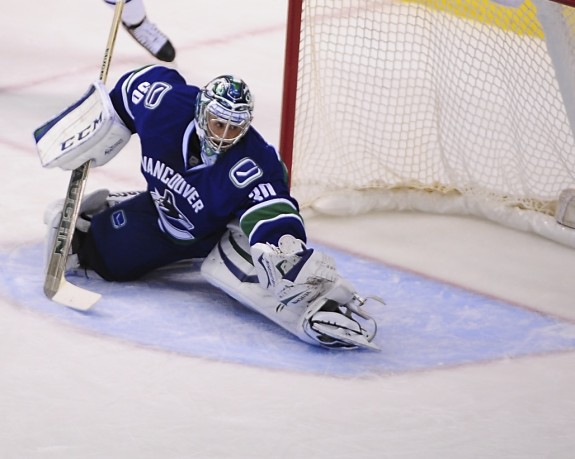 The Red Wings have been fairly average on the road this season, sporting a 7-5-3 record, with key wins at Toronto, Washington and Winnipeg and bad losses at Buffalo, Ottawa and Toronto. However, they have a really good record against Western Conference teams at 5-1-1 with the two losses coming to Anaheim and Colorado and key wins coming against Los Angeles, Chicago, Winnipeg, Vancouver and Dallas.
They face a Vancouver team who is currently fighting off San Jose for third place in the Pacific Division. After a dominating November in which the Canucks only lost four times — one of which was to the Red Wings — they struggled a bit in December, losing five in a row from Dec. 6-17.
However, they have won three of their past five games and will be looking to split the season series with the Red Wings.
Ryan Miller has been fairly solid in net for the Canucks; he has a 2.52 GAA and .911 save percentage, but he is sixth in the NHL with 19 wins.
Drew Miller has yet to score against brother Ryan when the two have faced off. Is this the game Drew finally bests Ryan?
Red Wings Face Slumping Oilers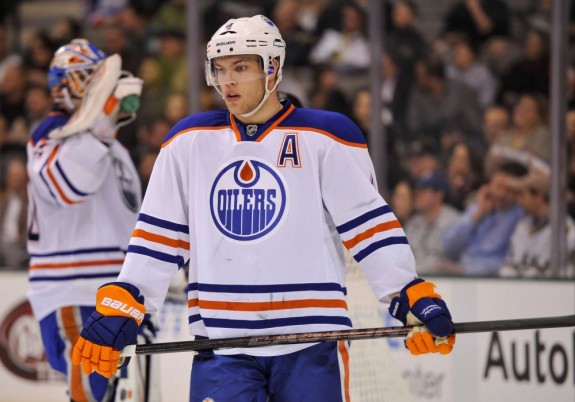 After facing the Canucks on Saturday, the Red Wings get a two-day break before they have to face the Edmonton Oilers on Tuesday.
The Oilers' struggles have been one of the bigger talking points around the NHL during the season, as Taylor Hall trade rumors and tanking for Connor McDavid dominate the headlines.
Despite having a plethora of first-round picks at their disposal in recent years, the Oilers haven't been able to get consistent production from those picks. They won just two games in December against San Jose and Los Angeles and picked up just eight points out of a possible 28.
This team should be better, but they are not. It's a game I could see the Red Wings playing down to their competition, especially if they have a hard-fought win against the Canucks. But it's a game they need and should win.
Good teams win games they are supposed to, and the Red Wings should win this game against the Oilers. They have better goaltending, more consistent offense and better defense. But when you face a struggling team, it can be easy to switch on autopilot and attempt to cruise to an easy win.
Hopefully for the Red Wings, the embarrassing loss to Boston a few nights ago woke up them up and made them realize you can't take any teams for granted in this league, even if their record says otherwise.
Road Trips Mean Bonding Time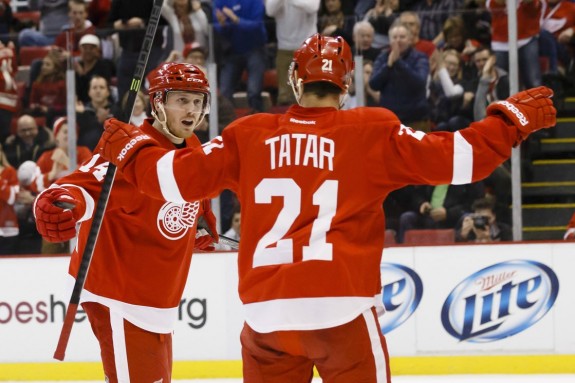 While road trips are hard on the body both physically and mentally, they do give teammates the chance to bond.
Even in my short hockey career, I loved traveling to Traverse City or Holland and spending a weekend with teammates at a tournament. It gives you the opportunity to get to know your teammates, and it shows you a side of them you don't get to see on a normal day-to-day basis.
For a guy like Tomas Tatar, who doesn't have a family yet, he enjoys the extra time he gets to spend with his teammates, as he told the Detroit Free Press' Helene St. James.
"I've kind of missed it, to be honest, to be on the road. I'm a young guy, I don't have a family like the older guys, so I don't mind it at all, I enjoy it, actually, to be with the guys. We get to spend lots of time together, they don't have to be with their girlfriends, wives or kids, so they have more time for us. It's more fun for me."
Even an older player like Henrik Zetterberg, who has a wife, said he misses the bonding aspect of the long road trips.
"I won't say it's going to be nice to go on the road. But we don't see these trips any more that often. Now we're going to get a little long trip, and it's going to be good for our group to get together and spend some time together."
The Red Wings certainly have a tall task ahead of them for the next two months. However, it will be a good test to see how they stack up against the other side of the NHL.
Subscribe to our Red Wings stories to get email updates every time a new story is published.
Tom Mitsos is a Detroit Red Wings and Grand Rapids Griffins staff writer for The Hockey Writers. You can follow him on Twitter @tom_mitsos.