Each year at the NHL Draft, there turns out to be a handful of steals and busts. While everyone has a relatively similar list of top prospects heading into the event, a couple of players always surprise the crowd.
While it would be extremely difficult to project some potential busts from this year's draft, except for those few reaches like Florida selecting over-ager Henrik Borgstrom at 23rd overall, we may be able to foresee a couple steals already.
This list will not be comprised of sixth or seventh-round picks that we guess could possibly turn into NHLers. It will instead be a list of prospects that teams will soon regret passing on. Players that all had the potential to be first-round picks, or in one case, a top-five pick.
Jakob Chychun (D) – 16th Overall By Arizona Coyotes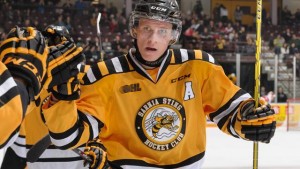 Jakob Chychrun was initially regarded as the player who could give Auston Matthews a run for the No. 1 spot in the 2016 NHL Draft. In Bob McKenzie's September 2015 Rankings, Chychrun was ranked second overall, behind Matthews. He was regarded as a mature, two-way defenceman with exceptional skating abilities. A future franchise defender.
However, he entered the 2015-16 season with the OHL's Sarnia Sting coming off of major shoulder surgery. As the highest ranked defenceman in the draft, there were naturally absurd expectations that came along with his draft eligible season. Scouts and NHL teams wanted to see Chychrun take over the OHL and expand upon his offensive upside in order to maintain his ranking.
Unfortunately, Chychrun was unable to win over the hearts of his critics, as he failed to improve upon his offensive numbers. Many even went to say that Chychrun had already reached his ceiling of potential. As a result, he fell to fifth in McKenzie's Mid Season Rankings. He managed to hold on to the lead among defencemen, but the lead had been cut very short with the likes of Olli Juolevi and Mikhail Sergachev coming on.
As the season wore on, Chychrun failed to improve his reputation. Despite acknowledging that he was playing a much more 'safe' game in 2015-16, making more responsible decisions as for when pinching up in the play could not result in an odd-man rush back into Sarnia's end. Chychrun's goal of the year was to hone his defensive game, after all, that is the main job as a defenceman. Unfortunately, because that goal did not match up with the hopes of scouts, his draft rankings fell dramatically at the end of the season.
Come mid-June, Chychrun had fell to 13th in McKenzie's Final Draft Rankings. In other major outlet rankings, he had fell to the second half of the first round. He was now the fourth or fifth ranked defenceman available. A fairly dramatic fall for a prospect many had labelled a franchise NHL defenceman for two years already.
Come draft day, Chychrun was remarkably still available at 16th overall. That's when Arizona Coyotes' rookie general manager, John Chayka, made a bold move to acquire the pick from Detroit in order to select the 6-foot-2 defender. With the pick, Arizona got a defender who had been picked apart by scouts unlike anyone else in the draft. Still, his potential is huge and his game is suited for the NHL, making him a tremendous acquisition for the Coyotes as they continue to build a ridiculous prospect pool.
Samuel Girard (D) – 47th Overall By Nashville Predators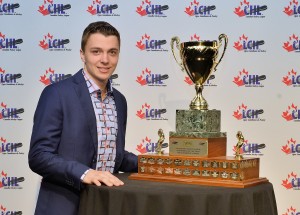 Samuel Girard had himself an outstanding 2015-16 campaign, racking up the most points among all 2016 draft-eligible defencemen. With the QMJHL's Shawinigan Cataractes, he piled up 10 goals and 74 points over 67 games before adding another 22 points in 21 playoff games. As a result, he was expected to be an early second-round pick, potentially even cracking the first round.
However, mainly due to his size, or lack thereof, teams were skeptical in drafting the flashy defender. Standing at 5 feet 10 inches, 161 pounds, Girard was one of the smaller defencemen in the draft, but boasted perhaps the most skill among the class. Girard can skate with the best of them, as an agile and quick quarterback for his team. Of course, he comes with exceptional offensive instincts as well. He has tremendous vision of the ice and can find a passing lane in any situation.
Where Girard may surprise many is in the defensive zone. Simply looking at his size, one might expect Girard to play to his strengths and avoid the physical game. But, he is never shy in engaging in board battles and even throwing his weight around to separate an opponent from the puck.
Girard is quite an all-around defenceman, despite the skeptics best efforts to label him as a one-way player who makes bad defensive decisions. He can really do it all and can be relied upon to carry his team in any situation. Despite the turn around in smaller players being drafted more often, Girard was unable to become one of those lucky few.
Once the draft had finally come, Girard was unable to crack the first round on day one. He wasn't expected to last very long on day two of the draft, but slid to 47th overall where Nashville selected him. As a team who builds from the blue line, The Predators will ensure Girard is in good hands with regards to the development of his defensive game. Combining the excellent wisdom in Nashville with Girard's raw talents could make him one of the most exciting young defencemen in the league in a few years.
Vitali Abramov (LW) – 65th Overall By Columbus Blue Jackets
Vitali Abramov had an exceptional season, his first in North America after coming from Russia via the 2015 CHL Import Draft. As a member of the Gatineau Olympiques, Abramov quickly adapted to the style of the QMJHL and was able to excel. In the final 2016 NHL Draft Rankings, Abramov was projected to be a brink first-round pick, in the 25-35 overall range.
Abramov did everything he could to prove his potential for an NHL career, finishing the season with 38 goals and 93 points in 63 games. He became one of the league's dynamic offensive stars, offering Gatineau a flashy winger who could skate like the wind and knew how to create goals for himself and his teammates. Similar to Girard, Abramov faced doubts because of his 5-foot-9 frame. Scouts wondered how he would hold up in the much more physical NHL game.
As a result, there was some obvious worries from teams all around the league. Despite his ability to carry his team on his shoulders at times, critics often described him as a one-way forward as well. When the draft rolled around, Abramov was unable to find a spot in the first round. However, when he slid out of the second-round as well, people were extremely surprised, wondering if there was an issue that NHL teams knew about.
In the end, Columbus finally selected Abramov at 65th overall. With players like Patrick Kane and Johnny Gaudreau becoming so successful today, Abramov fits the mold perfectly. Although he is a smaller player, Abramov finds ways to play a big game. He is able to routinely create dangerous scoring chances and makes his teammates better players. He possesses all the elite offensive tools to become a successful player in today's NHL.
With plenty of teams passing over on Abramov for bigger role players, there is a potential to be tons of regret within a few years. Abramov will almost certainly return to Gatineau for 2016-17, where he will be a favourite to lead the league offensively. Soon, everyone will realize that Abramov's outstanding offensive abilities trump his smaller stature and sometimes iffy defence. After all, he is a forward and his No. 1 job is to create offence, which he definitely does very well.