We hear the phrases almost every year at the NHL Draft – one player taken has some kind of tie to the NHL already. If it wasn't a father, it's an uncle or a grandfather who once suited up for an NHL franchise. Now, the draftees are carrying on the hockey name – the hockey legacy for their family.
The 2016 draft was no different. In fact, there was a significant number of family ties between draftees and former NHLers. With that in mind, here's a look at some of the hockey connections as it pertains to this year's draftees.
Pierre Luc-Dubois, Columbus Blue Jackets
A slight surprise as the third overall pick at the 2016 NHL Draft, Pierre Luc-Dubois became the newest member of the Columbus Blue Jackets' franchise. For him, it was his father Eric also heard his name called at an NHL Entry Draft.
Picked 76th overall by the Quebec Nordiques in 1989, the elder Dubois never saw any NHL action. Following his draft year, he played in numerous leagues keeping his hockey career alive – including the ECHL, AHL, CHL, IHL, DEL, BISL and QSPHL.
He served as an assistant coach with the Rimouski Oceanic of the QMJHL and is now with the AHL's Manitoba Moose.
Matthew Tkachuk, Calgary Flames
Heading into the 2016 NHL Draft Matthew Tkachuk was the second ranked North American skater behind Dubois. However, if his career ends up anything like that of his father, he'll go down as yet another significant American to suit up in the NHL.
His father, Keith, played in parts of 18 NHL seasons and just over 1,200 games (1,201). He finished his career with 538 goals and 527 assists finishing it as one of just four U.S.-born players to reach the 500-goal plateau.
A five-time all-star, the elder Tkachuk certainly left a legacy for his son to live up to.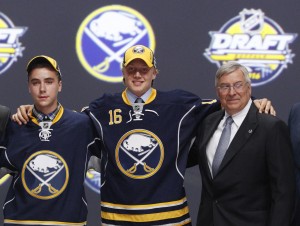 Alexander Nylander, Buffalo Sabres
Built by his father, Michael, the Nylander legacy in the NHL is onto it's third stage. The eldest Nylander played 15 seasons in the NHL with seven different NHL teams. He collected 679 points (209g-470a) in 920 regular season games with Calgary, Chicago, Washington, Hartford, the New York Rangers, Tampa Bay and Boston. On top of that, he added 34 points (12g-22a) in 47 playoff games.
Michael was drafted in the third round (59th overall) in 1991. Alexander's brother – William – is one of the top prospects in the Maple Leafs organization. Drafted eighth overall in 2014, he's collected 13 points (6g-7a) in just 22 games with the Leafs so far.
Now, it's Alex's turn to show what he can do in Buffalo. It will certainly make the Toronto-Buffalo rivalry fun again with some brotherly competition.
Logan Brown, Ottawa Senators
The 11th overall pick, Logan Brown's father – Jeff – had a fairly successful NHL career. In 747 regular season games split between seven teams, he collected 585 points (154g-431a). His success, carried over into the playoffs where he added 65 points (20g-45a) in 87 career games.
A second-round pick (36th overall) in 1984, he spent time with the Nordiques, Blues, Canucks, Whalers, Hurricanes, Leafs and Capitals. Most recently, he's spent two seasons behind the bench of the Ottawa 67's as their head coach.
Jake Bean, Carolina Hurricanes
No, Jake Bean doesn't have any relation to a former NHL player. In fact, he's one of the few that will be on this list that doesn't have that connection. Instead, his father is involved in the Calgary Flames front office.
John, Bean's father, is the chief operation officer for the Flames.
Jakob Chychrun, Arizona Coyotes
While Jakob Chychrun fell quite a ways in the NHL Draft, falling to the Coyotes at 16th overall might work in his favour. Now, when it comes to family and the NHL, Chychrun's father and uncle both played at the highest level.
His father, Jeff, played 262 career games for the Flyers, Kings, Penguins and Oilers. A defenceman as well, Jeff picked up 25 points (3g-22a) in his 262 regular season games to go along with his 742 career penalty minutes.
Also related, former NHL defenceman Luke Richardson is the younger Chychrun's uncle. Richardson notched 201 points (35g-166a) in 1,417 career regular season games to go along with 2,055 penalty minutes. He saw 69 games of playoff action, recording eight assists over that span. Since retiring, Richardson has been an assistant coach with the Ottawa Senators and the head coach of the Binghamton Senators.
Logan Stanley, Winnipeg Jets
Drafted 18th overall by the Jets, Logan Stanley is a defenceman coming out of the Windsor Spitfires organization. In 2015-16 he tallied 17 points (5g-12a) in 64 games to go along with 103 penalty minutes.
The Logan Stanley drafted 11th overall by Windsor is the cousin of former Storm player Michael Latta.

— Tony Saxon (@SaxonOnTheStorm) April 5, 2014
While the blood lines in this case aren't the most conventional, he does currently have family in the NHL. Stanley's cousin is Los Angeles Kings' forward Michael Latta. Originally drafted 72nd overall in 2009, Latta's played 113 regular season games with the Washington Capitals over three seasons – tallying 17 points (4g-13a) over that span.
Kieffer Bellows, New York Islanders
The 19th overall pick in 2016, Kieffer Bellows will be joining Boston University next season. He spent the 2015-16 season with the U.S. Development Program scoring 81 points (50g-31a) in 62 games.
His father, Brian, played 17 seasons in the NHL – retiring after the 1998-99 season. He spent time with the Minnesota North Stars, Montreal Canadiens, Tampa Bay Lightning, Anaheim Ducks and Washington Capitals.
He played in 1,188 career regular season games and collected 1,022 points (485g-537a). In the playoffs, he notched another 122 points (51g-71a) in just 143 games. He was a three-time NHL All-Star and won a Stanley Cup in 1993 with the Canadiens. A former second overall pick of Minnesota in 1982 he left quite the legacy for his son to carry on.
Julien Gauthier, Carolina Hurricanes
Julien Gauthier was the 21st pick in this year's NHL Entry Draft almost identically following in the footsteps of his uncle and former NHL defenceman Denis Gauthier.
Denis was selected 20th overall by the Calgary Flames in 1995. He played in 554 regular season contests with Calgary, Phoenix, Philadelphia and Los Angeles collecting 77 points (17g-60a). Since his playing days, he's been an assistant coach with the QMJHL's Drummondville Voltigeurs from 2010 to 2015.
Max Jones, Anaheim Ducks
The 24th overall pick in 2016 (and yet another London Knight to go in the first round of the NHL draft), Max Jones is joining his father as NHL players. Jones' father – Brad – was drafted in the eighth round (156th overall) by the Winnipeg Jets in 1984.
He spent time with the Jets, Kings and Flyers before leaving the NHL in 1992. Over that span he played 148 regular season games and notched 56 points (25g-31a).
Look for more family ties and bloodline connections in part two and three of this 2016 NHL Draft prospects series – including Tage Thompson, Chad Krys, Rem Pitlick and a number of others.