The four teams have been set and we're ready to kick off the 2017 Memorial Cup.
On Sunday night, the Seattle Thunderbirds edged the Regina Pats in overtime in game six to win the WHL Championship. It was the first title in Thunderbirds' history. They now join the Erie Otters (OHL), the Saint John Sea Dogs (QMJHL) and the Windsor Spitfires (host) in the Memorial Cup, which is set for May 19-28 at the WFCU Centre
The tournament gets underway on Friday, May 19 when the Spitfires take on the Sea Dogs in the opener.  Let's take a look at the four teams, some of their stats and how they got to this point.
The Road to Windsor
Seattle (WHL Champions)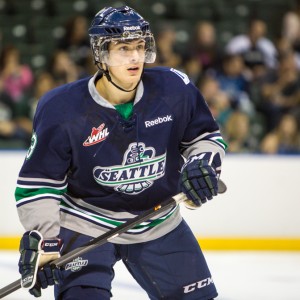 46-20-4-2 record – 98 points (2nd US Division) – 253 goals for and 206 goals against.

Defeated:
Round 1 – Tri-City – 4-0
Round 2 – Everett – 4-0
Round 3 – Kelowna – 4-2
Round 4 – Regina – 4-1
Outscored opponents – 83-51
Who to watch – After 60 points in 54 regular season games, Columbus prospect forward Keegan Kolesar has exploded for 12 goals and 31 points in 19 games. Not far behind is Edmonton prospect defenceman Ethan Bear with 26 points in 17 games. You can't forget about forward Mathew Barzal after his 25-point playoffs, either. Barzal, an Islanders prospect, is coming off 79 points in 41 games. One of the most intriguing players, though, might be rookie goaltender Carl Stankowski. The 17-year-old played in just seven regular-season games but was given the nod after an injury to veteran G Rylan Toth. In 20 playoff games, Stankowski had a goals-against-average of 2.50 and save percentage of .911.
Why they could win – After winning their first title in team history, they're firing at just the right time. They rolled through the playoffs and have the confidence to beat anyone.
Erie Otters (OHL Champions)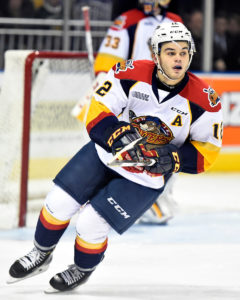 50-15-2-1 – 103 pts (1st Western Conference) – 319GF 182GA
Defeated:
Round 1 – Sarnia 4-0
Round 2 – London 4-3
Round 3 – Owen Sound 4-2
Round 4 – Mississauga 4-1
Outscored opponents – 95-59
Who to Watch – Erie had six players averaging at least a point-per-game during the OHL playoffs. They were lead by forward Alex DeBrincat who, after a 127-point regular season, put home 38 points in just 22 playoff games. Right behind him was Arizona prospect forward Dylan Strome with 34 points. Two deadline acquisitions could be the key to the tournament, though. Forwards Anthony Cirelli, acquired from Oshawa, and Warren Foegele, acquired from Kingston, have dazzled Otters' fans. They have 31 points and 26 points, respectively, and shown a knack for big goals. If you like offensive hockey, this is a team to watch.
Why they could win – The core of this group has been together for multiple seasons and many have only played for the Otters. They're a tight-knit team and, with multiple key graduates, there is no reason to hold anything back. They are built for this season.
Windsor Spitfires (host)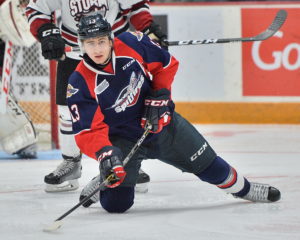 41-19-5-3 – 90pts (5th Western Conference) – 232GF 185GA
Playoffs: Lost to London in Round 1 – 4-3
Scoring – 17GF 21GA
Who to Watch: This tournament may be forward Gabriel Vilardi's time to shine. He is a top prospect for the 2017 NHL Draft and had 61 points in 49 games during the regular season. He's joined up front by Ottawa Senators' prospect Logan Brown (40 points in 35 games), Toronto Maple Leafs' prospect Jeremy Bracco (83 points in 57 games) and Montreal Canadiens' prospect Jeremiah Addison (24 goals in 51 games). The Spits' also get 6'7″ 230lb defenceman Logan Stanley (Winnipeg) back after a lengthy injury and have top prospect Michael DiPietro in net (.917 save percentage and six shutouts in reg. season).
Why they could win – After losing a tough opening series to London, this squad has practiced for nearly seven-straight weeks. They have several NHL prospects on the roster and are eager to show the first-round exit was a fluke.  The home-crowd advantage could prove vital, too, as Windsor lost just six games in regulation at the WFCU Centre all season.
Saint John Sea Dogs (QMJHL Champions)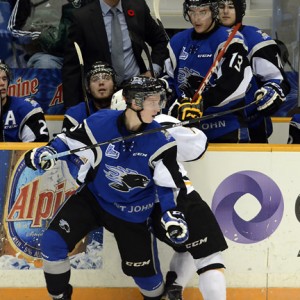 48-14-5-1 – 102pts (1st league) – 287GF 180GA
Defeated:
Round 1 – Rimouski 4-0
Round 2 – Val-d'Or 4-0
Round 3 – Chicoutimi 4-2
Round 4 – Blainville-Boisbriand 4-0
Outscored – 83-41
Who to Watch: The Sea Dogs ran through the playoffs, and regular season, with little issue. Tampa Bay prospect F Mathieu Joseph has been dominant with 32 points in 18 games. He's joined by Chicago prospect Matthew Highmore whose 24 points in 18 games complimented his career-best 89-point regular season. On the back-end is Senators' prospect Thomas Chabot who, after 45 points in 34 regular season games, has come with 23 points in 18 playoff games. In net, all eyes will be on Callum Booth whose 1.67 GAA and .923 save percentage were lights-out during the playoffs.
Why they could win – After losing in round three in the 2016 playoffs, this veteran squad is hungry to make the run. Their top eight regular season scorers are 19-or-20-years-old and they boast 17-players born in 1996 or 1997. This is their season.
2017 Memorial Cup – Four Teams, One Title
Each team will play three round-robin games with the second-and-third place teams facing off in the Semi-Finals. The winner takes on the top seed in the Memorial Cup Final on Sunday, May 28. If there is a tie between the third-and-fourth place teams after the round robin, a Tie-Breaker will be held on Thursday, May 25. Here is a look at the complete schedule:
Friday, May 19 – Saint John v. Windsor – 7 pm
Saturday, May 20 – Erie v. Seattle – 3 pm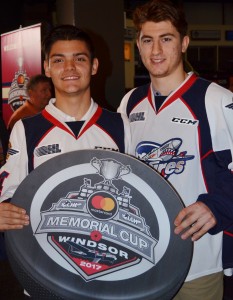 Sunday, May 21 – Windsor v. Seattle – 7 pm
Monday, May 22 – Erie v. Saint John – 7 pm
Tuesday, May 23 – Saint John v. Seattle – 7 pm
Wednesday, May 24 – Windsor v. Erie – 7 pm
Thursday, May 25 – Tie-Breaker (if necessary) – 7 pm
Friday, May 26 – Semi-Final – 7 pm
Sunday, May 28 – Final – 7 pm
NOTE: The May 20 game was originally scheduled for 7 pm but has since been changed to 3 pm.
For ticket information, check out the Memorial Cup website.
For a guide to hotels, restaurants, nightlife, activities and transportation, check out our 2017 Memorial Cup Fan Guide.