With the Edmonton Oilers playoff run coming to a halt last week, the focus for general manager Peter Chiarelli and his staff shifts to the NHL Draft. The Oilers are filling out their prospect cupboard, and with ten unrestricted (UFAs) and 14 restricted free agents (RFAs), there's an opportunity to restock and replace some declining assets through the draft.
Edmonton will have the 22nd overall pick, and if they keep the pick, they'll have some intriguing prospects from which to choose. If you look at the last five years, teams have been able to grab capable players at the 22nd pick. For example, the Oilers got Jordan Eberle with that pick in 2008.
THE 22ND OVERALL PICK AT A GLANCE

YEAR
TEAM
PLAYER
2016
Philadelphia Flyers
C German Rubtsov
2015
Washington Capitals
G Ilya Samsonov
2014
Pittsburgh Penguins
C Kasperi Kapanen
2013
Calgary Flames
RW Emile Poirier
2012
Pittsburgh Penguins
D Olli Maatta
The Oilers are running scarce on the right wing and on right-side defensemen. Chiarelli has done a masterful job shoring up the goaltending depth by adding Dylan Wells, Nick Ellis and Shane Starrett. With Laurent Brossoit backing up Cam Talbot, it's not a necessity for the team to draft a goaltender this year.
[Related: THW's Complete 2017 Draft Guide]
Edmonton has a lot of middling prospects on defense and a need to add another prospect or two to bolster the pool. The Oilers' farm team in Bakersfield was also one of the lowest scoring AHL teams this season, and if that's a foreshadowing of what's in store for Edmonton's main roster down the road, the team will need to add some scoring depth.
OILERS PROSPECT DEPTH CHART

G

LD
RD
LW
C

RW

Brossoit
Reinhart
Simpson
Khaira
Gambardella
Puljujarvi
Ellis
Musil
Bear
LaLeggia
Chase
Russell
Starrett
Betker
Mantha
Christoffer
Platzer
Samuelsson
Wells
Jones
Berglund
Pochiro
Rasanen
Muir
Svoboda
Niemelainen
Desharnais
Benson
Vesel
Laurikainen
Lagesson
McPhee
Yakimov
Paigin
Marino
*Played less than 41 NHL games
Ethan Bear and Caleb Jones are still years away from contributing to the Oilers' main roster on defense and another offensive defenseman should be on the shopping list at the draft. Jesse Puljujarvi and Tyler Benson are the team's best offensive prospects up front, but there's not much behind them that screams top-six potential.
Draft Picks
The Oilers' unofficial picks for the 2017 NHL Draft this June according to CapFriendly include seven picks starting with the 22nd overall pick. Edmonton's second-round pick (53rd) goes to the Boston Bruins as compensation for signing Peter Chiarelli as general manager in April 2015.
The team also acquired two picks in separate transactions, a third-round pick (82nd) in the trade with the St. Louis Blues for Nail Yakupov. If Yakupov had scored 15 goals or more, it would've improved to a 2018 second-rounder. Yakupov scored just three goals, so the pick stays as a third-rounder.
EDMONTON OILERS 2017 DRAFT PICKS

ROUND
PICK
NOTE:
1
22ND
2
53RD
Traded to Boston for signing GM Peter Chiarelli
3
82ND
Acquired from St. Louis for RW Nail Yakupov
3
84TH
4
115TH
5
126TH
Acquired from Vancouver for D Philip Larsen
6
177TH
7
208TH
Edmonton also acquired a fifth-round pick (126th) from the Vancouver Canucks for Philip Larsen. The pick would've improved to a fourth-rounder if Larsen had maintained a 0.30 points-per-game (PTS/GP) and played a minimum 42 games but he played just 26 games for the Canucks and averaged 0.23 PTS/GP, so the pick stays as a fifth-rounder.
Who's Likely Available at 22nd
According to Pike's Picks (Final Draft Rankings), Chiarelli and the amateur scouting staff will have some reliable options when they step to the podium with the 22nd pick. If the team elects to go with a defenseman, Nic Hague (Mississauga Steelheads) and Erik Brannstrom (HV71) are available. If Edmonton is looking for a winger, Kole Lind (Kelowna Rockets) and Isaac Ratcliffe (Guelph Storm) fit a need.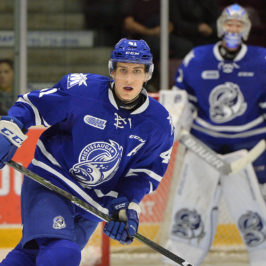 Nic Hague (D): A towering defenseman at 6'6″, 220-pounds, he has the puck moving abilities to become a top-four defenseman.
Hague could end up being a shutdown defender, but if he can carry over his puck skills to the pros, he could be that rare big, all-around blue-liner teams covet.
In 131 games with Mississauga, Hague has 32 goals and 70 points. He also has a bit of a nasty streak and had 107 penalty minutes this year.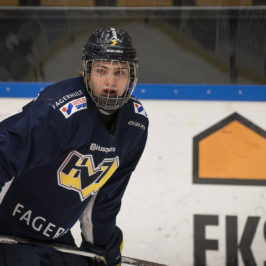 Erik Brannstrom (D): Brannstrom is a smaller offensive defenseman who's drawn comparisons to Kimmo Timonen.
He also has the potential to be a future top-four defenseman. Brannstrom is a stud and could be a first-round sleeper.
He's been an offensive dynamo with 17 goals and 53 points in 61 career SuperElit games. He plays a mature game, has great hockey sense, and is extremely mobile.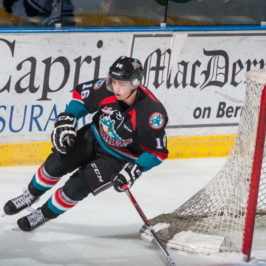 Kole Lind (RW): He has the potential to be that top-six goal scorer the Oilers crave. He scored 30 goals and 87 points in 70 games with the Rockets this season and continued to improve his all-around game.
He's not the biggest player at 6'1″ and 175-pounds, but he has a physical component to his game and is valuable on the forecheck. If he can continue to progress, you could be looking at a 200-foot player that can ultimately put the puck in the net too.
In 146 WHL games, Lind has nearly been a point-per-game player with 44 goals and 129 points.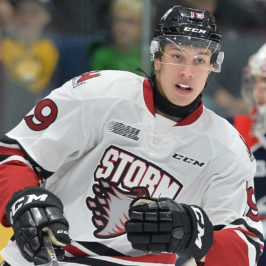 Isaac Ratcliffe: At 6'6″, 203-pounds, Ratcliffe is a power forward with impressive stats who played on one of the worst teams in junior hockey this year.
A long-term project, Ratcliffe has the offensive flair and potential to be that second-line crash and bang player for Edmonton. He has a strong presence and is right at home standing in front of the opposing team's net.
The kicker? He's still growing. Ratcliffe scored 28 goals and 54 points in 67 games for the Storm this season and also represented Canada at the U-18 tournament.
Edmonton Oilers regular contributor providing insight on all things Oilers including club history, prospect profiles, trade breakdowns, and everything else in between. Check back regularly for new and exciting content. Follow on Twitter @SanderTHW.