Mason Shaw
2016-17 Team: Medicine Hat Tigers (#18)
Date of Birth: November 3, 1998
Place of Birth: Wainwright, Alberta
Ht: 5'9″ Wt: 181 lbs
Shoots: Left
Position: Center
NHL Draft Eligibility: 2017 first-year eligible
Twitter: @MasonShaw18
Rankings
THW (Pike's Picks): not ranked (final)
Future Considerations: 69th (final)
ISS: not ranked (May)
Bob McKenzie: not ranked (Mid-season)
Craig Button: 37th (final)
The Hockey News: 71st (final)
Mason Shaw may be the most peculiar player in the entire 2o17 draft class. He is simultaneously three things among the crop of first-time draft eligible players: he's one of the oldest, one of the smallest, and one of the most offensively talented players in his draft class. The diminutive forward has progressed quite a bit during his time in the Western Hockey League and has quietly emerged as one of the best pure offensive players in Western Canada.
Shaw entered the WHL part-time as a 16-year-old in 2014-15. He was a solid if unspectacular rookie. His 17-year-old season saw him put up 60 points and become a key part of the Medicine Hat offense. His 18-year-old season saw him kick things up a notch, finishing eighth in league scoring and showcasing his skills as a puck distributor as he was fifth in assists. Typically, WHL forwards become accustomed to the size and speed of the opposing players and become strong offensive players because they can physically overpower their opponents. Shaw's 5'9″. He's probably not overpowering too many players. He just out-wits them, out-manuevers them and out-skills them. A skilled puck distributor who's excelled due to a combination of increased power play time and figuring out how to get passes through lanes effectively, Shaw has 110 assists over the past two seasons.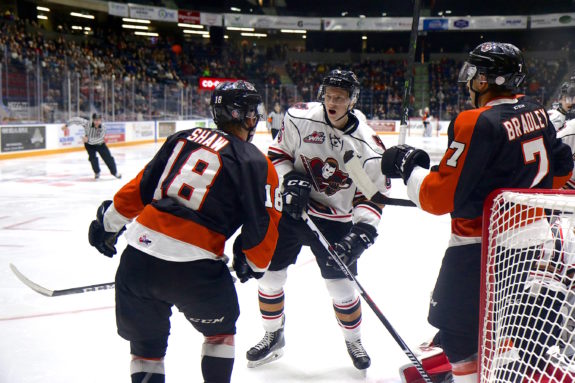 Shaw's a really good player. But every year, the NHL Draft sees the 30 clubs pass over smaller, skilled players. Why? Because teams are concerned, often rightly so, by a smaller player's ability to translate what makes them effective at the major junior level to the pro level. It's relatively easy to dominate junior hockey offensively, stick-handling and speeding around teenagers. It's much harder to do that against grown men at the pro level who are much more adept at stapling smaller players to the boards. Shaw's an effective two-way player who's extremely good with the puck in the neutral and offensive zones. Any team would be smart to take a gamble on his skill.
NHL Draft Projection
Shaw should go sometime in the third, fourth or fifth round, depending on how much teams are scared off by his size.
Quotables
Tigers forward Mason Shaw gains 8 places in #NHLDraft rankings (NA skaters). Finishes at 55 (just 3 skaters shorter than his 5'8").

— Mitch Bach (@MitchBach) April 12, 2017
I really like Medicine Hat forward Mason Shaw. Great puck skills, able to do the little things in traffic, mature understanding of the game

— Derek Neumeier (@Derek_N_NHL) February 25, 2017
Statistics
Strengths
Strong skater
Very good puck distributor
Strong hockey sense and on-ice vision
Under Construction (Improvements to Make)
Needs to add some muscle to his frame
Needs to work on his shooting a bit (accuracy and frequency)
Hangs out on the perimeter of the offensive zone quite a bit (though he does create offense)
A bit reliant on power play time for offensive production
NHL Potential
Shaw projects as a second or third line forward and power play specialist. (It's either that or he's in the AHL.)
Risk-Reward Analysis
Risk – 2/5, Reward – 4/5
Fantasy Hockey Potential
Offense 8.5/10, Defense 7.5/10
Awards/Achievements
Shaw has represented Canada at the World Under-17 Challenge and the Under-18 World Championship.
Interview/Profile Links
Videos