Once the 2016 NHL Draft comes to a close in less than a month, the page will quickly turn to the 2017 NHL Draft. Initial rankings will likely come out in August before the 2016-17 seasons begin.
Since no prospects will be playing from now until September, rankings are already being put together. As for the Ontario Hockey League, a perennial contributor to the first round of the draft, it looks to be fairly strong year. Although there may not be a prospect from the OHL in the top three, they could potentially have five players selected in the first 10 picks.
The top 10 OHL prospects for 2017 are heavily distributed towards offence, with defencemen usually developing largely during their draft eligible year. There is also one goaltender on the list who has shown flashes of potential to be a first-round selection in 2017. Of course, the 2016-17 season will provide much of the evidence scouts need to accurately set a ranking, so this list could certainly be much different within six months.
Without further ado, here are the initial top 10 OHL prospects for the 2017 NHL Draft.
1: Gabriel Vilardi (C) – Windsor Spitfires
Vilardi was second in the OHL in points amongst 2017 NHL Draft eligible players with 38, including 17 goals. He is the complete package, playing a responsible 200-foot game. He is decent in the face-off circle and will continue to improve in that department next season. He has a powerful shot with a quick release which he unleashes often. Vilardi has elite hockey IQ and understands the advantage of changing the shooting angle. His vision of the ice is good as well, as he easily tracks plays one step ahead. Vilardi could use some work with his skating, as he sometimes seems to lack the agility and acceleration needed in today's game. Overall, a complete centerman who can be relied upon in all three zones with elite offensive skills.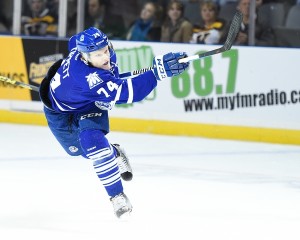 2: Owen Tippett (RW) – Mississauga Steelheads
Tippett's game revolves around his offensive instincts and an incredible shot. He skates very well and uses his speed to make his shot extremely powerful. He also has a very quick, deceptive release making it tough for opposing goaltenders to read. Tippett is already a strong player and will always engage in the physical game when the opportunity presents itself. He also has underrated playmaking abilities, reading the ice well to find open teammates. In all, Tippett has elite goal scoring potential and will become a dangerous weapon for the Steelheads in 2016-17. He will be very exciting to watch on a potentially loaded offensive Mississauga team next year.
3: Matthew Strome (LW) – Hamilton Bulldogs
Strome was tied with Vilardi in second in the OHL for points among 2017 NHL Draft eligible with 38 points. Unlike his brothers, Ryan and Dylan, Matthew Strome plays more of a power forward style. He uses his size, strength, and speed to drive the net and create scoring chances. He is also active in board battles, playing a more physical game. The elite hockey IQ of his brothers is also in his game, playing a smart, 200-foot game. At 17 years of age, he already presents a very complete game. If Strome continues to improve his skating and finds more confidence, he could hit the 100-point plateau in 2016-17.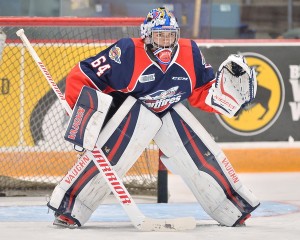 4: Michael DiPietro (G) – Windsor Spitfires
DiPietro had arguably the most impressive OHL rookie season for a goaltender in recent memory. It is hard enough to earn time as a 16-year-old, but DiPietro was able to take over Windsor's crease in impressive fashion. He sported a 2.45 GAA and .912 SV% over 29 games this season and is in line to be the starter for 2016-17. DiPietro excels in two critical categories; positioning and rebound control. He offers a calming presence between the pipes but also has incredible athleticism and flexibility to make some insane desperation saves. If he continues to build on his '15-16 season, DiPietro could become a mid-first round pick in 2017.
5: Nicolas Hague (D) – Mississauga Steelheads
Hague has developed into a reliable defender in Mississauga, with NHL-ready size standing at 6'6, 207 pounds. He is a smooth skater and can use it to drive an offensive rush or to cut off an opposing attack. He uses his size very well to knock players off of the puck as well as to come away from board battles with the puck. He has a smart stick, eliminating passing lanes and using his long reach to poke pucks away. He also understands the importance of using body positioning to limit scoring chances against. Overall, Hague is a reliable defender with a booming shot from the point which gives him considerable offensive upside as well.
6: Jason Robertson (LW) – Kingston Frontenacs
Robertson is a big, strong winger who showcases speed and skill in the offensive zone. He showed the ability to drive the middle of the ice during his rookie season and has a nose for the dirty areas. He started off the year extremely well on a very strong Kingston team, but received limited ice time in the second half of the season and his point totals suffered. Robertson is a crafty player who uses his silky smooth hands and creativity to create scoring chances and should see a hefty increase in both goals and points next year as a result. Overall, Robertson is a powerful winger with potentially elite scoring touch.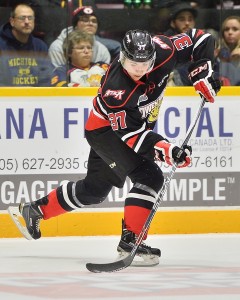 7: Nicholas Suzuki (C) – Owen Sound Attack
Suzuki was one of the most dynamic 2017 NHL Draft eligible players this season. He is an extremely smart player with and without the puck and excelled with the Attack when given more opportunities. He has a deceptive release which earned him 20 goals in his rookie season. He is also a skilled playmaker who finds passing lanes through traffic and can use his puck handling skills to open up space for his teammates. If Suzuki is able to bulk up over the offseason and become stronger on the puck, he could certainly become one of the top scoring draft eligible players in the OHL next year.
8: Alexander Chmelevski (C) – Ottawa 67's
Unfortunately, Chmelevski's season was cut short due to a broken collarbone after just 34 games. He was excellent for the Sarnia Sting, scoring nine goals and 17 points in 29 games, but was then traded to the 67's as the centrepiece of the Travis Konecny trade. Chmelevski possesses elite hockey sense and can create shooting lanes for himself, making each shot a dangerous one. He skates well and can reach promising top speeds, allowing him to drive wide around defenders. Like Suzuki, if Chmelevski can become a little bit stronger, he could become a scoring machine in the 2016-17 season.
9: Vanya Lodnia (RW) – Erie Otters
Lodnia led all 2017 NHL Draft eligible players with 39 points in 2015-16 as a member of the Otters. He quickly earned the respect of head coach Kris Knoblauch, who rewarded him with plenty of quality ice time. As a result of Lodnia's speed and creativity, he became a consistent contributor for the Otters. Following in the footsteps of teammate Alex DeBrincat, Lodnia is succeeding as a smaller forward who stands at just 5'9. His compete level allows him to keep up with larger opponents as he is able outwork players for the puck. Some extra size and strength definitely wouldn't hurt, but Lodnia has natural offensive talents which make him an exciting prospect.
10: Brady Gilmour (C) – Saginaw Spirit
Gilmour plays a mature game for a 17-year-old, understanding the importance of a responsible two-way game. He was able to chip in offensively for the low-scoring Spirit with his vision of the ice and ability to find passing lanes through traffic. While he could certainly use some improvements in the face-off circle, Gilmour shows good hockey sense in his own end, taking away the front of the net. He likely will not light up the scoresheets next season either, but Gilmour projects to a player similar to his teammate, Mitchell Stephens. He also needs to bulk up some more, currently weighing in at just 165 pounds. Most importantly though, Gilmour has natural hockey IQ that cannot be taught.