Excitement revolving the 2018 NHL All-Star Game continues to grow, and more fuel was added to the fire on Jan. 10, 2018 when the league released the official rosters for each respective division.
As is the case every year, each team will be represented by a wealth of skill, as the NHL has come to be dominated by players of immense ability and prowess. However, given the sheer quantity of talent gracing NHL ice on a nightly basis, it should come as no surprise to learn that a handful of equally deserving individuals failed to claim a place within their respective division's roster.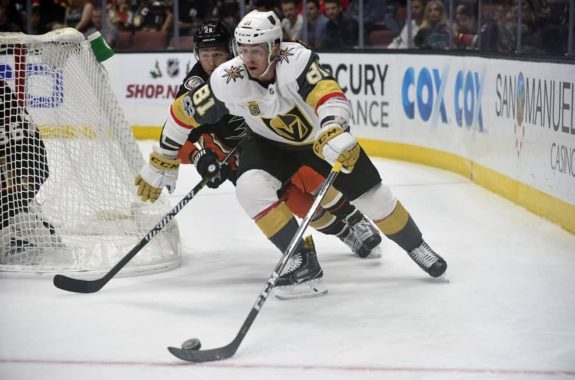 Complicating this issue is the reality that, in a number of cases, particular players who failed to reach the All-Star Game in 2018 were more deserving of selection than those who were, in fact, chosen.
So, who exactly are these forgotten individuals?
Let's take a moment to identify and analyze one player from each of the NHL's four divisions who was shockingly snubbed from his divisional roster and, as a direct result, the quickly approaching All-Star Game.
While a number of these snubs may be debatable, others are downright inexplicable.
Atlantic Division: Mark Stone
Although the All-Star Game will surely be highly contested, it is the Atlantic Division and its incredibly deep roster which could very well be the favourite to clinch the contest. Loaded with puck-moving defenders, lethal forwards, and excellent goaltending, taking down this Atlantic team will be no easy task.
However, as is the case every year, there were number of players left off of the Atlantic team's roster who, arguably, should have represented the division. And, although Jonathan Huberdeau of the Florida Panthers certainly should have attended the event, there is yet another prominent forward whose absence has drawn an even greater amount of attention.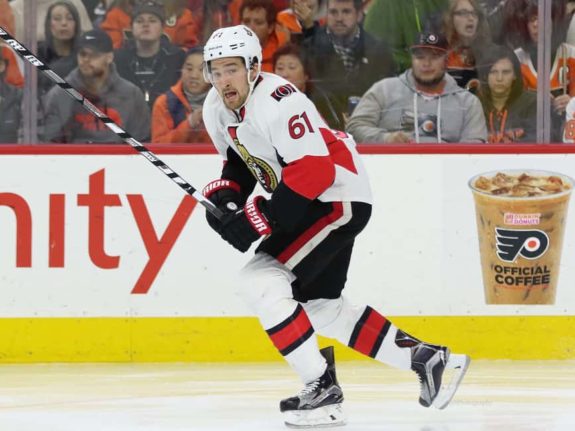 In the midst of a potential career-year, Mark Stone of the Ottawa Senators found himself left off of the Atlantic Division's roster when the NHL announced those who would be traveling to Tampa Bay, Florida on Jan. 28, 2018. A dominant two-way player, Stone had accumulated a whopping 18 goals and 42 points as of his 42nd regular season game played in 2017-18 – a total good for the fourth-most amongst all Atlantic Division forwards at that time.
The main reason behind Stone's snub, you ask? There was simply no room on the Atlantic Division's roster for the power forward. With each divisional organization to be represented, there was no true opportunity for Stone to claim a place on the roster, well, unless he was viewed as more worthy than Nikita Kucherov.
Still, the fact remains that Stone's campaign thus far is certainly worthy of recognition at the All-Star game.
Metropolitan Division: John Carlson
John Carlson has long been a player of immense importance for the Washington Capitals. In fact, since his 27th overall selection by Washington in the 2008 NHL Draft, Carlson has averaged 23:00 of ice time per game while contributing consistently at both ends of the ice.
However, not once has he been named to an NHL All-Star game.
It certainly looked as though this surprising trend would change in 2017-18, as Carlson had averaged well over 26:00 of ice time per game for the Capitals through his 45th regular season contest. Further, as of that point in time, Carlson found himself on pace to exceed his previous career-high for points, as the native of Natick, Massachusetts was set to record an incredible 64 – nearly 10 more points than his previous high-water mark set in 2014-15.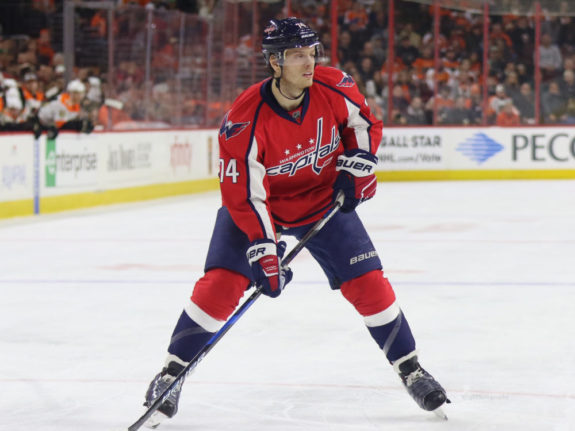 Regardless of these sparkling numbers, Carlson was not named to the Metropolitan Division's roster, a fact which is downright incomprehensible given his play this season. What's more is that there is another particular defender who was named to the roster who likely should not have been.
Who am I referring to exactly?
Well, it's none other than Kris Letang. Despite a strong season himself, Letang has not achieved offensive or defensive totals similar to those posted by Carlson. Further, Letang has played somewhat of a lesser role for the Penguins this season in comparison to Carlson's contributions in Washington, as the latter has logged a considerably greater amount of ice time in a variety of situations.
Central Division: Vladimir Tarasenko
As one of the NHL's most prolific goal-scorers, Vladimir Tarasenko's absence from the 2018 NHL All-Star Game will be unfortunate but not entirely surprising.
This is what happens when Tarasenko gets some room in the slot. #stlblues pic.twitter.com/A93rmQOYn1

— St. Louis Blues (@StLouisBlues) January 7, 2018
When the rosters for the coming event were announced, the Central Division stood as arguably the most challenging division in hockey. With each and every team well above the .500 mark and in contention for a playoff spot, the players who propel these organizations forward have seemingly become as prolific as they are potent.
With this being said, there were an immense number of players who deserved to represent the Central Division. However, due to obvious roster restrictions, only the best of the best were ultimately chosen to grace the ice in Tampa Bay.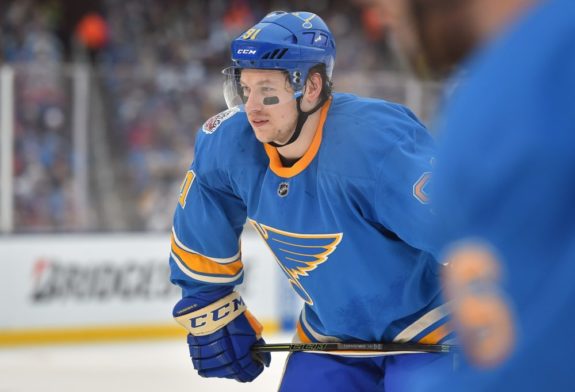 Unfortunately for Tarasenko, he simply did not make the cut.
In reality, the only manner in which the native of Yaroslavl, Russia could have made the Central Division team was to bump teammate Brayden Schenn from the lineup. However, with virtually similar offensive statistics at the time of the roster announcement, Schenn's play this season had been slightly more significant than Tarasenko's despite his consistent lethality.
In short, although Tarasenko won't grace the Central Division's lineup with his incredible skill, both he and the St. Louis Blues will be well represented through Schenn's inaugural appearance.
Pacific Division: Mike Smith
The Pacific Division and its respective roster could very well be the All-Star Game's most controversial, as the team lacks a number of its most proven players of seemingly endless skill. In all, the likes of John Gibson, Sean Monahan, and Jonathan Marchessault failed to crack their division's roster in 2018 despite wildly successful seasons to date.
However, there is one other particular player who, although far less popular than those mentioned above, was more than deserving of selection to the quickly approaching All-Star Game.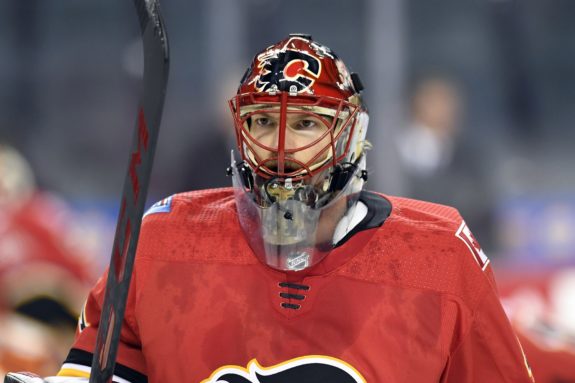 Enter Mike Smith.
Sure, he is a 35-year-old goaltender in the midst of his 12th NHL season, however, Smith has been nothing short of spectacular for the Calgary Flames this season. In his first campaign with the team, Smith has been both consistent and impenetrable for the Flames, as the veteran netminder has brought both stability and composure to Calgary's crease. In doing so, Smith posted a 2.50 GAA and .922 SV% through 37 games played alongside 19 wins and a handful of shutouts.
Flames' Johnny Gaudreau, MIke Smith and Penguins' Phil Kessel named NHL's 3 stars of the week. ⭐️ https://t.co/SksX78n1VM pic.twitter.com/US2jv9HpQw

— theScore (@theScore) January 15, 2018
So, why wasn't Smith selected to the Pacific Division's roster?
Well, Smith's potential spot was instead awarded to Marc-Andre Fleury, a goaltender of much greater flair and popularity who, in my opinion, did not deserve his nomination. At the time of his selection,  Fleury had played in just 12 games, as the veteran had unfortunately missed a considerable period of time while recovering from a concussion.
Sure, Fleury had posted sparkling statistics in those games, however, Smith's ability to produce consistent results for the Flames thus far should have ushered him into the Pacific Division's roster in resounding fashion.