Auston Matthews, Jack Eichel, Brady Tkachuk, Jack and Quinn Hughes. Those are just a few of the names that have headlined the latest star-studded generation of American talent in the NHL.
Related: THW 2020 NHL Draft Guide
Last year's draft set an especially high bar with nine Americans selected in the first round, including Jack Hughes at first overall. Though we aren't expecting that kind of showing for the Americans at the 2020 NHL Entry Draft, there will still be a bevy of talent available over the course of the two days.
10. Brock Faber – RHD
Central Scouting Final Rankings: 44th (among NA Skaters)
Brock Faber could be described as a coach's dream: he's a strong skater, excellent defender, reads the play well, and does all the little things that help his team get the puck where it needs to be. Scouts are impressed by Faber's active stick and ability to defend the blue line off the rush. At 6-foot, 194 pounds, he isn't the biggest or most physical defender, but the Maple Grove, Minnesota, native is one of the best at separating opposition forwards from the puck.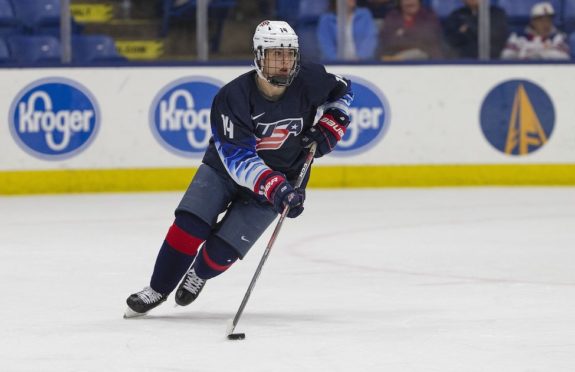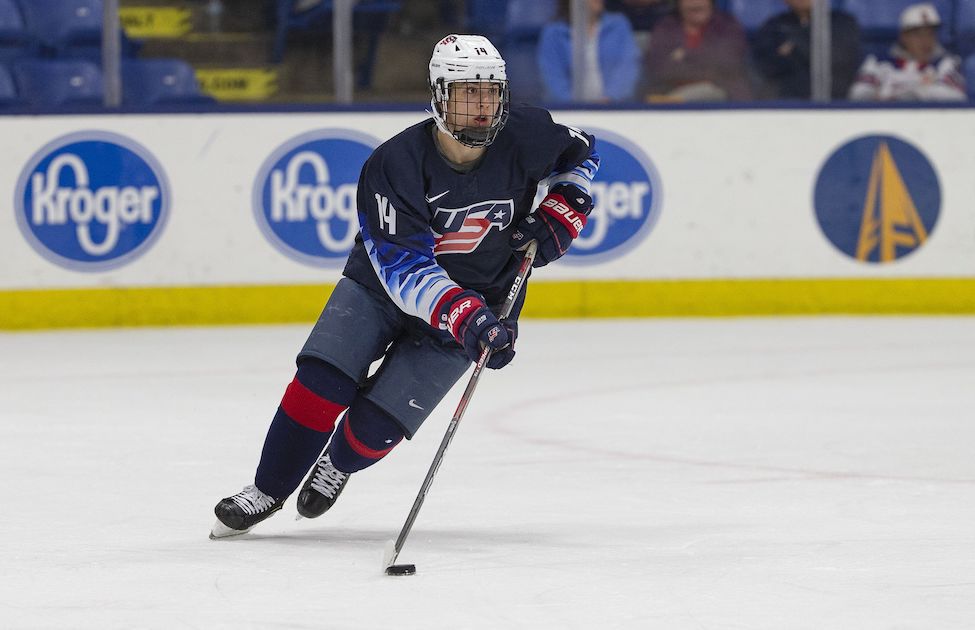 With just 21 points in 65 games spread across the United States National Team Development Program (USNTDP) and United States Hockey League (USHL) last season, Faber isn't particularly known for his offensive game. He'll likely need to work on his puck skills and offensive instincts if he's going to make his way onto an NHL roster one day.
9. Dylan Peterson – C
Central Scouting Final Rankings: 43rd (among NA Skaters)
Hulking center Dylan Peterson is one of the bigger prospects available at this year's draft, and his ability to play down the middle only makes him more valuable. Like a prototypical power forward, the 6-foot-4 Peterson loves to set up shop in front of the net, and with his size and strength is a handful for any defender. He is an adept playmaker and possesses a heavy shot, though he still needs to learn how to use it more effectively.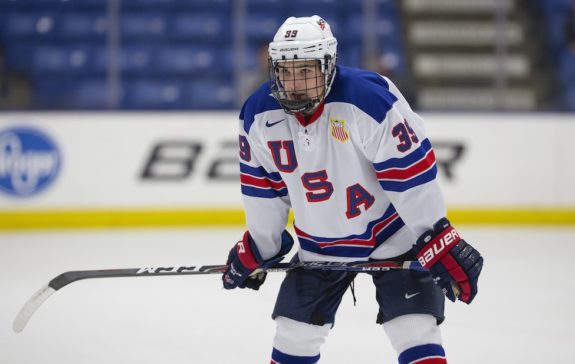 Peterson saw his draft stock drop a bit this past season due to a lack of offensive progression. In 2018-19, he put up 40 points in 84 USNTDP and USHL games and followed that up with just 36 points in 64 games this past season. He's still expected to go in the first half of the draft, though his NHL potential is looking less certain than before.
8. Tyler Kleven – LHD
Central Scouting Final Rankings: 42nd (among NA Skaters)
You don't see many pure stay-at-home defensemen in hockey these days, but Tyler Kleven is doing his best to keep the breed alive. At 6-foot-4 and 201 pounds, the American defender has plenty of size and isn't afraid to use it, throwing his weight around, especially against rushing forwards. He has an excellent defensive stick and effectively protects the front of his net with his reach and strength.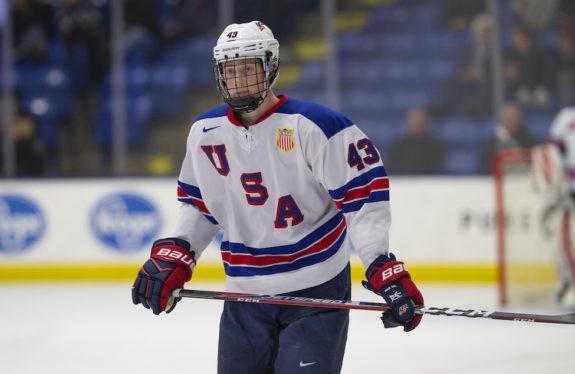 His 14 points in 62 games across the USNTDP and USHL don't leap off the page, but he is certainly comfortable with the puck on his stick and excels at finding teammates with accurate breakout passes. Kleven will need to continue to work on his skating and offensive game to contribute at the next level.
7. Luke Tuch – LW
Central Scouting Final Rankings: 40th (among NA Skaters)
The younger brother of Vegas Golden Knights forward Alex Tuch, 18-year-old Luke plays a heavy power forward game. He excels down low on the cycle, loves taking the puck to the net, and finishes his checks in all three zones. Along with his physicality and strong work ethic, Tuch possesses excellent hockey IQ, which makes him a solid defender at both five-on-five and the penalty kill.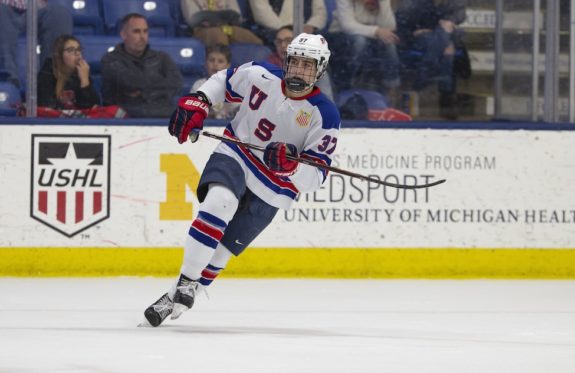 The 6-foot-2, 203-pound winger put up solid numbers with 23 goals and 44 points in 66 games across the USNTDP and USHL last season. He does lack the footspeed and puck skills of his older brother, though, which leads scouts to question his upside.
6. Wyatt Kaiser – LHD
Central Scouting Final Rankings: 37th (among NA Skaters)
With his excellent speed and edgework, Wyatt Kaiser is one of the better skating defensemen available in this year's draft. Scouts say that Kaiser has the ability to make forecheckers look like they're skating in quicksand, and he uses that agility just as effectively in the offensive zone to step around defenders. He is a terrific passer and loves to pinch down low in the offensive zone, though he has good awareness and won't make risky plays to leave his partner stranded against an odd-man rush.
Related: 2020 NHL Entry Draft: The Top-10 Swedes
At 5-foot-11 and 170 pounds, Kaiser will likely need to add some strength to compete at the pro level, though that wasn't a problem for him this past season against high school competition. If he continues to progress, Kaiser projects as a future power-play quarterback at the NHL level.
5. Sam Colangelo – RW
Central Scouting Final Rankings: 31st (among NA Skaters)
With size, strength, skill, and smarts, Sam Colangelo is a well-rounded winger that oozes NHL potential. At 6-foot-2, 207 pounds, the 18-year-old already has NHL size, making him a physical force on both sides of the puck.
Related: Top 5 Underrated American Prospects in the 2020 NHL Draft
His best asset, though, is his vision, which allows him to find open teammates and create chances in the offensive zone. Colangelo had a very productive season for the Chicago Steel of the USHL, tallying 28 goals and 58 points in 44 games.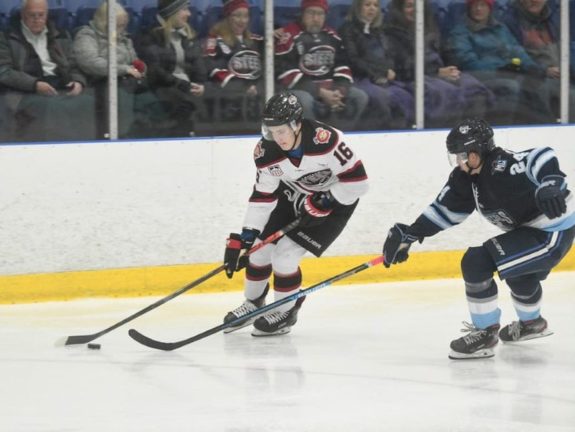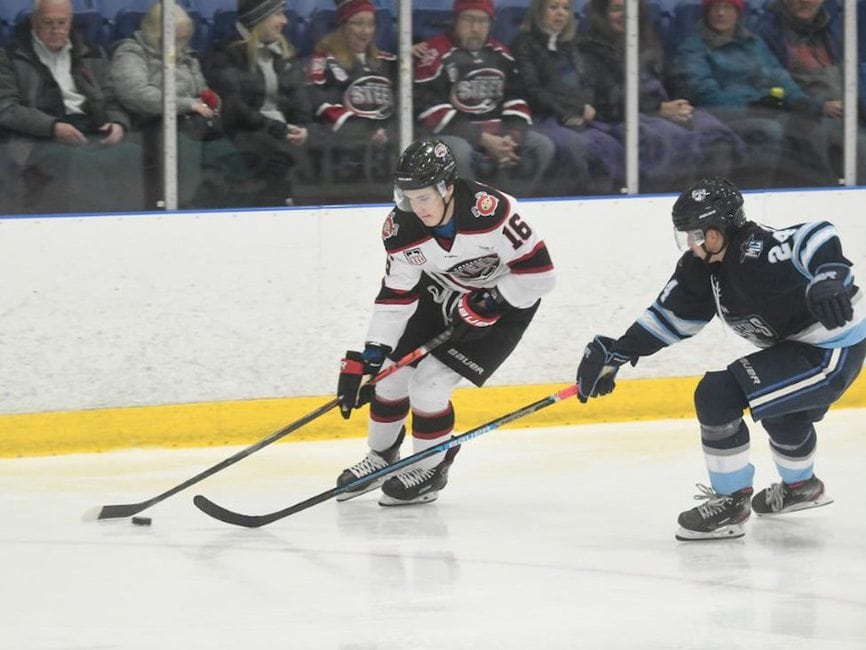 Colangelo will need to continue to work on his skating and defensive game in order to take the next step. He is projected to sneak into the second round at this year's draft and has all the makings of becoming a middle-six winger.
4. Thomas Bordeleau – C
Central Scouting Final Rankings: 29th (among NA Skaters)
Center Thomas Bordeleau was the top-scoring player for the USNTDP this past season, collecting 16 goals and 46 points in 47 games. He is an offensive catalyst who boasts high-end vision, an NHL shot, and elusive skating. A natural puck carrier, Bordeleau is able to hold onto the puck just long enough to find his open teammates with accurate passes. His passion and vision also make him an effective power-play facilitator off the sidewall.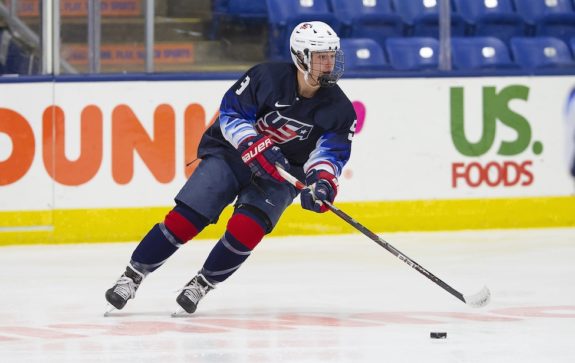 The question marks surrounding Bordeleau will always be about his size. At 5-foot-9, 179 pounds, he will have to continue to prove himself against bigger, tougher competition, and scouts wonder if he may be better off on the wing at the pro level.
3. Ty Smilanic – C/LW
Central Scouting Final Rankings: 24th (among NA Skaters)
Despite his relatively high draft ranking, Ty Smilanic is a bit of a polarizing prospect among scouts. Some love his deadly shot — whether it's a one-timer or snapshot — and rave about his effortless skating, physicality, and defensive awareness. Others, though, criticize his vision and production as he tallied just 10 goals and 31 points in 46 games across the USNTDP and USHL.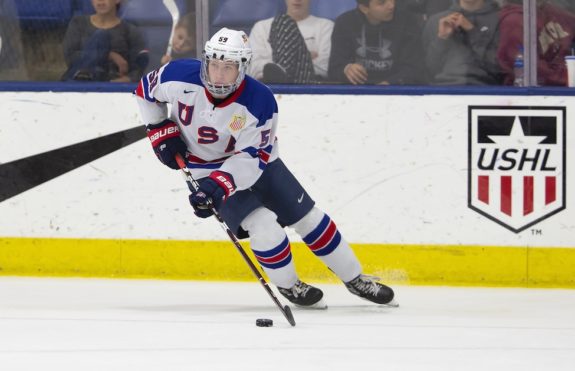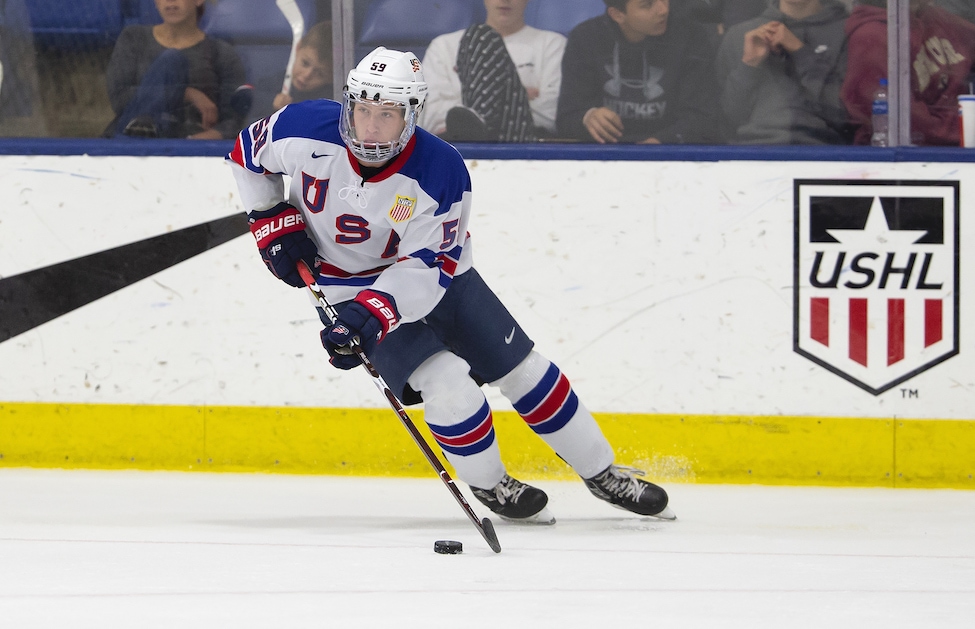 Smilanic certainly possesses all the tools to develop into an effective scorer at the pro level, ranging from his shot to his skating, to his size (6-foot-1, 179 pounds). Even when he isn't scoring, he's a useful player, winning puck battles and hounding players all over the ice. In order to reach the next level, though, Smilanic will need to improve his decision making and spatial awareness, especially when carrying the puck.
2. Brendan Brisson – C
Central Scouting Final Rankings: 20th (among NA Skaters)
The top American forward in this year's entry draft, Brendan Brisson is a pure playmaker with speed to burn. A teammate of Colangelo, Brisson put up 24 goals and 59 points in 45 games for the Chicago Steel of the USHL last season. Along with his excellent hands, vision, and skating, Brisson possesses an accurate shot, making him a complete offensive weapon.
Related: 3 Hidden Gems the Maple Leafs Should Consider Drafting
Despite his average size (5-foot-11, 179 pounds), he is a solid defender, utilizing his speed and smarts to force turnovers and break up plays. He has all the tools to be an effective 200-foot player at the NHL level.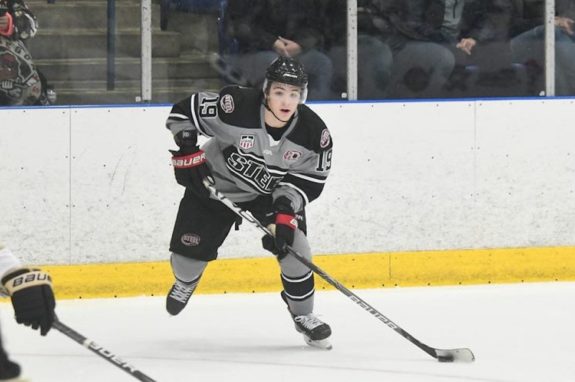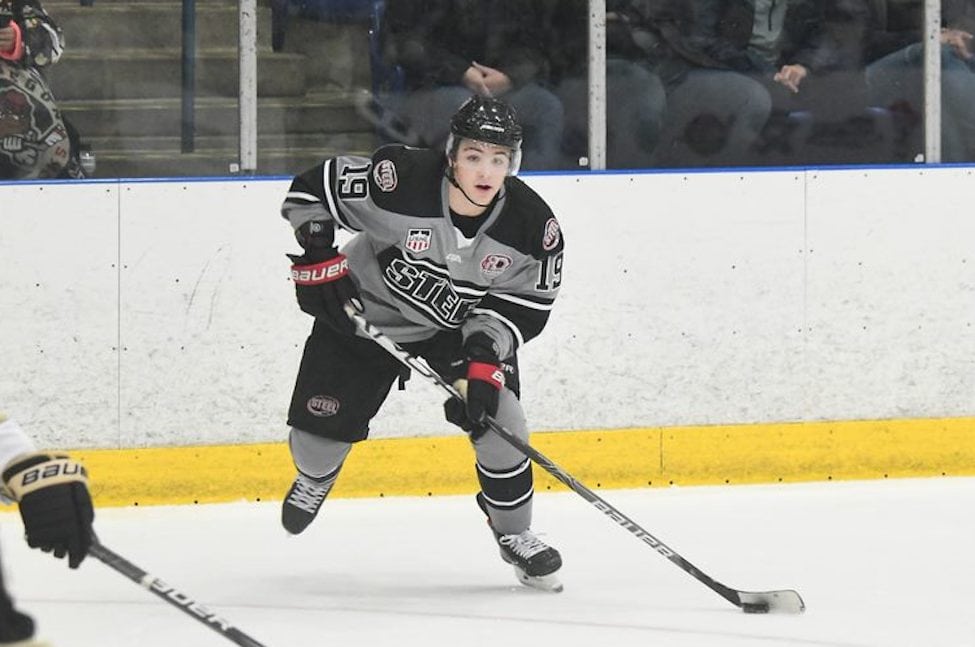 As with most young players, Brisson will need to continue to work on his strength. He sometimes shies away from the middle of the ice and may project better as a winger.
1. Jake Sanderson – LHD
Central Scouting Final Rankings: 4th (among NA Skaters)
Projected to go as high as fourth overall, Jake Sanderson is the top American prospect at this year's draft. The left-handed defenseman is a complete package, demonstrating high-end skating, poise with the puck, and sturdy defensive play. He uses his abilities to control the pace of the game at both ends, shutting down opposing forwards before transitioning the puck quickly to offense. His effortless skating allows him to join the attack offensively, while he also possesses a quick, hard shot. Sanderson put up nine goals and 43 points over 66 games in the USNDTP and USHL last season.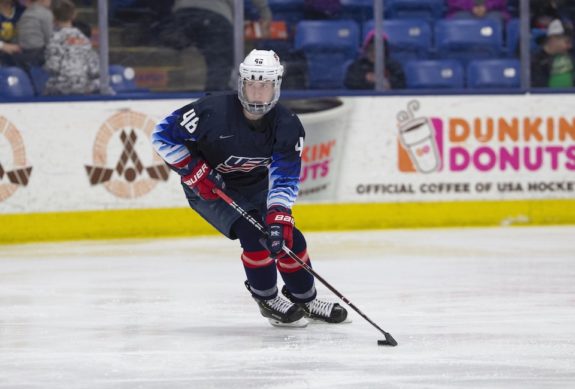 Despite his obvious skill, Sanderson is still considered a relatively raw prospect. His gap control can sometimes be inconsistent, and he is often caught puck chasing at the end of a long shift in his own end. Sanderson may not project as an elite offensive producer at the NHL level, but he has all the tools to be a minute-muncher and potential top-pair defender down the line.
Although this year's crop of American prospects likely won't live up to the hype of the 2019 draft, there will still be plenty of potential NHL talent available featuring a good mix of both size and skill. We may not see elite players like Hughes or Eichel coming out of the 2020 draft, but high-end talents like Sanderson and Brisson represent the continued excellence of the United States' development system.
---
---