Well, sort of.
Henrik Lundqvist has been bought out of his final contract year after 15 seasons with the New York Rangers. With ample cap space, moveable parts and a need for leadership, Lundqvist is a perfect candidate for the Buffalo Sabres. The 38-year-old goaltender will be an unrestricted free agent for the first time ever in his NHL career.
Round and Round the Rumor Mill
There's plenty of rumors circulating about where Lundqvist will land if he decides to play next season. The frontrunners include the likes of the Washington Capitals, San Jose Sharks, Calgary Flames, Vancouver Canucks, and a few other teams. Most of these rumors come from teams having uncertainty in their rosters, and many of these teams are likely to make the playoffs next season.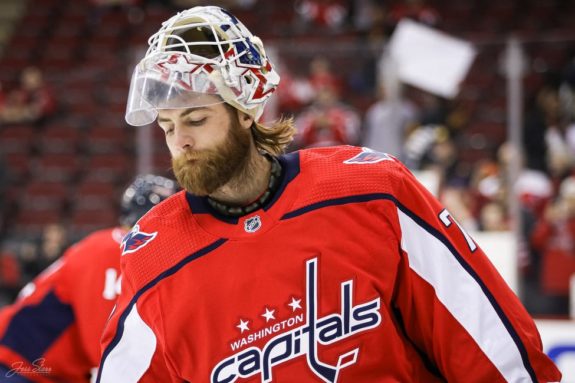 But they're just rumors. Nothing is set in stone.
It makes sense why a potential Cup-bound team would be appealing to Lundqvist. He is arguably the most-deserving active NHLer to have not won the Cup. At this late in his Hall of Fame-bound career, a Stanley Cup win would only further solidify his greatness.
Sabres Cap Space Can Accommodate Lundqvist
Maybe other teams seem more likely, but Buffalo would be a great fit.
To even consider Buffalo as a landing spot, we need to first talk about the salary cap. The Sabres' current cap space sits at $33,658,333. There are seven unrestricted free agents and seven restricted free agents this year. With the recent acquisition of Eric Staal, the Sabres front office shows they aren't afraid to sign veteran players to lead their new, younger teammates. Lundqvist would be no exception.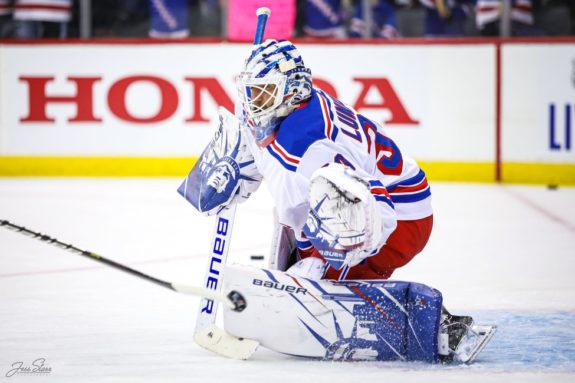 Lundqvist will likely sign a one-year deal. If he does that with one of the rumored teams, it's also likely he will take a smaller contract. His last year with the Rangers was an $8.5 million cap hit with a $1 million signing bonus.
Related: Top 10 Best Undrafted NHL Goalies
The Sabres are closer to the playoffs than one might think. Due to COVID-19, the Sabres season was cut short, but they were just three points away from making the qualifying round of this year's "bubble" postseason (6/8th place finish in the Atlantic Division).
The next-best team, the Montreal Canadiens, went to the qualifying round with three more games played in the regular season. While Buffalo certainly wasn't trailblazing, there's no telling how the rest of the season could have gone. The Sabres could have even made the bubble, had they played a few more games.
Ullmark, Hutton Could Be Gone Next Season
Buffalo isn't off the table. If Lundqvist were to sign with the Sabres, they would probably have to pay him more than other teams who finished better this past season. A good, safe cap hit range for the Sabres is somewhere between $7.5-8 million. A bigger hit for a goalie by recent Sabres standards, but not impossible to pull off.
Goalie Linus Ullmark is a restricted free agent this year, freeing up $1.325 million in cap space if he were to go elsewhere. With goalie Carter Hutton sharing a good amount the workload with Ullmark last season, the Sabres may want to let go of Ullmark, or, even Hutton.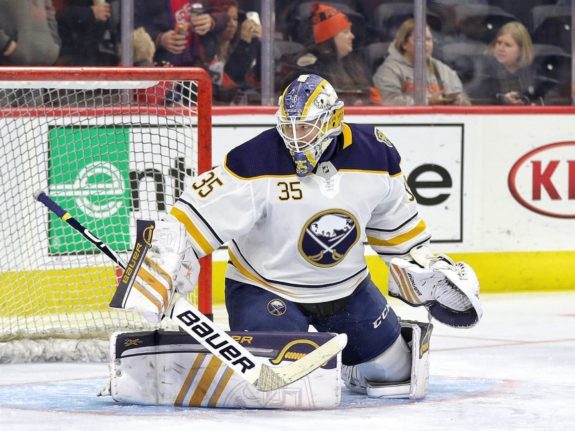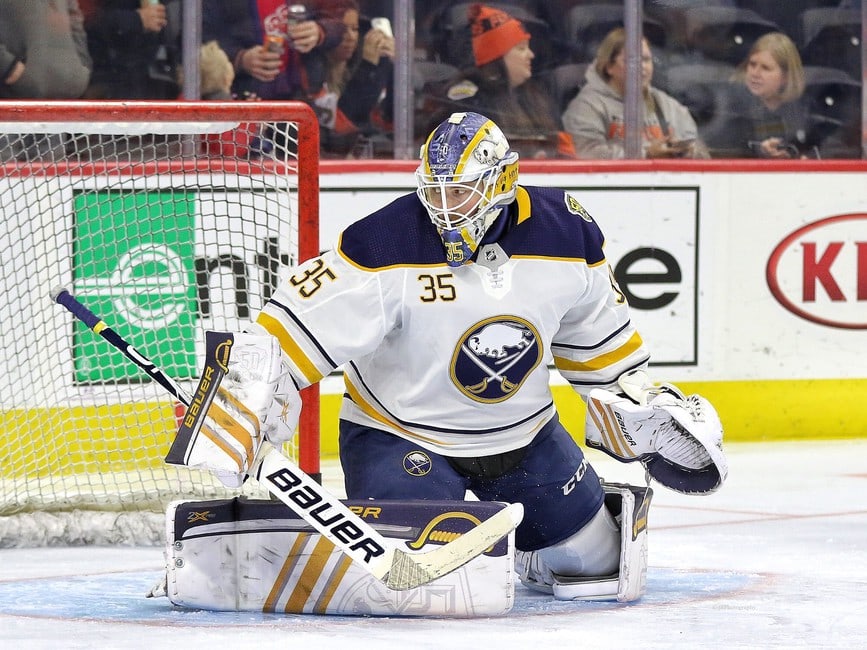 Buffalo needs their star goalie if they want to be successful. That won't come in the form of Ullmark, Hutton – or probably even Lundqvist. Lundqvist is past his prime. He did, however, perform on par – if not better – than each of the Sabres goalies.
He played 30 games with a .905 save percentage (SV%), compared to Hutton's 31 games with a .898 SV%, and Ullmark's .915 SV% in 34 games. Although he played the fewest games of his career, Lundqvist can still perform at a high level.
If Hutton or Ullmark were to leave, Lundqvist would probably be left with a starting job. Couple that with the idea that he'd be getting paid more to play in Buffalo for one year than if he were elsewhere, and it sounds a lot more appealing. Even for a worst-case scenario, King Henrik would just be a Sabre for a year, and, he gets to prove that he is still a high-caliber netminder.
A Bridge to the Future
Lundqvist would serve as a veteran presence that could help develop hopeful star prospect, Ukko-Pekka Luukkonen.
Luukkonen is a two-time IIHF World Junior Championship gold medalist who had a phenomenal 2018-19 OHL season with the Sudbury Wolves. He raked in the Red Tilson Trophy that season was named OHL Goaltender of the Year and to the First All-Star Team.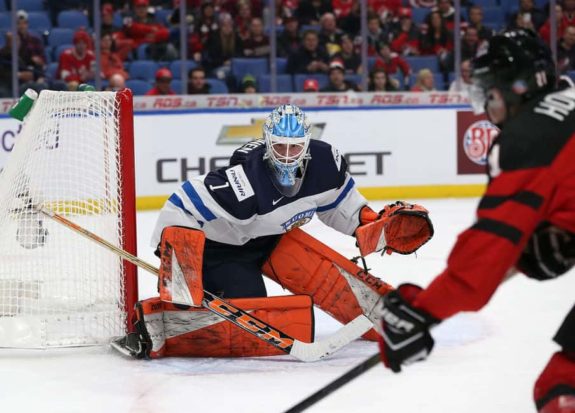 At just 21 years old and with a successful hip surgery behind him, Luukkonen looks ready to take on the competition at any level. Why not groom him under one of the best to ever play the position?
If Lundqvist comes to Buffalo, the idea would be to bring Luukkonen up to the NHL and let Lundqvist take Luukkonen under his wing.
Related: Most Games Played in One NHL Season
This is a win-win deal. Lundqvist would be on a growing team that has potential. The Sabres may not be the closest to winning the Cup, but with Lundqvist in front of the net, the dynamic might change. We could see prime Lundqvist come back. Maybe not for an entire season, but perhaps in spurts – and yes, maybe even the playoffs.
The Sabres should consider Lundqvist, even if it's only for a season.
---
---