2020 has been a year of unprecedented times, and the 2020 NHL Entry Draft is not immune. Originally scheduled for June 26-27 at the Bell Centre, the draft will instead be held virtually on Tuesday, Oct. 6, from the NHL Network Studios in Secaucus, New Jersey.
This will be the second consecutive season that the Anaheim Ducks have a selection inside the Top-10 and it will be their highest draft pick since they took Hampus Lindholm with the No. 6 pick in 2012.
Related: 2014 NHL Draft Top 10 – Where Are They Now?
To commemorate the turning of the decade, I took a look back at each first-round pick the Ducks have made over the last 10 years to see where those players are now.
Two Picks in 2010
Cam Fowler – 12th overall, 2010
Though Fowler has been an NHL veteran for quite some time now, he still has the same baby face from when he was selected 12th overall by the Ducks. At the time, many did not expect the Windsor Spitfire defenseman to drop that far. After all, he had shined on a team that included future NHLers in Taylor Hall, Ryan Ellis and future teammate Adam Henrique en route to repeating as Memorial Cup champions.
What unfolded however was a drop out of the Top-10 for the young defenseman. With each name called that wasn't his, excitement slowly turned into simply nervousness. "Part of what makes that situation difficult is when you're projected in the top five or whatever most of the way leading up, as soon as you start slipping, a lot of attention and focus on the draft switches to you," Fowler said. (from, ''A gift from the gods': How Cam Fowler fell to the Ducks in the 2010 NHL Draft', The Athletic, 08/07/2020)
But what followed ended up being a match made in heaven. The Ducks were able to snag Fowler at pick No. 12 and the Windsor native was thrust into the Ducks' lineup immediately, playing 22 minutes per game in 76 games during his rookie season, one in which he scored 10 goals and totaled 40 points.
10 years later, Fowler is one of the top names on the Ducks' career leaders for games played (fourth), assists (sixth) and points (sixth). The defenseman also passed Scott Niedermayer for most goals scored by a Ducks defenseman in franchise history this past season.
Emerson Etem – 29th overall, 2010
Etem's selection by the Ducks at No. 29 had to be a great feeling for a player who was born and raised in Long Beach CA. While his transition from juniors to pro after a 107-point season with the Medicine Hat Tigers in the Western Hockey League wasn't the smoothest, Etem displayed moments of brilliance once he got his feet wet.
The winger was part of three Ducks playoff runs and scored an eye-popping goal against the Winnipeg Jets in 2015, dancing around defenseman Jacob Trouba before picking the corner on the backhand against Ondrej Pavelec. Etem's former head coach Bruce Boudreau said, "You really thought something was going to take place with him" (from, 'From first-rounder with Ducks to PTO with Kings, Long Beach's Emerson Etem fights to return to NHL', The Athletic, 09/17/18).
While he never quite developed into the scoring winger the Ducks (and the teams that acquired him following his time in Anaheim) envisioned due to a knee injury he suffered in September 2013, the 28-year-old has found solace in another aspect of hockey—coaching.
Etem was hired this past February by the Missoula Junior Bruins of the North American 3 Hockey League to be their general manager and head coach after he contacted team ownership about the position. "I think the game at a way higher level than even in my NHL days and look forward to passing off this knowledge to these young men," Etem said regarding the opportunity to coach.
Swede Indeed
Rickard Rakell – 30th overall, 2011
The 2011 NHL Draft fared well for the Ducks, with all seven of their picks that year having played in at least five NHL games. Four of them have played in more than 250 games. Rakell was the first pick of those seven and has blossomed into a consistent goalscorer. While the goals haven't come as frequently in recent seasons, Rakell is still one of the most dangerous and gifted scorers on the Ducks' roster.
A lack of goalscorers on the roster has, perhaps, led to a lot of—and maybe too much—pressure on the shoulders of the 27-year-old, but Rakell has expanded his playmaking ability in order to offset his decreased goalscoring numbers. A bounceback season from the winger would do wonders for the team and the player and both of their foreseeable futures.
Hampus Lindholm – 6th overall, 2012
Lindholm has been one of the Ducks' most consistent defensemen over the past decade and formed a formidable pair with Josh Manson once the two became full-time regulars in the NHL. While Anaheim passed on defensive talents like Matt Dumba and Jacob Trouba and had to wait a year for Lindholm to make it to the pros after a full season in the AHL, it was worth it.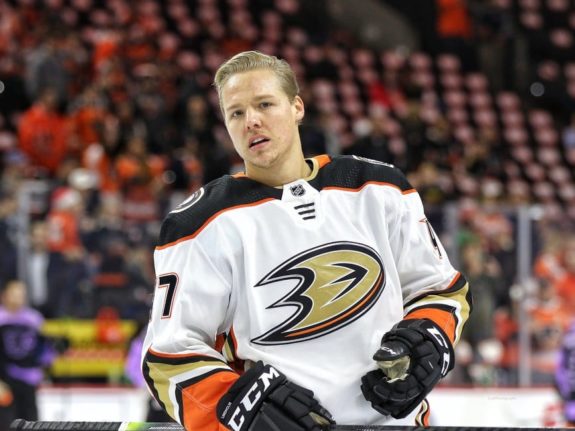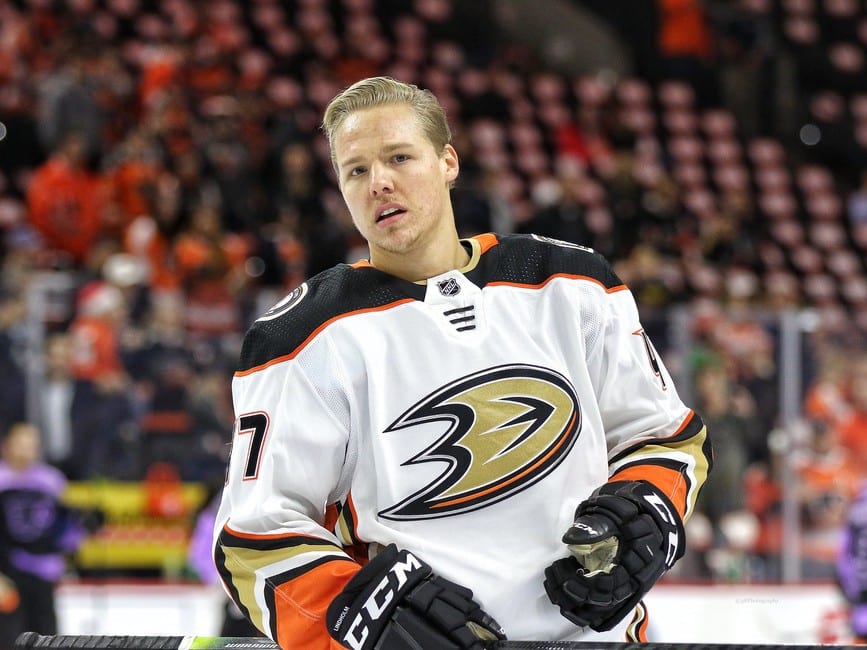 Lindholm was able to learn from Francois Beauchemin during the former's first few years in the league and Lindholm's defensive acumen has been among the highest since he joined the team in 2013. The Swede has also been relatively healthy over the course of his career, with the 2019-20 season being his first where he didn't play at least 66 games. It's likely that would he have reached that mark as well if the season hadn't been cut short.
Lindholm is close to cracking the Top-10 in games played for the Ducks (he's 25 away from passing Sammy Pahlsson) and should reach that mark during the 2020-21 season.
Pair From the Past
Shea Theodore – 26th overall, 2013
Theodore's time with the Ducks was fairly brief compared to some of the other players on this list, but the former Seattle Thunderbird was one of Anaheim's most highly touted prospects for a handful of years. A point per game player the final two seasons of his juniors career, Theodore fared well in the AHL but struggled to replicate that success at the top level, finding himself shuttling back and forth between Anaheim and San Diego, where the Ducks' AHL affiliate plays. A lack of physicality and possibly too much tough love from former head coach Randy Carlyle make it difficult for Theodore to stick with the Ducks full-time.
But the potential was there. That was part of why Carlyle was so hard on Theodore at times. It took a trade to the Vegas Golden Knights, compensation for the Golden Knights selecting Clayton Stoner instead of the unprotected Manson and Sami Vatanen in the expansion draft, for Theodore to unlock his skills and truly flourish.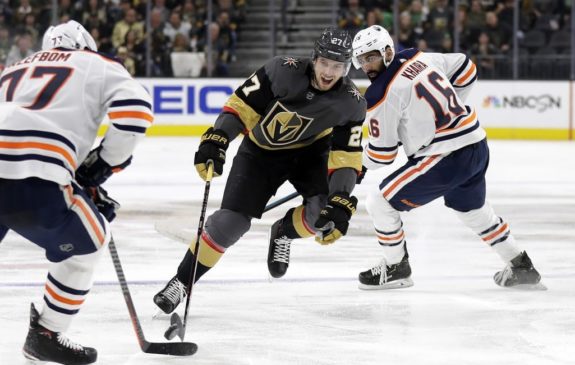 The defenseman has improved in every season since joining Vegas and led the team in points during the 2020 Playoffs. Theodore has become a bonafide stud on the man advantage as well. His eight power play points during the playoffs were the most on the team and his three power play goals tied him for third among playoff participants.
Nick Ritchie – 10th Overall, 2014
Ritchie was envisioned as a power forward who could replicate the success of Dustin Penner. While Ritchie isn't quite as big as Penner, the former is more than capable of throwing his weight around. However, that didn't quite translate to offense for Ritchie. The winger only reached double-digit goals twice during his five seasons with the Ducks and his tendency to take ill-advised penalties frequently caused headaches for Ducks fans.
Ritchie was dealt to the Boston Bruins at the trade deadline and hasn't exactly set the world on fire (in the right way) with them. He scored two goals in 15 games (eight playoff games) and took a very dangerous penalty on Yanni Gourde during Boston's Game 4 loss to the Tampa Bay Lightning.
The Young Guns
Jacob Larsson – 27th Overall, 2015
Larsson is part of a growing list of Ducks draft picks that have yet to unlock their full potential. He's 22, the same age that Theodore was when he made the trip across the state border to the Sin City. But, Larsson hasn't demonstrated the offensive acumen Theodore possesses and has also proven to be a liability in the defensive zone. While Theodore's defensive prowess isn't the finest either, at least he can make up for it with his offensive ability.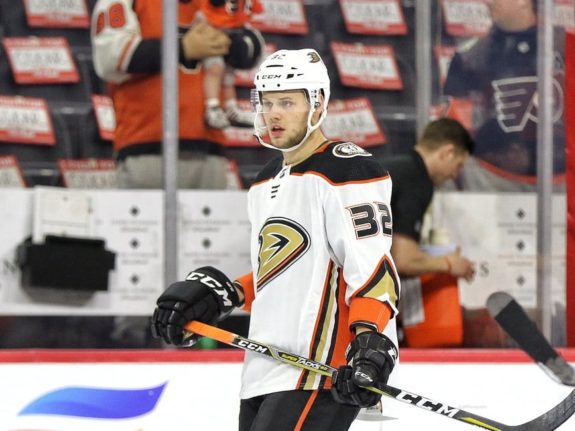 It's possible that Ducks general manager Bob Murray doesn't want to give up quite yet on Larsson, especially after many Ducks fans felt that Murray gave up too quickly on Theodore. A new deal for Larsson this offseason means he'll be on the blue line next season, but how much he gets to play won't be known until the 2020-21 season gets underway.
Max Jones – 24th Overall, 2016
Similar to Ritchie, Jones was drafted in the mold of having a power forward who would play a top-six role. Jones had a knack for taking ill-advised penalties, like Ritchie, but seems to have improved his discipline and has now carved out a role on the penalty kill.
Jones's offensive production to this point has been limited and it's unlikely that he'll ever produce enough to be a fixture in the top-six. But, his combination of size and speed means he has the potential to be a strong forechecker and net-front presence. An increased role on the penalty kill would mean plenty of ice time for the 22-year-old as well.
Sam Steel – 30th Overall, 2016
Steel had the best offensive season out of any under-23 player on the Ducks roster. While he did initially struggle in his first full season in the NHL, Steel settled in once he moved down from the second line to third-line center. Flanked by Jones and Troy Terry, the "Kids Line" began to develop some chemistry. Steel was a regular on the power play and co-led the team in power-play assists, along with Lindholm, with seven.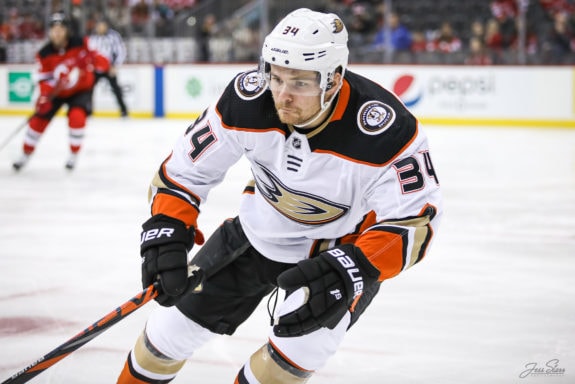 The former Regina Pat can lean on players like captain Ryan Getzlaf and Henrique for tips on how to improve as a center. "When you have guys like that, they're really open and willing to help, which is awesome. Even if I don't ask, they're helping me out. Just the little things. It's a tough position to play at the National Hockey League level. They've been great in helping me out." (from, 'The high hopes for Sam Steel, Ryan Getzlaf's new reality and the Ducks' center situation', The Athletic, 09/24/19).
Steel can more than handle his own at both ends of the ice. Having a player to replace even a margin of what pre-hip surgery Ryan Kesler brought to the Ducks with his two-way play would be fantastic. Perhaps Steel can be that guy.
Isac Lundestrom – 23rd Overall, 2018
Lundestrom's career has been full of ups and downs so far as the Swede hasn't really demonstrated how productive he can be on offense just yet. While the center is adept in the defensive zone, he leaves you wanting more on the offensive end. Last month, The Athletic's Scott Wheeler said that "(Lundestrom) struggles to make the plays necessary to score goals and though he's a better passer, that's not a strength, either. So you're probably looking at a give-and-go fourth-line" (from, 'Future Ducks? Projecting NHL timelines for Anaheim's top prospects', The Athletic, 09/22/20).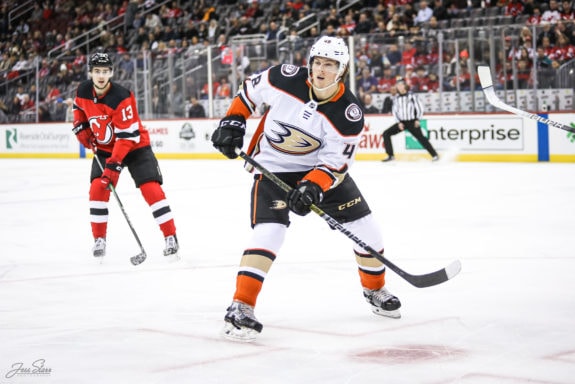 While that's not exactly a shining endorsement for a player that was drafted in the first round less than three years ago, Lundestrom will begin the 2020-21 season in his native Sweden, on loan at Timrå in the Allsvenskan. Playing back home could potentially give the 20-year-old a boost of confidence for when he eventually returns stateside.
Forwards of the Future
Trevor Zegras – 9th Overall, 2019
Zegras is the most dynamic prospect the Ducks currently have in their pipeline and without him, the Ducks system looks a whole lot worse. Zegras shined in his one and only season of college hockey at Boston University and he was exceptional at the World Juniors, tallying nine points (all primary assists) in five games. Ducks fans have to be salivating at the thought of what the center can do alongside a player like Getzlaf, whose playmaking abilities have been top-notch for so long.
While it's possible that Zegras could break camp with the pro team—whenever the new season starts, who's to know—it's more than likely that he will begin his pro career in the AHL with the Gulls. A season in the minors might be what Zegras needs in order to adjust to the physicality of now playing against grown men.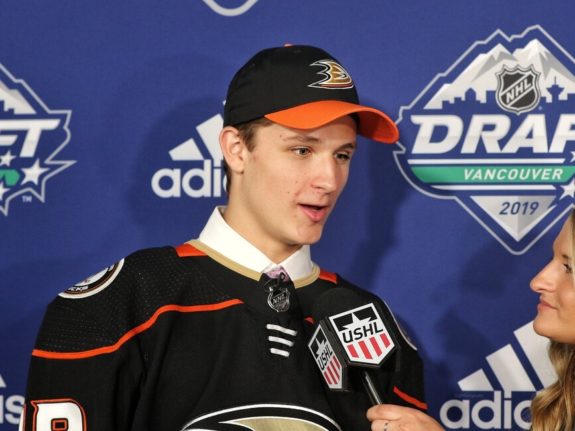 The former Terrier can play both in the middle and on the wing (he played wing with Team USA at World Juniors), but the hope from the Ducks brass would be that he solidifies himself as a pivot in the long-term given that Getzlaf is getting up there in age and Henrique just reached his early 30s.
Brayden Tracey – 29th Overall, 2019
Tracey has the potential to be a game-changer on offense. 36 goals and 81 points during his draft year is nothing to scoff at. His second season in the WHL didn't quite go as planned due to both a trade and injury. Adjustments had to be made and by the time Tracey was starting to come around again, the season was shut down.
The Calgary native has the tools to be an offensive weapon, with both soft hands and a quick shot. Tracey probably will spend one more season in juniors before going pro, which means he's still a long way from cracking the NHL roster.
Looking Ahead
The Ducks currently hold two picks (No. 6 and 27) in the first round thanks to a combination of their abysmal season and a trade conducted with the Bruins at the deadline. The Ducks are clearly hurting for a right-handed defenseman in their system with only six right-handed defensemen in their entire organization and only three of them having played in the NHL.
Related: The 5 Biggest First-Round Flops in Winnipeg Jets History
On the latest 31 Thoughts podcast, Sportsnet's Elliotte Friedman said that Anaheim has a group of about 10 players on their list before the quality of the draft drops and that they would be ready to move down if the offer makes sense. The Erie Otters' Jamie Drysdale, who could potentially be the first defenseman off the board on Tuesday, might be there for the Ducks at No. 6. But so might Marco Rossi, Cole Perfetti, Lucas Raymond and Alexander Holtz.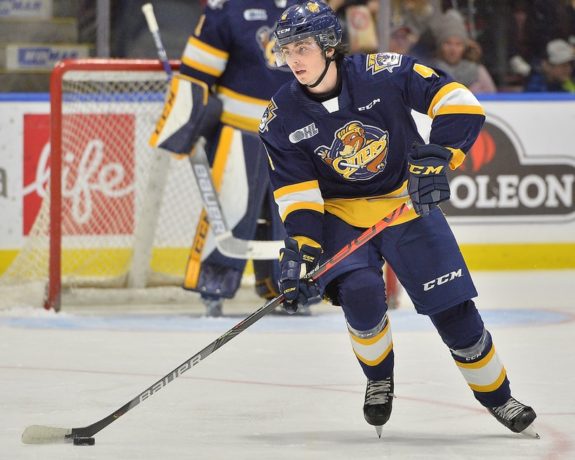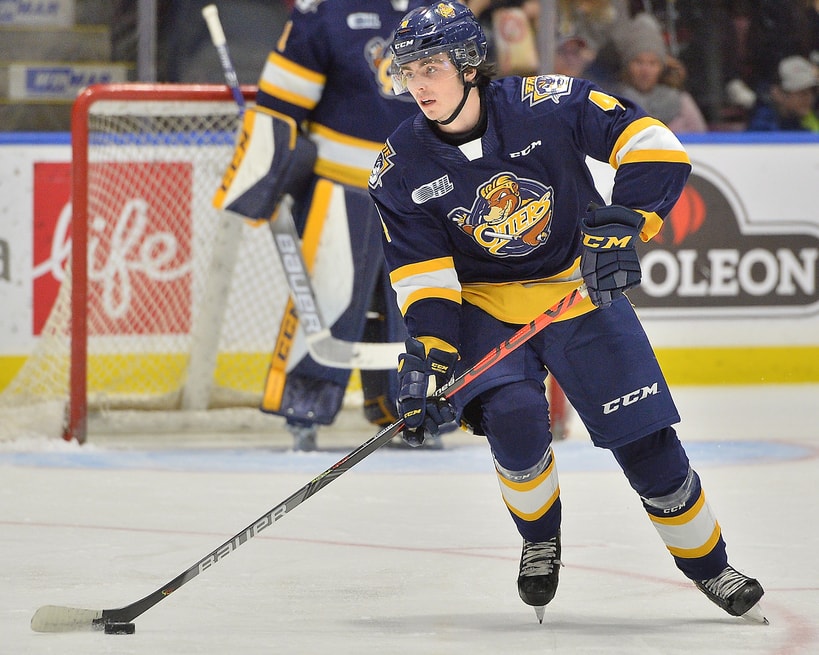 Murray and newly minted assistant general manager Martin Madden keep their plans close to their chest, but Madden did say, "That top 12 is attractive from start to finish. If we think we can maximize it by moving up or moving down, we will. I don't think we're married to 6 at all, actually." (from, 'NHL Draft chat with Martin Madden: Ducks could put No. 6 pick in play', The Athletic, 09/30/20).
Ducks fans will be waiting eagerly to see what Murray, Martin & Co. do with their pair of first-round picks on Tuesday. Whatever move is made, the possibility of getting a game-changer (or two) looks increasingly high.
---
---